3 takeaways: UNLV suffers inexcusable loss to Howard
September 2, 2017 - 11:25 pm
Updated September 2, 2017 - 11:45 pm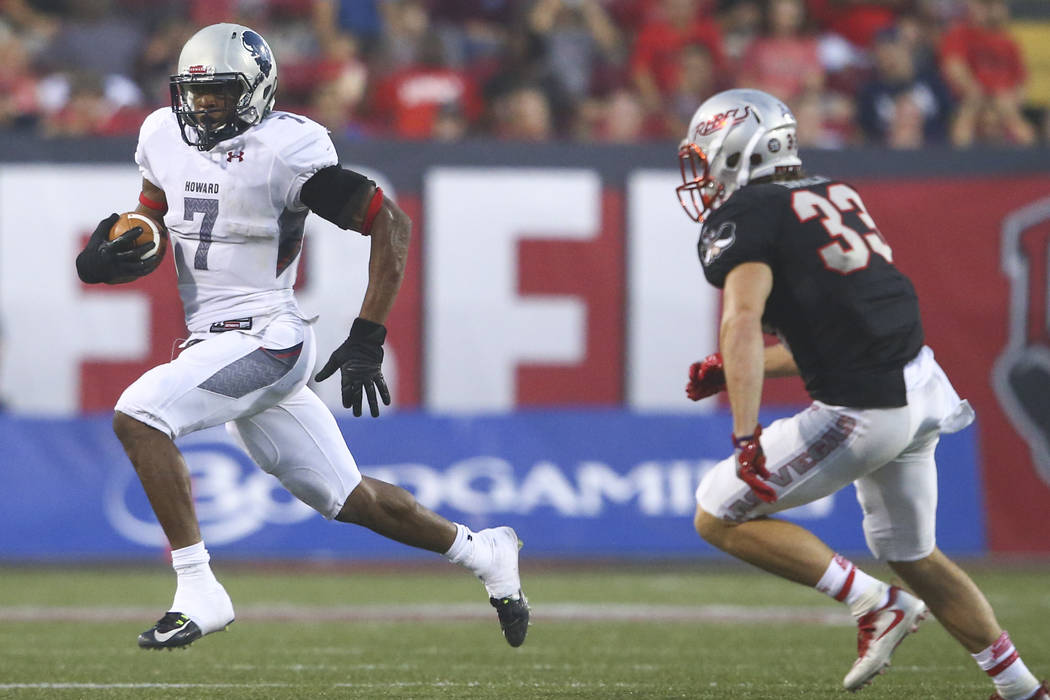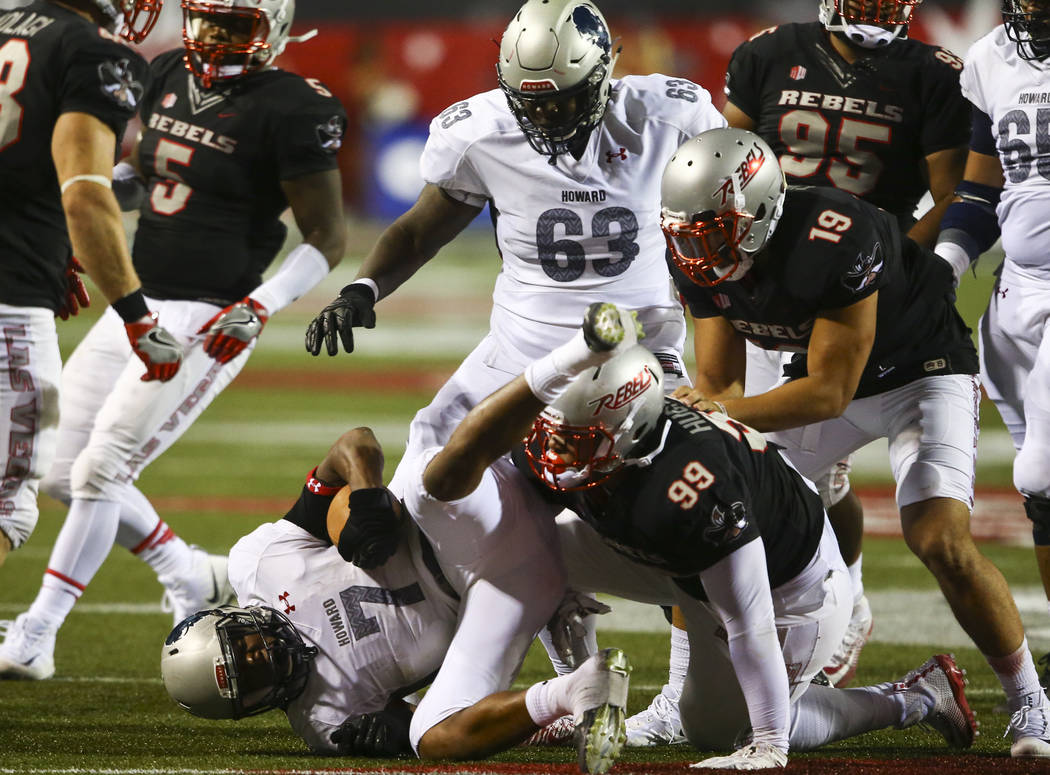 Three takeaways from the UNLV football team's 43-40 loss to Howard on Saturday night at Sam Boyd Stadium:
1. It's difficult to find any hope at this point.
Rebels coach Tony Sanchez made the point that there is still a nearly complete season to play, and that's true.
But UNLV was a massive favorite. You can argue whether the 45-point line was inflated, and it obviously was, but that still doesn't change the fact the Rebels were expected to win easily.
They were not only playing an FCS team, but one that had gone 2-9 last season and was under a new coaching staff.
No one on UNLV's campus promotes his team better than Sanchez, but any talk now will fall on the fans' deaf ears. The key is, what will the players hear?
If UNLV is to make anything of this season, the players can't lose confidence. That makes this week leading up to next Saturday's game at Idaho so critical.
"We're going to have to emotionally recover from this game, but it's not going to be the, 'Oh, come on guys, we're going to get better,' " Sanchez said. "It's going to be putting our foot down and firming stuff up. We're going to do a hard job evaluating as a staff (Sunday) the guys that came out and performed at a high level."
Yes, the season is young, but it can get away awfully fast.
2. Good luck finding any positives about UNLV's defense.
Howard rushed for 309 yards. Let's repeat that. Howard rushed for 309 yards.
Caylin Newton is the Bison's freshman starting quarterback. Not redshirt freshman. He was playing high school ball last year at this time.
He is Cam Newton's brother. But not Cam Newton himself.
And Caylin rushed for 190 yards and two touchdowns — including the game-winner with 7:34 left — on 20 carries.
If the Rebels can't tackle an incoming freshman quarterback — and their tackling was, at best, suspect throughout the game — then imagine what Ohio State quarterback J.T. Barrett or San Diego State running back Rashaad Penny will be able to do against this defense.
"From one series to the next, we looked inept at times," Sanchez said. "We need to see improvement in Year 3 on that side of the ball, and tonight we didn't see it."
3. UNLV was its own worst enemy.
One drive in the first quarter summed up what kind of night the Rebels would have.
Quarterback Armani Rogers threw a perfect 46-yard pass to wide receiver Devonte Boyd to Howard's 1-yard line. Forget for a moment that UNLV coaches should've challenged the spot — it appeared Boyd fell on top of a Bison defenders and popped into the end zone for a touchdown.
Regardless, the Rebels still shouldn't have had a problem scoring six points.
But then this happened. Rogers bobbled the snap on first down, resulting in a 5-yard loss. Running back Lexington Thomas was stopped for no gain on second down. Boyd was called for a false start, backing the Rebels back to the 11. Rogers threw an incomplete pass on third down.
That forced UNLV to settle for an Evan Pantels field goal.
Inexcusable.
More Rebels: Follow all of our UNLV coverage online at reviewjournal.com/Rebels and @RJRebels on Twitter.
Contact Mark Anderson at manderson@reviewjournal.com. Follow @markanderson65 on Twitter.
Related
Rebels sink to new low in loss to Howard