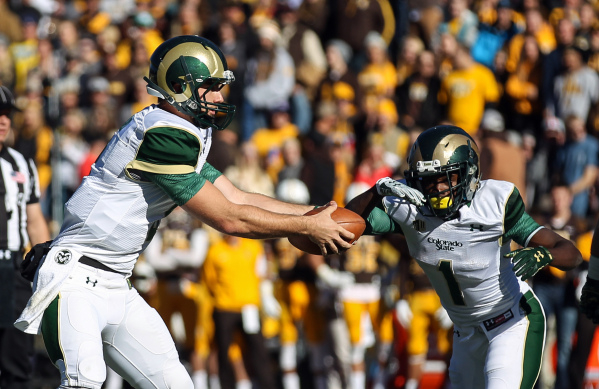 Five burning questions as UNLV's football team prepares to play at Colorado State at 4 p.m. PST Saturday:
1. How realistic is it that UNLV, a 7½-point underdog, pulls off the upset? Colorado State deserves to be favored, but this isn't the Rams team of a season ago that contended for the Mountain West. Colorado State was easily beaten by Boise State, Utah State and San Diego State, but the Rams somehow managed to defeat Air Force by 15 points. So this is a winnable game for UNLV, though a victory that wouldn't be expected.
2. The Rebels are still talking about making a bowl, but how realistic is that? Not very. If UNLV beats Colorado State, a postseason game comes right back into serious discussion. But even if that happens, the Rebels have to get by San Diego State on Nov. 21. Even though that game is at Sam Boyd Stadium, it's against an Aztecs team that has not lost in the Mountain West this season. Then if the Rebels win that game, they need to win at Wyoming on Nov. 28, though UNLV most likely will be favored.
3. What is UNLV's top concern against Colorado State? Defending the passing game. Wide receiver Rashard Higgins was a consensus first-team All-American last season, and though his numbers are down, his 50 receptions are tied for the Mountain West lead and his 667 yards rank second. Nick Stevens is the conference's second highest-rated quarterback, having completed 61.6 percent of his passes for 1,811 yards and 15 touchdowns, with 10 interceptions.
4. Where are the Rams vulnerable? UNLV should be able to run against them. Colorado State gives up 204.6 yards per game, including 4.8 per rush. The Rebels sent two running backs over 100 yards on Saturday against Hawaii, and if they establish that kind of success against the Rams, UNLV will be right in the game.
5. Why is it so difficult for UNLV to win at Colorado State? The Rams usually are better, but not always. In fact, the teams have regularly been fairly evenly matched, but UNLV hasn't won in Fort Collins since 2002. That's a mental hurdle that must be cleared. One was cleared Saturday when the Rebels reached the three-victory mark for only the fourth time in 12 years, so maybe another will be this weekend.
Contact Mark Anderson at manderson@reviewjournal.com or 702-387-2914. Follow him on Twitter: @markanderson65
Check our GameDay page for full coverage of the UNLV-Colorado State game.