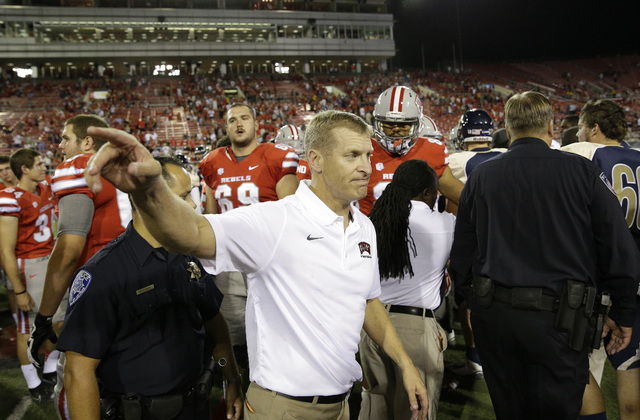 Five key questions as UNLV's football team prepares to play New Mexico at 2:30 p.m. Saturday at Sam Boyd Stadium:
1. Is this UNLV's most winnable remaining game?
It is.
Oddsmakers rate the UNLV-New Mexico as pick 'em. There are other games left the Rebels have a good chance to win as well.
2. What does this game mean?
UNLV offensive tackle Brett Boyko looked stunned Monday when it was mentioned the Rebels didn't have a realistic shot at a bowl, so at least some players think that carrot is still out there.
But making a bowl is an extreme long shot, and what this game means more than anything is a victory helps in trying to put together a positive second half of the season.
3. Does a strong second half of the season mean coach Bobby Hauck will return next year?
Probably, because he has two years remaining on his contract, and UNLV can sell the idea his team made progress down the stretch.
If UNLV loses to New Mexico and then has a poor second half of the season, it's likely a change will be made.
4. Is Hauck the problem?
Some of his decisions certainly can be questioned, but UNLV's problems go way deeper than the coach.
Utah State's facilities, for example, blow away the Rebels, and the school's lack of commitment to football over the years has put UNLV in such a hole. It also doesn't help that in a city overflowing with money, the program doesn't have its own T. Boone Pickens like at Oklahoma State.
5. About the game itself, what does UNLV need to do to win?
Contain New Mexico's run game, which averages 304.4 yards per game. The problem is the Rebels give up a 263.8 average. So that's not a good matchup for the Rebels, but they at least aren't going against a balanced attack.
By MARK ANDERSON/LAS VEGAS REVIEW-JOURNAL
Check our GameDay page for all the news leading up to the UNLV-New Mexico game.