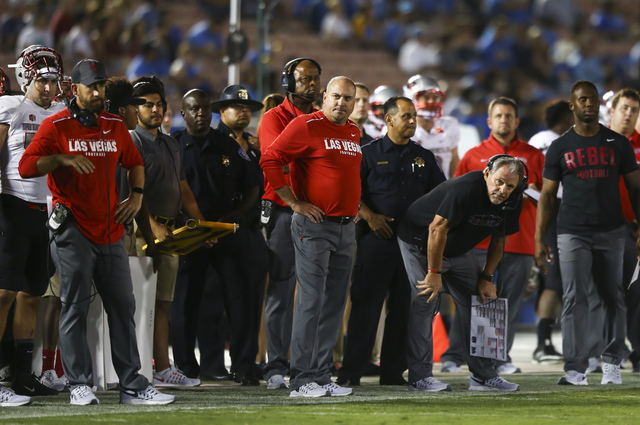 Five players to watch when UNLV's football team plays at Central Michigan at 12 p.m. Saturday in Mount Pleasant, Michigan:
Cooper Rush, QB, Central Michigan: The fourth-year senior starter completed 30 of 42 passes for 361 yards and four touchdowns in Saturday's thrilling 30-27 upset win over then-No. 22 Oklahoma State. Rush lofted a 51-yard Hail Mary hook-and-ladder play that Jesse Kroll caught at the 9-yard line and lateraled to Corey Willis, who raced across the field into the end zone. Rush also threw seven TD passes in the Chippewas' wild 49-48 loss to Western Kentucky in the 2014 Bahamas Bowl. Central Michigan, which trailed 49-14, scored a 75-yard TD featuring a Hail Mary and three laterals as time expired in that one. It attempted a two-point conversion for the win but the pass was blocked.
Jesse Kroll, WR, Central Michigan: The senior had six catches for 91 yards against the Cowboys and was the team's leading receiver last season with 61 receptions for 866 yards and four TDs. Besides making the key catch-and-pitch on Saturday, Kroll also was part of the Chippewas' incredible comeback in the 2014 Bahamas Bowl.
Johnny Stanton, QB, UNLV: After a near-flawless debut against Jackson State in his first Division I start (10-for-12, 217 yards, 3 TDs, 0 INTs) in the Rebels' season-opening rout, the junior completed only 11 of 28 passes for 153 yards and threw two bad interceptions in Saturday's 42-21 loss at UCLA. Stanton, who added 46 yards rushing, helped the Rebels cut a 28-7 deficit to 28-21 with a 14-yard TD pass to Mekhi Stevenson and an 11-yard TD run.
Lexington Thomas, RB, UNLV: The sophomore had 112 of the Rebels' 175 rushing yards on Saturday and a score in his fourth career 100-yard rushing game. Thomas has run for 180 yards (6.0 yards per carry) and three TDs in his first two games this season to power a solid UNLV running game.
Devonte Boyd, WR, UNLV: The junior wideout is always a player to watch, with 14 TDs and 2,103 receiving yards in 27 career games for the Rebels. He had five catches for 84 yards against the Bruins and it would've been more if not for letting a deep ball from Stanton slip through his fingertips on the first play of the game.
Visit our GameDay page for full coverage of the UNLV-Central Michigan game.