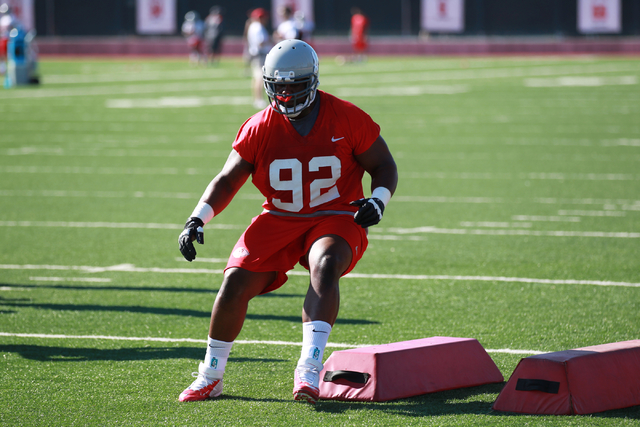 Five players to watch when UNLV's football team plays Fresno State at 7 p.m. Friday at Sam Boyd Stadium.
1. Fresno State senior WR Josh Harper. He is one of the Mountain West's best receivers, having caught 35 passes for 450 yards and two touchdowns. How UNLV's cornerbacks defend him is one of the game's key matchups.
2. UNLV sophomore RB Keith Whitely. He has emerged as the Rebels' best back, but isn't completely healthy. Either way, UNLV needs Whitely, who is averaging 4.9 yards per carry, to help the offense extend drives and gives its defense a much-needed break.
3. Fresno State junior S Charles Washington. He will be matched up against UNLV wide receiver Marcus Sullivan, which will be a difficult challenge for Sullivan. Washington has 36 tackles, including three for loss, and two pass breakups.
4. UNLV senior DT Brandon Willis. The Bulldogs average 191.7 yards rushing per game, so Willis needs to do his part in the interior of not allowing Fresno State to open holes up front.
5. Fresno State junior RB Marteze Waller. He averages 5.9 yards per carry, and given the Rebels' problems stopping the run (5.7 yards per rush, 292.5 per game), expect the Bulldogs to give Waller plenty of opportunities.
Check our GameDay page for all the news leading up to the UNLV-Fresno State game.