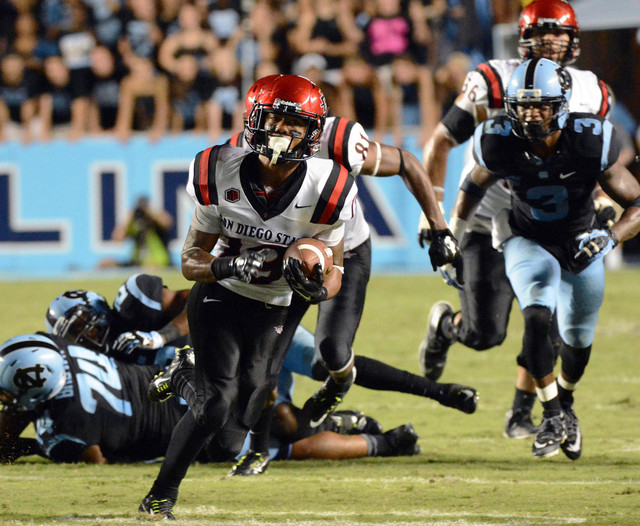 These are the five players to watch when UNLV's football team visits San Diego State at 5 p.m. Saturday:
1. San Diego State sophomore safety Malik Smith. The Aztecs own the Mountain West's best scoring defense, allowing 22 points per game, and Smith is tied for the conference lead with five passes defended. Four of those are on breakups, and he has one interception.
2. UNLV sophomore running back Keith Whitely. He is listed as questionable with a leg injury, and if the past is any guide, questionable really means probable. The Rebels need him with one key running back out and another doubtful.
3. San Diego State sophomore running back Donnel Pumphrey. The Canyon Springs High School product has rushed for 300 yards and five touchdowns, averaging 5.7 yards per carry. If a passing team like Houston is willing to run against UNLV, expect Pumphrey to receive plenty of carries.
4. UNLV junior defensive tackle Sonny Sanitoa. He is one of the few healthy players in the Rebels' front seven. Considering UNLV's difficulties against the run, giving up a league-worst 305.2 yards per game, expect the Aztecs to attack on the ground. A lot will be on Sanitoa's shoulders.
5. San Diego State senior quarterback Quinn Kaehler. He is looking for a bounce-back game after passing for 106 yards and two interceptions at Oregon State, but Aztecs coach Rocky Long blamed his struggles on an iffy offensive line. Kaehler passed for 3,007 yards and 19 touchdowns season, and if given time, will be difficult for UNLV to defend.
Check our GameDay page for all the news leading up to the UNLV-San Diego State game.