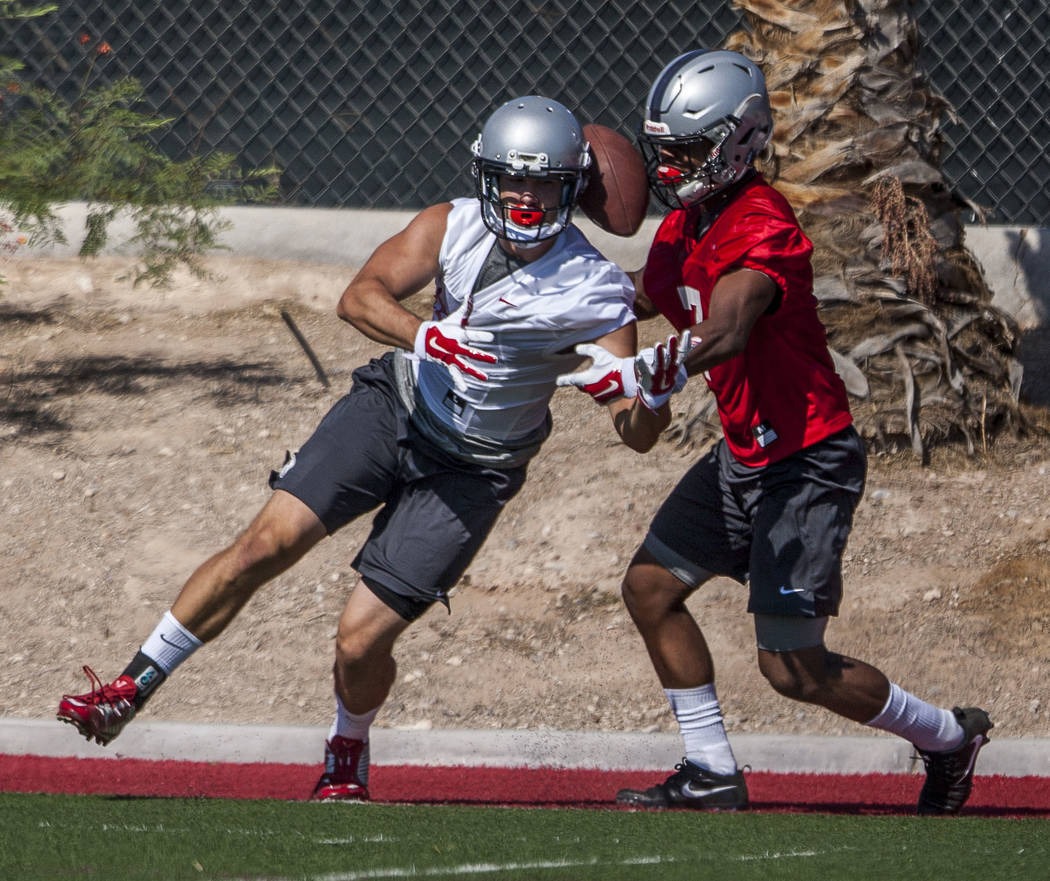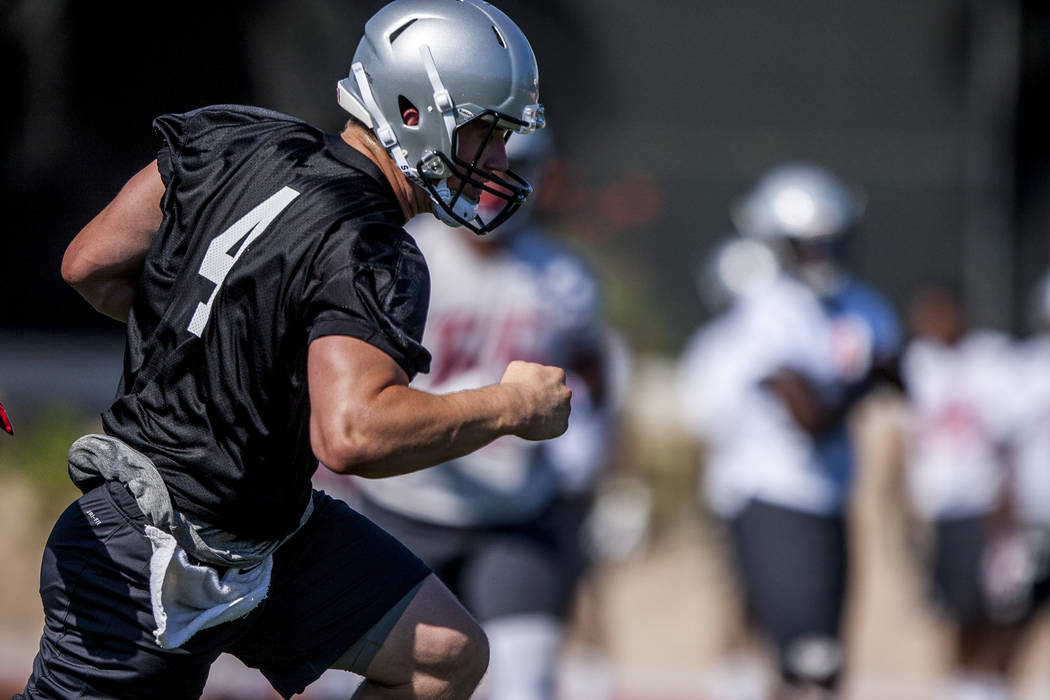 UNLV's football team, like many other programs around the country, opened training camp with the optimism of all that is possible.
The players and coaches, who began practice Wednesday morning at Rebel Park, have genuine hope this season with a new quarterback and what should be a dynamic offense.
But as with other teams around the nation, the Rebels have plenty of questions as well. Most won't be answered until the season gets under way Sept. 2 against Howard at Sam Boyd Stadium, but plenty of insight can still be gleaned when camp breaks Aug. 25.
Here are the major questions for the next three weeks:
1. How much will quarterback Armani Rogers develop within the offense?
Though much is expected of the freshman, he walks into a terrific situation with a strong running game, talented receivers and an offensive line that brings back four starters. So Rogers won't be asked to carry the offense. That said, he is athletic and skilled, and he will need to do more than be a game manager. How much coaches expand the playbook as camp proceeds will provide insight into what they expect of him during the season.
"There are some freshman things where he's still making a couple of mistakes here and there," coach Tony Sanchez said. "We kind of expect it, so we have to do a really good job of being great teachers and turning down the volume on him a little bit and not applying so much pressure so fast."
2. With only two starters back defensively, how will the position battles on that side of the ball shape up?
Those two starters are tackles — senior tackle Mike Hughes Jr. and junior Salanoa-Alo Wily. There will be position battles all over the defense, which isn't a necessarily bad. For a side of the ball that has struggled since John Robinson roamed the sideline, some new faces and healthy competition can be a good thing.
"We talked about that years ago having a culture of competition every single day," Sanchez said. "With a bunch of guys that are new, a bunch of guys that are battling for starting jobs, that increases that whole deal. We're definitely a faster defense, and that's something we've definitely tried to be."
3. How healthy will the Rebels be when camp concludes?
For all the optimism that surrounds this team, it could be dashed with a slew of injuries. Just ask the wide receivers what being healthy means after that unit was devastated last season. UNLV also can get through camp relatively unscathed, but if a key player — Rogers — starts limping, Rebels fans would have every reason to feel jittery.
4. Will UNLV develop a legitimate two-deep depth chart?
Depth shouldn't be an issue in many areas, such as at receiver and running back. Cornerback, though, is thin, and Sanchez said the search is out for a fourth corner to join the mix. Overall, he said he was pleased with the progress in trying to become a deeper team.
"I think one of the biggest problems we've had in the last couple of seasons is in certain areas we've been paper thin," Sanchez said.
5. Which players will unexpectedly emerge in practices?
Look for these freshmen to begin setting themselves apart: linebacker Farrell Hester II of Bishop Gorman High School, wide receiver Drew Tejchman, offensive lineman Justice Oluwaseun and defensive lineman Rodney Jones.
"There are a lot of guys that just aren't known," Sanchez said. "Just because we lose a lot of guys doesn't mean that's a bad thing. That's not a knock on the guys, but we've had some really good young, athletic guys, and I think it's time for them to step up and do some good things."
More Rebels: Follow all of our UNLV coverage online at reviewjournal.com/Rebels and @RJRebels on Twitter.
Contact Mark Anderson at manderson@reviewjournal.com. Follow @markanderson65 on Twitter.
2017 UNLV football camp schedule
(Times & dates are subject to change. Practices, which are closed to the public, are at Rebel Park unless otherwise noted.)
Thursday, 8:10 a.m.-10:30 a.m. (helmets only)
Friday, 8:10 a.m.-10:30 a.m. (half pads)
Saturday, 8:10 a.m.-10:30 a.m. (half pads)
Sunday, 7 p.m.-9 p.m. (full pads) at Sam Boyd Stadium
Tuesday, 8:10 a.m.-10:30 a.m. (half pads)
Wednesday, 8:10 a.m.-10:30 a.m. (full pads)
Aug. 10, 8:10 a.m.-10:30 a.m. (half pads)
Aug. 11, 8:10 a.m.-10:30 a.m. (helmets only)
Aug. 12, 6:30 p.m.-8:30 p.m. (scrimmage) at Sam Boyd Stadium
Aug. 14, 8:10 a.m.-10:30 a.m. (half pads)
Aug. 15, 8:10 a.m.-10:30 a.m. (full pads)
Aug. 16, 6:30 p.m.-8:30 p.m. (half pads)
Aug. 18, 8:10 a.m.-10:30 a.m. (half pads)
Aug. 19, 8:10 a.m.-10:30 a.m. (scrimmage)
Aug. 20, 6:30 p.m.-8:30 p.m. (helmets only)
Aug. 22, 8:10 a.m.-10:30 a.m. (half pads)
Aug. 23, 8:10 a.m.-10:30 a.m. (full pads)
Aug. 24, 8:10 a.m.-10:30 a.m. (half pads)