5 takeaways from UNLV's loss to San Jose State on Saturday
October 30, 2016 - 11:01 pm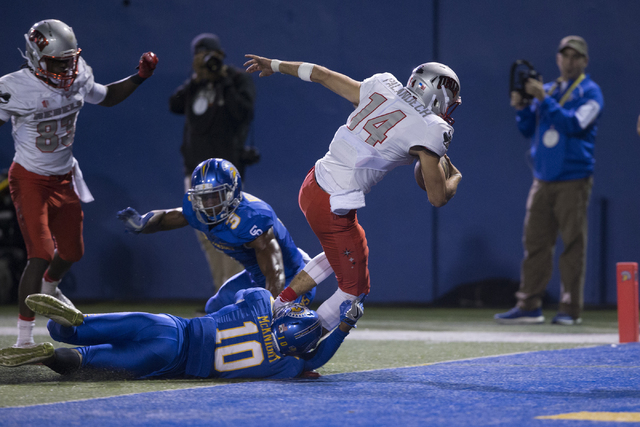 SAN JOSE, Calif. — Five takeaways from UNLV's 30-24 loss to San Jose State on Saturday night at CEFCU Stadium:
1. NO CONSISTENT PASSERS
UNLV quarterbacks Dalton Sneed, Kurt Palandech and Johnny Stanton have each proven to be strong runners but poor passers. The trio have completed a combined 99 of 219 passes this season for a 45.2 completion percentage, one of the lowest in the country. Rebels quarterbacks have thrown only 12 touchdown passes in nine games, with nine interceptions, for an average of 163.2 yards per game that also ranks among the nation's worst.
Sneed (39 of 88, 44.4 percent), a redshirt freshman, was pulled against the Spartans after going 2-for-9 for 24 yards in the first half, a week after he was 1-for-8 for 14 yards and an interception in the first half of a loss to Colorado State. He also went 2-for-12 for 9 yards and an interception in a loss to San Diego State.
Palandech almost helped UNLV (3-6) erase a 30-10 second-half deficit at San Jose State (3-6), throwing for a touchdown and running for one before throwing an interception in the final minute. He finished 10 of 21 for 161 yards after completing 49.3 percent of his throws last season.
Stanton, who opened the season as a starter before being sidelined by a knee injury, is 50 of 107 (46.7 percent) with six touchdowns and six interceptions.
2. SLOW STARTERS
For the second consecutive game, the Rebels fell behind early and couldn't complete a comeback. UNLV trailed Colorado State 35-0 at halftime of a 42-23 loss and trailed San Jose State 27-10 at the half, outscoring the Rams and Spartans by a combined 37-10 in the second half after getting outscored 62-10 in the first half.
3. CAN'T DEFEND DEEP BALL
UNLV has struggled against the pass all season, allowing 253.6 passing yards per game and 18 touchdown passes while making only three interceptions. Spartans quarterback Kenny Potter threw for 292 yards and two TDs to Tre Hartley — a 63-yarder down the sideline and a 29-yarder in the end zone two plays after he hit Tim Crawley for a 42-yard completion.
4. LONG AND WINDING ROAD
Barring a major upset at Boise State on Nov. 18, the Rebels will finish 1-5 away from home this season, with the only road win their 41-38 comeback victory at Hawaii. UNLV has won more than one road game in a season only once (2013) in the past 13 years.
5. 'PLAYOFFS?! YOU KIDDING ME?'
Replace "playoffs" with "bowl game" in ex-NFL coach Jim Mora's famous rant and he could be talking about the Rebels, who could mathematically still qualify for a bowl by winning their final three games but can realistically only hope to win another game. Following its bye, UNLV will host a Mountain Division-leading Wyoming that (6-2, 4-0) on Nov. 12 that upset previously unbeaten Boise State (7-1, 3-1) 30-28 on Saturday on a late safety. The Rebels then visit Boise State.
Barring a major improvement over the bye week, UNLV can only hope to salvage part of its season by beating rival UNR for the second straight year in its Nov. 26 finale to keep possession of the Fremont Cannon.
A victory over the Wolf Pack (3-5, 1-3) would give the Rebels four wins, which would be one more than last season and signify improvement in back-to-back seasons for the first time since 2003, when John Robinson guided UNLV to a 6-6 mark after going 5-7 in 2002 and 4-7 in 2001.
Contact reporter Todd Dewey at tdewey@reviewjournal.com or 702-383-0354. Follow @tdewey on Twitter.