A look at UNLV's next opponent: San Jose State
October 24, 2016 - 9:31 am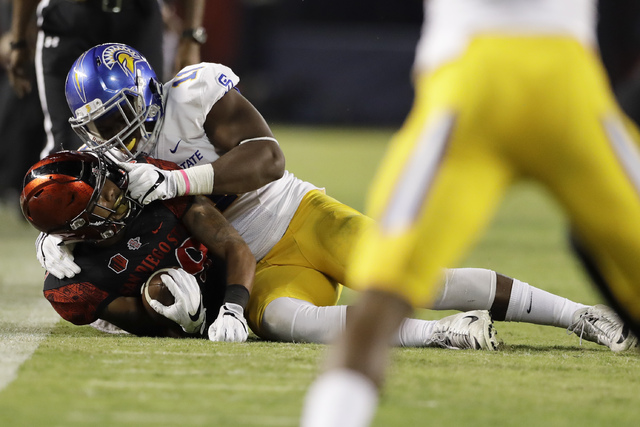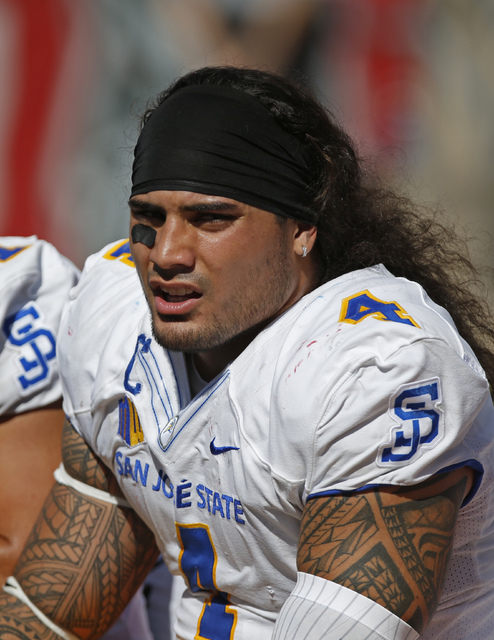 UNLV's football team (3-5, 2-2 Mountain West) will try to bounce back from its 42-23 loss to Colorado State at 7:30 p.m. Saturday against San Jose State (2-6, 1-3). Here's everything you need to know about the Spartans:
■ WHO: San Jose State Spartans
■ WHEN: 7:30 p.m. Saturday
■ Where: Spartan Stadium (San Jose, California)
■ TV: CBS Sports Network
■ Line: UNLV -2
■ SERIES: San Jose State leads 14-5-1
■ LAST MEETING: San Jose State 33, UNLV 27, OT (Oct. 10, 2015 at Sam Boyd Stadium)
■ 2015 RECORD: 6-7 (4-4 MW). Beat Georgia State 27-16 in Cure Bowl.
■ 2016 record: 2-6 (1-3 MW). Wins: UNR (14-10), Portland State (66-35). Losses: San Diego State (42-3), Hawaii (34-17), New Mexico (48-41), Iowa State (44-10), Utah (34-17), Tulsa (45-10).
■ HEAD COACH: Ron Caragher (overall record: 61-50, 10th year; school record: 17-28, fourth year)
■ RETURNING STARTERS: 9 offense, 7 defense
■ THREE PLAYERS TO WATCH: QB Kenny Potter, RB Malik Roberson, LB Christian Tago
■ ABOUT THE SPARTANS:
— Potter completed 30 of 48 passes for 329 yards, two touchdowns and an interception in last season's 33-27 overtime win over UNLV. Potter fired a 21-yard touchdown pass to running back Tyler Ervin on fourth-and-10 with 1:08 left to give the Spartans the lead.
— Ervin, the do-everything back for San Jose State who is now playing for the Houston Texans, scored on a 2-yard run in overtime to lift the Spartans to their sixth straight win over the Rebels. Ervin compiled 2,637 all-purpose yards last season (1,601 rushing, 334 receiving, 702 return).
— Potter, a senior, has completed 96 of 171 passes (56.1 percent) for 1,252 yards, nine touchdowns and six interceptions this season.
Last season, he completed 67.4 percent of his passes for 1,984 yards, 15 TDs and seven interceptions. Potter has been limited to 104 yards rushing and four touchdowns while averaging only 1.4 yards per carry this season after running for 415 yards (3.6 ypc) and seven scores last season.
— Roberson (343 yards rushing, TD) is one of three running backs with more than 300 yards rushing, along with Deontae Cooper (331 yards, two TDs) and Zamore Zigler (325 yards, 3 TDs).
— Tre Hartley leads the team in receptions (28), receiving yards (468) and is tied for the team lead in touchdown catches with two. Justin Holmes has 22 catches for 397 yards and two TDs and Tim Crawley has 26 catches for 275 yards and two TDs.
— The Spartans are tied for 102nd in the nation in total defense (446 yards per game), are 114th in scoring defense (36.5 points per game) and 117th in rushing defense (236.4 ypg).
Todd Dewey/Las Vegas Review-Journal
Visit our GameDay page for full coverage of the UNLV-San Jose State game.