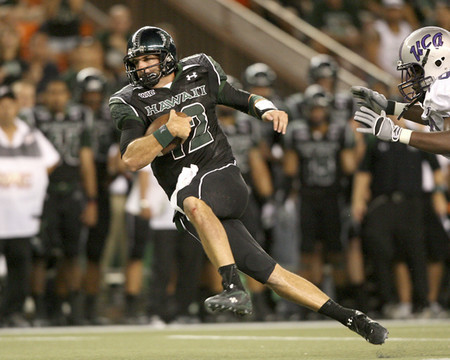 It's not as if UNLV's secondary took the past two weekends off, but it didn't face anything like Hawaii's run-and-shoot, throw-almost-every-down offense.
Colt Brennan is long gone, but the Warriors appear to have a more than capable replacement in senior quarterback Greg Alexander.
Alexander passed for 453 yards and three touchdowns Saturday in a 38-20 victory over Washington State. The Warriors totaled 626 yards of offense.
OK, Washington State might struggle to beat Palo Verde High School, but UNLV coach Mike Sanford won't dismiss those numbers.
The Cougars made life easy for Alexander by committing seven turnovers, and Sanford knows the Rebels can't afford to be so careless when they play the Warriors at 8 p.m. Saturday at Sam Boyd Stadium.
"We've got to be able to slow them down and contain them and rush the passer," Sanford said. "I think we're better than we were a year ago, we're better than we were two years ago, but how much better, I don't know yet."
Whether it's a traditional drop-back passer such as Alexander or the gun-slinging Brennan, the Warriors' philosophy hasn't changed. They prefer quick passes that make establishing a pass rush difficult.
"The thing about that offense is it's a timing deal," UNLV defensive coordinator Dennis Therrell said. "You can blitz him, and they'll turn a guy loose. It comes out of there so quick, you can't get to him. We've got to come up with a way to try to affect him somehow somewhere."
Alexander came on strong in the second half of last season, beginning Oct. 25 in a 38-31 victory over UNR. He came off the bench to complete 17 of 22 passes for 205 yards and two touchdowns, including the game-winning 24-yarder with 20 seconds left.
"About the Nevada game, he started picking up the system and started playing well, and he finished the season doing a great job," Hawaii coach Greg McMackin said.
Starting seven games last season, including the last six, Alexander completed 154 of 245 passes for 1,895 yards and 14 touchdowns.
Alexander didn't know if he even would play major college ball. Few schools showed much interest in 2008, even though JCFootball.com ranked him the nation's No. 1 junior college quarterback.
Then close to signing day, Hawaii stepped forward with a scholarship offer for Alexander, who played at Santa Rosa (Calif.) Junior College.
"I was kind of getting nervous, kind of wondering what was going on, kind of getting anxious," Alexander said. "But it all worked out."
He went to Honolulu facing the natural comparisons to Brennan, who passed for more than 4,000 yards in three consecutive seasons. Brennan was nearly unstoppable in the 2007 meeting with UNLV, completing 26 of 32 passes for 298 yards and two touchdowns and rushing for three scores in the Warriors' 49-14 rout.
Now it's up to the Rebels to make sure Alexander doesn't have that type of game.
"He's definitely a leader," UNLV end/linebacker Jason Beauchamp said. "But I think a lot of his talent is deceiving. I think he does everything pretty good, nothing great."
• CLAYTON UPDATE — UNLV quarterback Omar Clayton, who has been bothered by a bruised right knee, will start Saturday's game. Beauchamp (sprained right ankle) also will start and play mostly end because of Hawaii's run-and-shoot, which will keep the Rebels in nickel and dime defenses much of the time. Guard Sean Tesoro (sprained right ankle) will be a game-day decision, and if he doesn't start, Jason Heath will take his place.
Contact reporter Mark Anderson at manderson@reviewjournal.com or 702-387-2914. Read the latest UNLV football updates at lvrj.com/blogs/unlv_sports.