Anemic passing attack haunts UNLV in 27-20 loss at Arkansas State
September 22, 2018 - 7:23 pm
Updated September 22, 2018 - 9:59 pm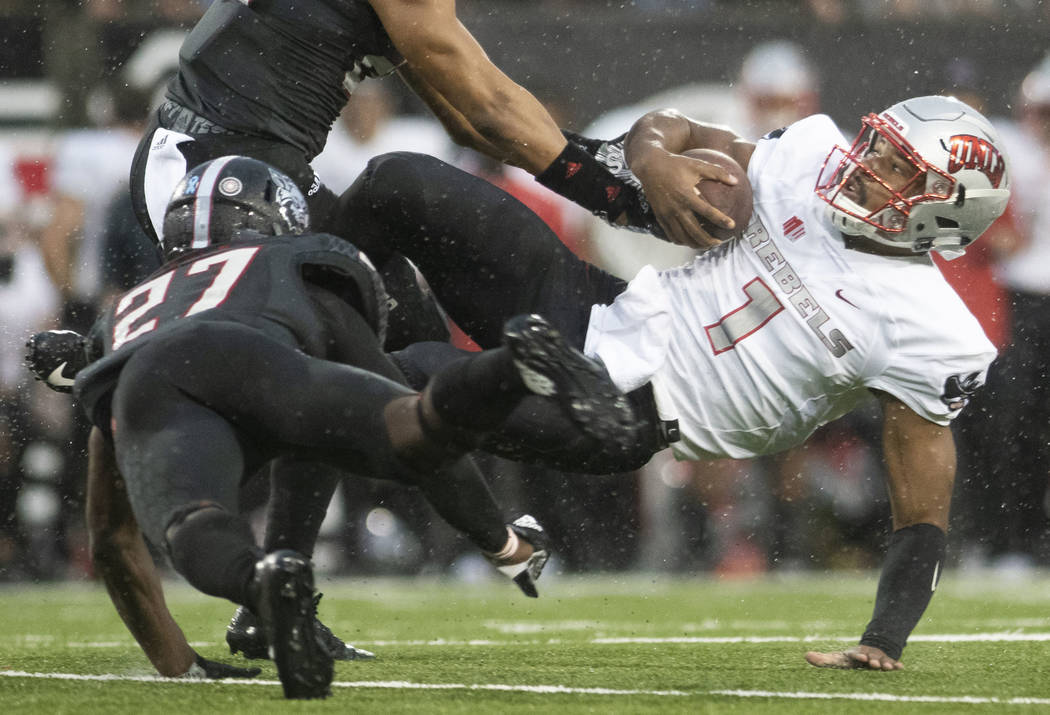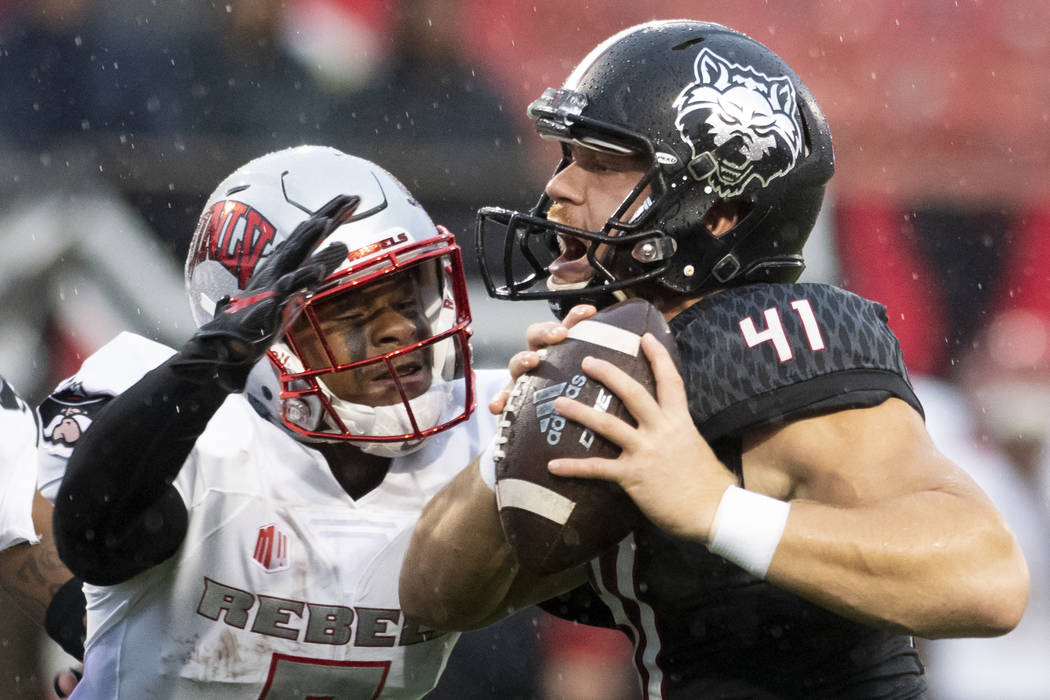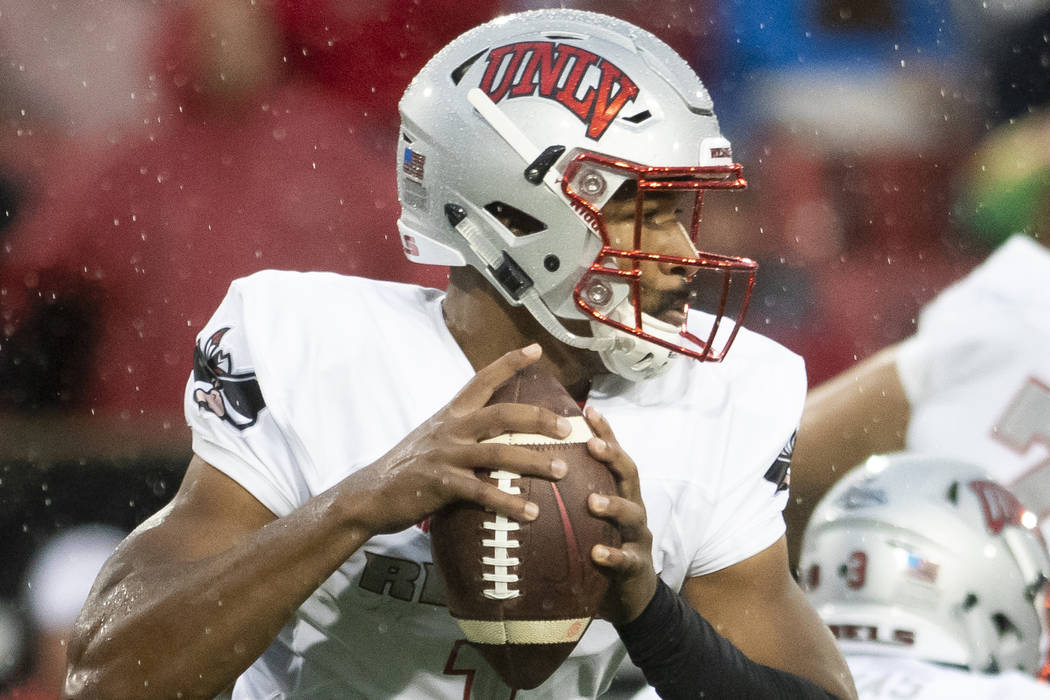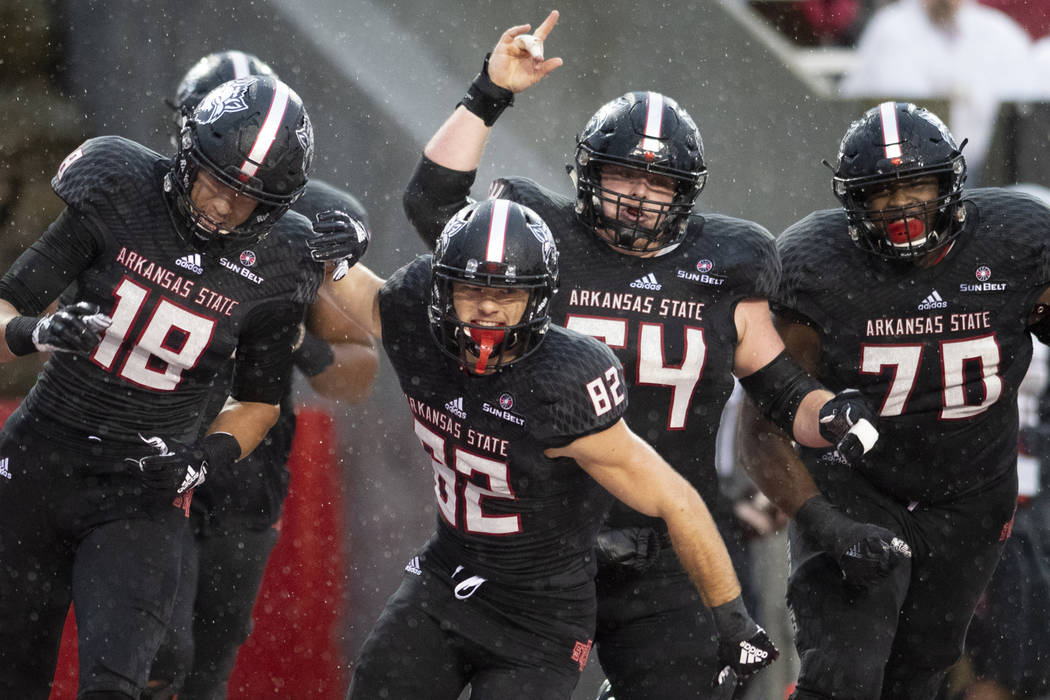 JONESBORO, Ark. — As good as UNLV's rushing attack has been this season, Saturday night's rainy game at Arkansas State showed that the Rebels will need more than one dimension if they hope to get their first bowl appearance in five years.
UNLV rushed for 310 yards but passed for 23 on five completions — with three interceptions — in a 27-20 loss to the Red Wolves at Centennial Bank Stadium.
"That's a tough one to swallow there," Rebels coach Tony Sanchez said. "I feel like at times we did what we needed to do to put ourselves in position to win the game. Too many unforced errors."
Despite their struggles in the passing game, the Rebels (2-2) were good enough on the ground and made enough plays on defense to give them a chance to win. But ultimately turnovers on offense and special teams were too much to overcome.
After Arkansas State (3-1) drove 80 yards for a touchdown on its first drive, UNLV moved the ball to the Red Wolves' 33-yard line. The Rebels' first turnover ended the drive, as quarterback Armani Rogers was intercepted by Jerry Jacobs at the 6.
Jacobs intercepted Rogers a second time at the Arkansas State 2 to kill another drive in the second quarter.
"We have to do a better job of throwing the ball," Sanchez said. "We didn't handle the weather as well as Arkansas State did. The ball sailed all night. You throw the ball for under 50 yards or whatever it was, it's going to be tough to win games."
While the wet football seemed to impact Rogers, the rain didn't seem to bother Arkansas State's Justice Hansen. The third-year starter passed for 199 yards and three touchdowns. His second, a 24-yard strike to Jonathan Adams Jr., put the Red Wolves ahead 13-7 just before halftime.
UNLV's defense held Arkansas State to 3 of 13 on third downs, and an early third-quarter stop could have given the Rebels a chance at a game-tying drive. But a miscue on special teams ruined that opportunity.
With 11 minutes left in the third, UNLV punt returner Brandon Presley signaled for a fair catch at his 8. He reached above his head to secure the ball, but it slipped off his fingertips and the Red Wolves recovered at the UNLV 2. On the next play, Hansen threw for his third touchdown and a 19-7 lead.
But UNLV wasn't finished. Its biggest play came with 6:40 left in the third when Rogers ran for 64 yards. Two plays later, he scored from 1 yard to pull the Rebels within 19-14.
UNLV's Javin White had nine tackles, none more important than the one he made less than a minute after Rogers' TD. White stripped the ball from a scrambling Hansen, and Dalton Baker recovered to give the Rebels their best field position of the game. That set up a Lexington Thomas touchdown that gave UNLV a 20-19 lead.
It was short-lived, though. Arkansas State's Marcel Murray broke outside and raced 39 yards for a TD and 27-20 lead with 13:19 left to close out the scoring.
Despite the loss, Sanchez said he was encouraged by his team's progress after its final nonconference game.
"It's by far the most competitive we've been since I've been here," Sanchez said. "Our guys played four good football games. You feel like you could have very easily come out of it 3-1. We're 2-2, so that's disappointing. We're good enough to win football games and win games like this. We've got to get better at the details."
More Rebels: Follow all of our UNLV coverage online at reviewjournal.com/Rebels and @RJ_Sports on Twitter.