Armani Rogers stands out again at UNLV's practice
August 16, 2017 - 10:27 pm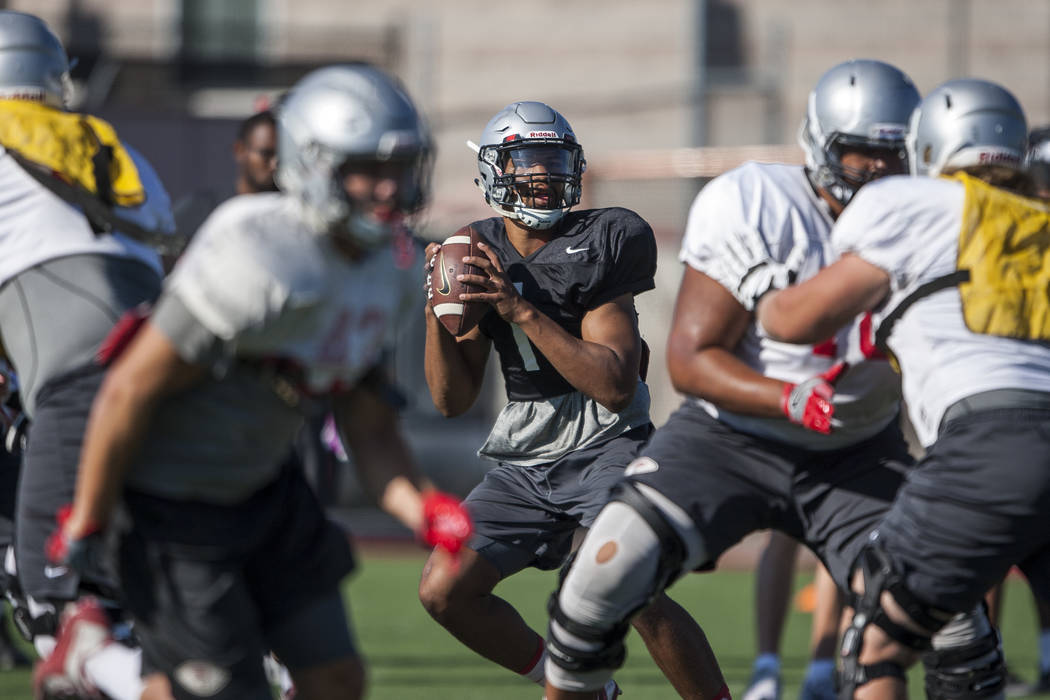 Wednesday's UNLV football practice report from Rebel Park:
Tony's take
Coach Tony Sanchez, on the 13th day of training camp:
"They're doing a good job of working hard and having fun doing it. Sometimes in the past when you're telling guys to finish and grind through it, it's been like pulling teeth. These guys are easy. They come out, and they actually enjoy doing it. They have fun competing, and they did a really good job tonight.
"I really love when we got down to high red, low red (20- and 10-yard line in) seeing (redshirt freshman quarterback) Armani (Rogers) really have the conviction he had in throwing those balls. You're starting to see him not only make a decision, but you can see he believes in the decision by the velocity on the ball and the way he's stepping into things. That's exciting."
Notes
— Sanchez's praise of Rogers was nothing new. The coach, in fact, has made it a daily habit to single out Rogers for his work.
"I feel like I'm improving each and every day," Rogers said. "The more we go through camp, I feel like I'm getting more comfortable. I'm recognizing defenses faster. Everything becomes more fluent the more and more you do it."
— In other quarterback news, UNLV might face freshman Caylin Newton when the Rebels open the season Sept. 2 against Howard at Sam Boyd Stadium. He is the younger brother of Carolina Panthers star quarterback Cam Newton.
"Don't call me 'Lil' Cam,'" Newton said in an interview with The Washington Post. "Don't call me 'Baby Cam.' Some people even try to call me 'Cam.' I'm like, 'C'mon now.' They try. They try."
— UNLV takes Thursday off, and will return to Rebel Park at 8:10 a.m. Friday. All practices are closed to the public.
Contact Mark Anderson at manderson@reviewjournal.com. Follow @markanderson65 on Twitter.