Aztecs dominate, Rebels fall to 0-6 away from home
November 28, 2010 - 12:00 am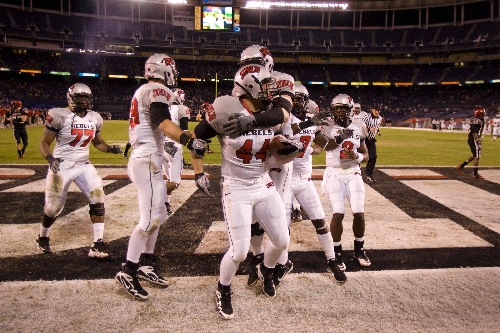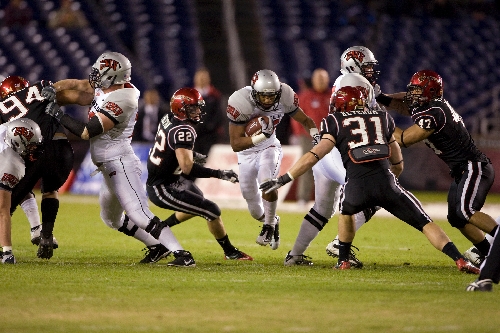 SAN DIEGO — Scenarios don't get much more difficult than this one for UNLV — on the road against one of the Mountain West Conference's best offenses.
The Rebels never had a chance.
San Diego State wasted no time taking control, totaling 400 yards in the first half and 588 for the game in a 48-14 victory Saturday night at Qualcomm Stadium.
UNLV (2-10, 2-6 MWC) dropped to 0-6 on the road, where it has been outscored 263-58. The Rebels end their season away from Las Vegas, Saturday at Hawaii.
"One more chance to not look like a team that's getting run over on the road," coach Bobby Hauck said.
San Diego State (8-4, 5-3) certainly looked at home against the Rebels, with quarterback Ryan Lindley standing calmly in the pocket, clearly unworried about the UNLV pass rush. He completed 22 of 30 passes for 338 yards and four touchdowns, and was not sacked.
Wide receivers DeMarco Sampson and Vincent Brown had few problems getting open. Sampson caught six passes for 128 yards and two wide-open touchdowns, and Brown hauled in five receptions for 74 yards and a touchdown.
"That's a group that can play on Sundays," UNLV safety Mike Clausen said.
It was a lousy matchup for UNLV, which has struggled mightily against quarterbacks who can throw deep. The Rebels entered allowing the game 14.2 yards per reception.
Hauck credited the Aztecs' receivers for winning battles for deep throws.
"They're maybe the best in our league," he said. "I thought our team was physical. I thought when the ball was thrown underneath, our guys did a good job. When it went down the field, I thought their guys did a good job."
So the Rebels weren't going to stop the Mountain West's top passing team, and they had little chance facing the conference's only running back averaging more than 100 yards per game.
Ronnie Hillman gained 152 yards on 19 carries, including a 10-yard touchdown in the third quarter to make it 48-7. San Diego State totaled 250 yards on the ground against a UNLV rush defense that came in ranked third-worst nationally.
The Aztecs scored the first 17 points before UNLV's Marcus Sullivan returned a kickoff 73 yards to set up quarterback Omar Clayton's 27-yard scoring pass to tight end Kyle Watkins on the next play.
It was one of the Rebels' few highlights, and it didn't slow down the Aztecs. San Diego State led 31-7 at halftime and 48-7 after three quarters.
"When a team goes up, you've got to try to avoid feeling the pressure," said Clayton, who was 13 of 28 for 167 yards. "You've got to stick with it and stay sound and execute."
UNLV had chances to make the score a little closer, opening the game with a 60-yard kick return by Sullivan that ended with a turnover on downs.
The Rebels picked up four first downs on their next drive and advanced to San Diego State's 27, but Nolan Kohorst missed a 44-yard field goal.
UNLV had two more drives beyond the Aztecs 40 late in the second quarter that resulted in no points.
It took a 64-yard fumble return for a touchdown by Clausen with 1:07 remaining to get UNLV back on the scoreboard.
"We did some good things tonight, but we didn't finish a dang drive," Hauck said.
■ NOTE — UNLV defensive tackle Isaako Aaitui left the game in the first quarter, and his left knee later was wrapped in ice. Hauck said he didn't know the extent of the injury.
Contact reporter Mark Anderson at manderson@reviewjournal.com or 702-387-2914.
Aztecs 48, Rebels 14
SAN DIEGO STATE 48
UNLV 14
KEY: The Aztecs gained 400 yards in the first half and finished with 588.
NEXT: UNLV at Hawaii, 7:30 p.m. PST Saturday, KWWN (1100 AM, 98.9 FM)