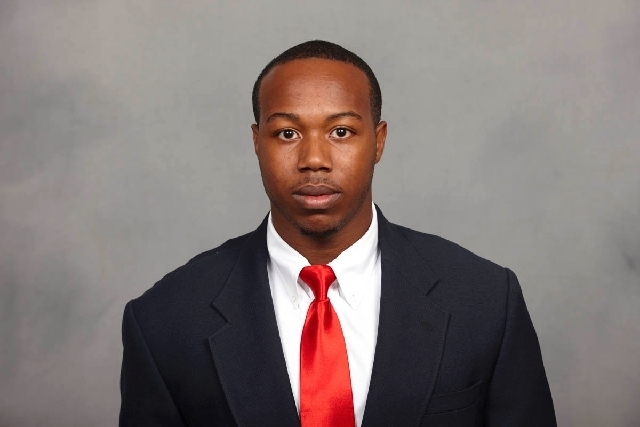 BACKUP RUNNING BACK SMITH ALREADY 2-0 VS. MINNESOTA
ELY — Junior running back Adonis Smith has some familiarity with UNLV's opening opponent.
He played at Northwestern for two football seasons before transferring last year, and he was on Wildcats teams that went 2-0 against Big Ten Conference rival Minnesota.
UNLV plays at Minnesota on Aug. 29.
"I want to be 3-0, and I feel comfortable with where this team is at," Smith said. "The cohesiveness feels the same as it did at Northwestern when we went to go play Minnesota."
Smith (5 feet 11 inches, 200 pounds) is the backup to starter Tim Cornett, and he is expected to be a big part of the Rebels' offensive plans.
"He's done a good job," coach Bobby Hauck said. "His spring wasn't physical enough. I don't think he understood playing hard without the football, and those are things that he's really progressed in. He's played a much more physical brand of football this camp. I think he's learning to play harder without the ball.
"It's a big deal. I admire him and appreciate him, and I think his teammates do, too, for embracing all the things he needed to improve on."
Smith played at Northwestern in 2010 and 2011, rushing for 462 yards and three touchdowns over those two seasons.
He played his first college game at Minnesota in TCF Bank Stadium, which opened the year before.
"It's beautiful," Smith said.
Smith can't completely claim an undefeated record against the Golden Gophers. He was on the sideline when Minnesota opened last season with a 30-27 triple-overtime victory at UNLV, but didn't play because he had to sit out the year due to NCAA transfer rules.
He won't be sitting out next week.
"Any way I can help the team, I'm there," Smith said. "I'm happy to be back on the field playing."
NOTABLE
Redshirt freshman Troy Hawthorne (6-3, 195) moved from third-string quarterback to reserve safety Monday. He approached coaches last week with the request. Hauck said he and offensive coordinator and quarterbacks coach Timm Rosenbach were "a little resistant to giving up on the quarterback because he was doing a pretty decent job. But he's really into trying this. I think he's got the ability to do that, so we'll see when the live drills come around." Hawthorne played quarterback and safety at Centennial High School in Peoria, Ariz., and Hauck said coaches considered recruiting him to play both positions as well as wide receiver. Hawthorne could "work his way into the mix" at safety by October, Hauck said. If UNLV must go to a third-string quarterback, freshman Jared Lebowitz could get the call, or Hawthorne might move back. … Sophomore starting quarterback Nick Sherry took a sack he shouldn't have in the morning practice, and was told to lie flat on his back as if dead. "We want him to understand how to protect himself," Hauck said. "Any time we can make a vivid example for guys and have some fun with it, it's probably a good thing. We had a blitz come off his blind side, and he actually knew it was coming, and he just held on to the ball, held on to the ball. He took a shot to the back of the noggin. It's going to be a turnover, and he's going to get knocked around." Sherry also nearly threw an interception, and then went to work with the second-teamers. But Hauck said that was because the reserves were getting ready to take the field. "We felt like he wasn't having his sharpest practice," Hauck said. "We wanted to give him more (repetitions). Instead of throwing him out after making a mistake, for the next series, we put him back into it." … Single-game tickets went on sale Monday. Visit unlvtickets.com or call 739-3267 for more information.
SITTING OUT
PlayerPos.Status
Matt LeaSOut
Taylor SpencerWROut
MARK ANDERSON/LAS VEGAS REVIEW-JOURNAL