Barry Odom stressed championships over rebuild for UNLV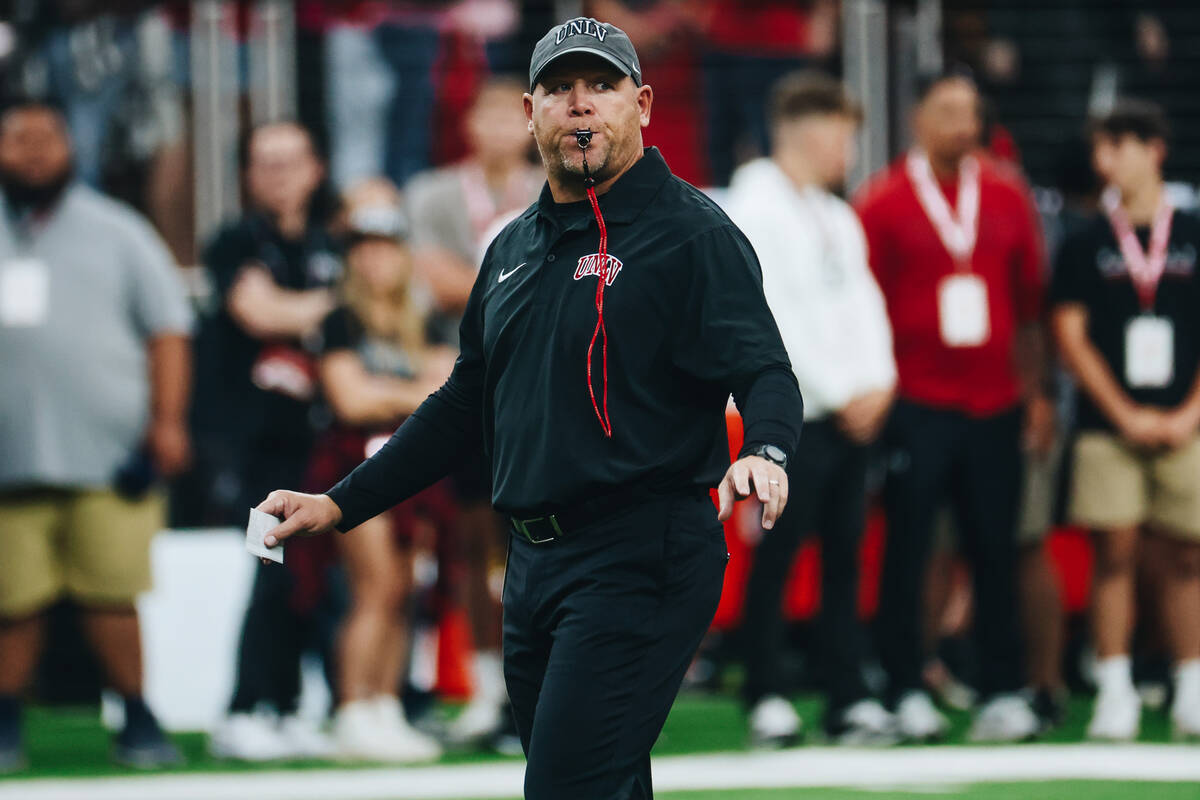 COLORADO SPRINGS, Colo. — He never believed in a rebuild. Never thought to look his seniors in the eyes and talk about competing for a championship three years down the road. Never gave anything a second thought but winning immediately.
Barry Odom has done just that as coach of UNLV's football team, which plays arguably the biggest game in school history Saturday against Air Force at Falcon Stadium.
A win would allow the Rebels to control their own destiny in playing for a Mountain West title and hosting the game at Allegiant Stadium.
How far things have traveled for UNLV in such a short time. How different things are now for an 8-2 team that is 5-1 in conference.
"You've got to piece together a roster and put the right guys in the right spots and develop those in your program," Odom said. "Then you add through recruiting. In our world, you don't get time for a complete overhaul and rebuild. That doesn't exist anymore. The expectation is to get as good as you can.
"I owed it to this team to do everything I could to get them in the conversation to have a chance at winning a championship."
He has done so through a balanced look on both sides of the ball and some of the best special teams UNLV has displayed in its history. For it, the Rebels have started 5-0 at home for the first time since John Robinson's team in 2000. Pretty good omen should that conference title game come to Las Vegas.
You can't overstate the importance of redshirt freshman quarterback Jayden Maiava, who assumed control of the team's Go-Go offense once starter Doug Brumfield went down with an injury in the third game.
You can't talk enough about about the job Maiava has done directing things, completing 65 percent of his passes for 2,058 yards with 11 touchdowns and four interceptions.
But perhaps more impressive than anything else Odom has spun is the team's opportunistic play on defense, a side of the ball that for years has been a virtual sieve of allowing yards and points. The Rebels seemingly forever couldn't stop anyone. Another thing that has changed under Odom.
UNLV has at least one takeaway in every game. It has allowed just one individual 100-yard rusher in UNR quarterback Brendon Lewis. Before that, the Rebels held three teams to less than 100 yards on the ground for the first time since 2005.
They're also tied for seventh nationally in interceptions with 13 by seven players.
None of the play — be it offense or defense or special teams — has surprised junior wide receiver/kick returner Jacob De Jesus. He didn't know any better when arriving from Modesto Junior College. Didn't know much about the history of UNLV, about all the losing, that it hadn't been bowl eligible since 2013.
Didn't much care, either.
Believed in Odom
"I looked at their previous records, but also knew we had a new coaching staff who I believed in," De Jesus said. "Do everything right. That's what winning takes. It's a sacrifice. You have to pay the price to win. Coach Odom came in here and immediately changed the culture. That's the reason we've had so much success.
"I'm very excited for this game — just prove to everybody we're one of if not the best team in the Mountain West this year. We're playing a very good team with a good record and history of winning. Just go out and play our best."
He's right. It won't be easy. Air Force — despite recent losses to Army and Hawaii — has won five straight in the series and is 9-2 at home against the Rebels. The Falcons (8-2) can still run the ball like nobody's business, ranking second nationally with a 279.5 average.
They're also sixth in time of possession, a contrast to what has been at times a quick-score UNLV offense.
"My pursuit since I've been here is to compete to win championships," Odom said. "That was the approach we took from the day we stepped on campus."
Not a rebuild in sight.
Contact sports columnist Ed Graney at egraney@reviewjournal.com. Follow @edgraney on X.
Up next
Who: UNLV vs. Air Force
When: 12:30 p.m. Saturday
Where: Falcon Stadium, Colorado Springs, Colo.
TV: CBS Sports Network
Radio: KWWN (1100 AM, 100.9 FM)
Line: Air Force -3; total 47