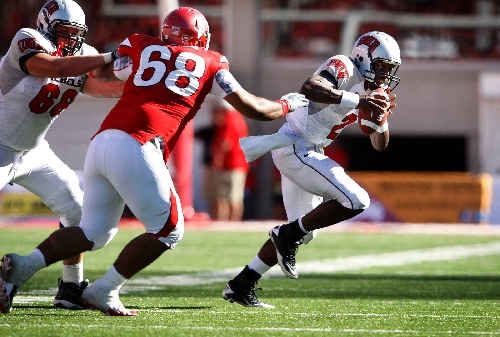 Maybe New Mexico will again provide the relief UNLV so desperately needs.
The winless Lobos were just the tonic last season when the Rebels visited New Mexico and ended a streak of four straight losses — three by at least 20 points — with a 34-17 victory.
The Lobos are again winless, but so are the Rebels. Both enter today's 7 p.m. kickoff at Sam Boyd Stadium with matching overall (0-3) and Mountain West Conference (0-1) records.
The Rebels used last season's victory as a minor springboard; they won three of their final five games to finish 5-7.
"It was most certainly similar to the situation we're in now," UNLV running back Channing Trotter said. "We want to go in there and get a win, and hopefully it snowballs for the rest of the season."
UNLV needs all the help it can muster, facing games the next two weeks against UNR and at West Virginia.
The Rebels, 10½-point favorites today, carry no momentum into this game. They have three offensive touchdowns and have been outscored by an average of 36-13.
New Mexico, which has lost 18 of its past 19 games, is in worse shape. The Lobos have been outscored by an average of 60-10, and their pass offense (193-yard average) is the only major offensive category not in the bottom 10 nationally.
"They're going to be a hungry football team," Rebels coach Bobby Hauck said. "They've got to be able to look at us and see an opportunity to win a game, and I expect them to come in and give a great effort."
Besides pursuing its first victory, UNLV is searching for answers to various questions.
One is at quarterback, where Omar Clayton has secured the job for now, helped by Mike Clausen's move to safety, where he might start. Clayton, though, struggled in last Saturday's 30-7 loss at Idaho. Caleb Herring relieved him in the third quarter and completed the Rebels' only touchdown pass.
Though Hauck said the job still belongs to Clayton, on Tuesday when given the chance to speak positively about the quarterback's role, Hauck instead commented on the offense's struggles.
That could mean Hauck won't wait long to make a change if Clayton gets off to another slow start.
Whomever is at quarterback will need help from better blocking and a running game that has struggled. The Rebels average 91 yards rushing per game and 2.6 per carry.
No UNLV running back has rushed for 100 yards since the 2009 opener when Trotter had 102 against Sacramento State.
The Rebels' poor blocking has been somewhat surprising considering the unit is a veteran group, though adapting to a new system. Playing a New Mexico team that allows 536.7 yards per game and has had only two sacks in three games might be the break the line needs.
UNLV, of course, has its own defensive issues, allowing 381.7 yards a game. Again, this is a chance to improve that number, facing an opponent that averages 256.7 yards of offense and has uncertainty at quarterback.
Now UNLV must hope playing New Mexico works out as well as it did last season. The Rebels don't want to consider what a loss could mean.
"This is a game where both teams need a win really bad," Clayton said. "We have to come to the game with the mindset that we're going to win because we have to."
Contact reporter Mark Anderson at manderson@reviewjournal.com or 702-387-2914.
GAME DAY
NEW MEXICO VS. UNLV
WHEN: 7 p.m. today
WHERE: Sam Boyd Stadium
TV/RADIO: The Mtn. (334), KWWN (1100 AM, 98.9 FM)
LINE: UNLV -10; total 50