Boise State chosen to win MW's Mountain; UNLV 3rd in West
Updated July 24, 2018 - 7:54 pm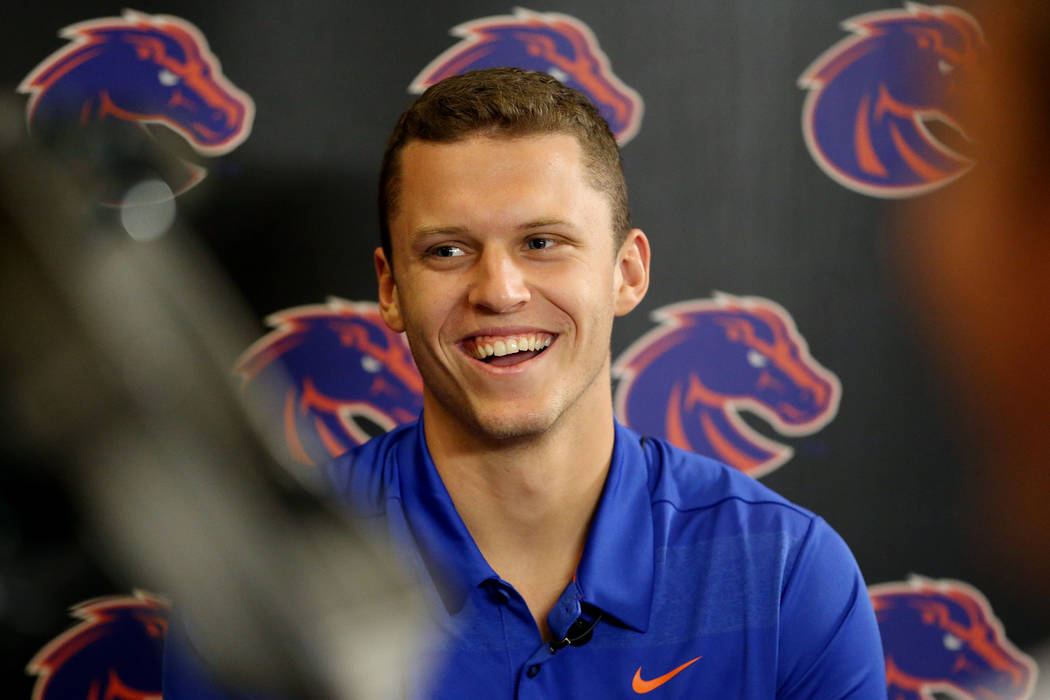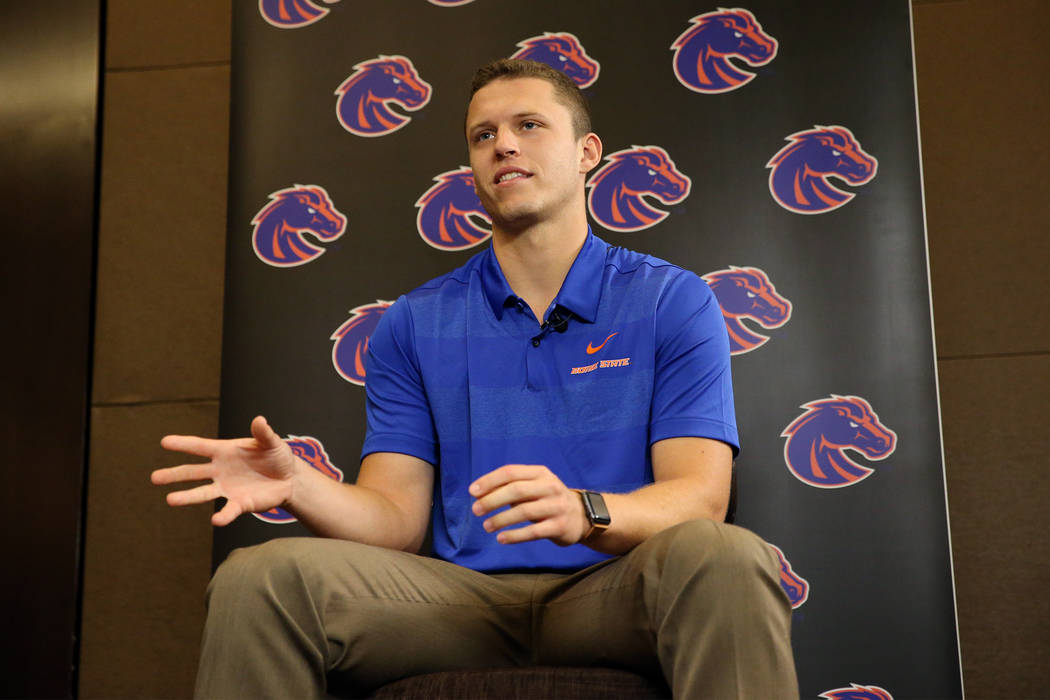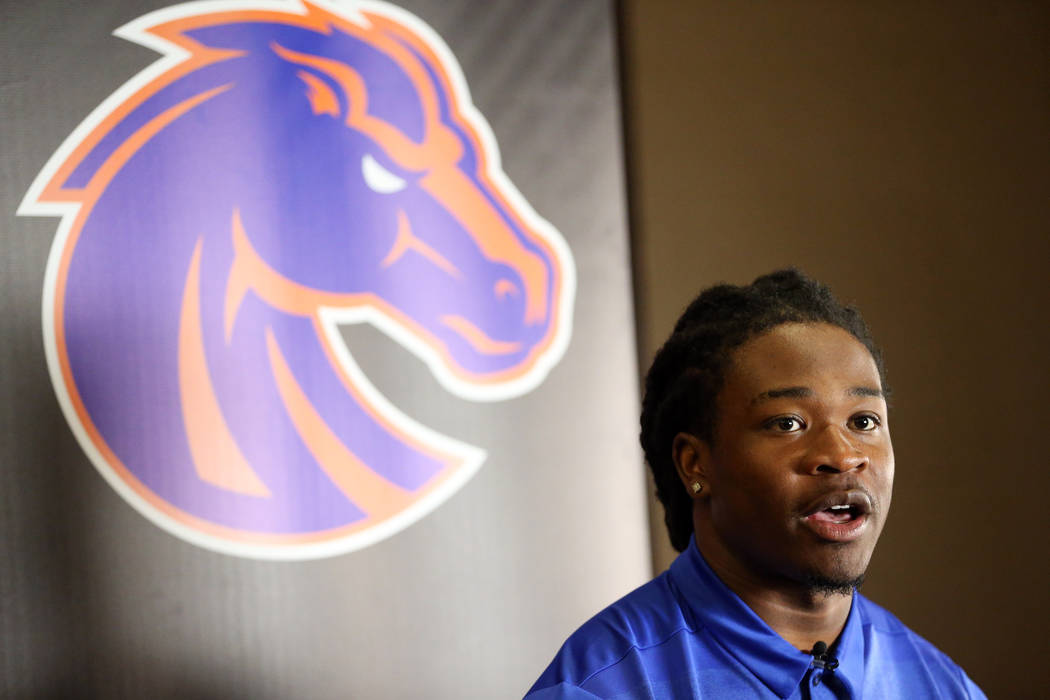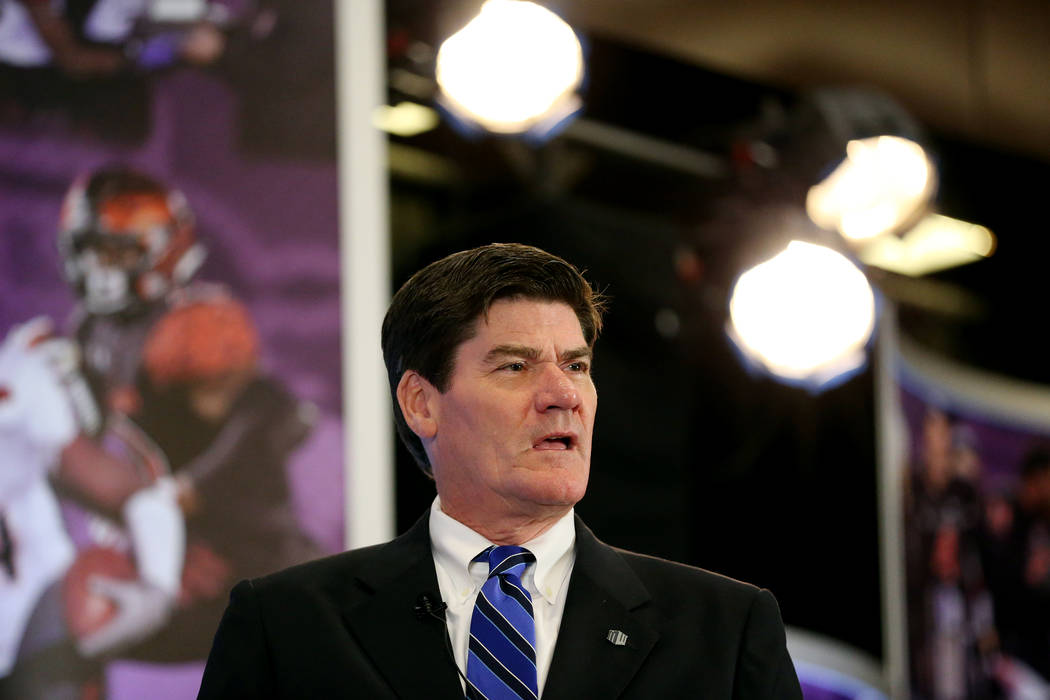 This is familiar territory for Boise State.
The Broncos were the unanimous choice by the Mountain West media to win the conference's Mountain Division.
"It's an expectation we know that we're going to have every single year," Boise State quarterback Brett Rypien said Tuesday at conference football media days at The Cosmopolitan of Las Vegas. "We all know that coming into this program we're going to have a target on our back because of the history that we've had. It's not something that we shy away from at all, but at the same time, we know the amount of work it takes to be in that Mountain West championship game."
Rypien, chosen preseason conference offensive player of the year, is a four-year starter who will be counted on to provide leadership.
"It's good from the standpoint Brett's been through it," Boise State coach Bryan Harsin said. "There's maturity there. There's leadership there. I think he's been great at holding our guys accountable when we've had days that aren't to our standard. It's not always me or one of our coaches that has to say something. He'll step up and say it, and when … you see more of a player-driven team, that's when I think you've got something."
Fresno State was selected to win the West Division; UNLV was picked to finish third. Rebels senior running back Lexington Thomas was named to the preseason all-conference team.
Still going in Albuquerque
New Mexico coach Bob Davie, suspended for 30 days in the spring for allegedly obstructing a criminal investigation of some of his players, said he had trouble coming to terms with the punishment.
"It's been a little confusing, quite honestly," he said. "I'm not going to talk about the suspension, but I've had a hard time telling you right now, honestly, why I was suspended. I'd have a hard time explaining that to you because I'm not really sure myself, and I will never, ever agree with it, but I accept it in moving forward."
This has been a rough time for New Mexico athletics, which last week cut men's soccer, men's and women's skiing and women's beach volleyball. Almost half of the men's track and cross country teams also were cut.
Football didn't appear to be in the crosshairs, but Davie said that sport's future had been uncertain.
"I was never told until the announcement of what football's status was," Davie said. "So our program's gone through a summer of, 'Are we going to be playing football?' It's unique."
Keeping quiet at Air Force
With the opening of college football training camps about a week away, Air Force coach Troy Calhoun still hasn't announced his defensive coordinator.
"We'll name one when we do," he said.
Pressed by reporters, Calhoun said, "We haven't named that. We aren't a big secret bunch at our place. If you ever want to come watch practice, you can watch practice."
When asked if he knew who would be the coordinator, Calhoun responded, "Well, perhaps, yeah."
More Rebels: Follow UNLV coverage at reviewjournal.com/Rebels and @RJRebels on Twitter.
Contact Mark Anderson at manderson@reviewjournal.com. Follow @markanderson65 on Twitter.
Mountain West preseason poll
Predicted order of finish
West Division
1. Fresno State (16) 126
2. San Diego State (6) 116
3. UNLV 78
4. UNR 72
5. Hawaii 45
6. San Jose State 25
Mountain Division
1. Boise State (22) 132
2. Wyoming 95
3. Colorado State 82
4. Utah State 78
5. Air Force 52
6. New Mexico 23
Note: First-place votes are in parenthesis.
Preseason team
Offense
QB Brett Rypien, Sr., Boise State
WR KeeSean Johnson, Sr., Fresno State
WR McLane Mannix, So., UNR
RB Alexander Mattison, Jr., Boise State
RB Lexington Thomas, Sr., UNLV
OL Ezra Cleveland, So., Boise State
OL John Molchon, Jr., Boise State
OL Aaron Jenkins, Sr., New Mexico
OL Keith Ismael, So., San Diego State
OL Tyler Roemer, So., San Diego State
TE Dax Raymond, Jr., Utah State
Defense
DL David Moa, Sr., Boise State
DL Curtis Weaver, So., Boise State
DL Youhanna Ghaifan, Jr., Wyoming
DL Carl Granderson, Sr., Wyoming
LB Jeffrey Allison, Jr., Fresno State
LB Jahlani Tavai, Sr., Hawaii
LB Malik Reed, Sr., UNR
DB Tyler Horton, Sr., Boise State
DB Dameon Baber, Sr., UNR
DB Tariq Thompson, So., San Diego State
DB Andrew Wingard, Sr., Wyoming
Specialists
P Ryan Stonehouse, So., Colorado State
PK Dominik Eberle, Jr., Utah State
KR/PR Avery Williams, So., Boise State
Offensive Player of the Year: Brett Rypien, Sr., QB, Boise State
Defensive Player of the Year: Andrew Wingard, Sr., DB, Wyoming
Special Teams Player of the Year: Avery Williams, So., KR/PR, Boise State