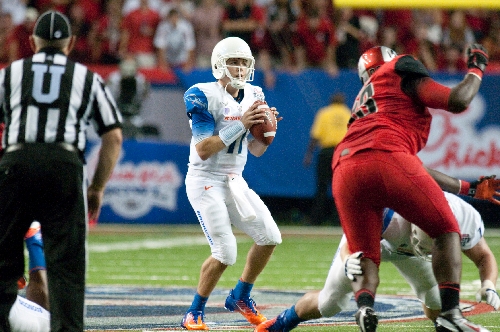 Ever since his sophomore year in high school, Kellen Moore has been trying to prove he can play quarterback.
He first had to convince the doubting parents of other high school players and, later, recruiters who didn't see a future for him in college.
Now having proved them all wrong, maybe Moore will do the same to NFL scouts who don't believe he can play at the next level.
But Moore even had to prove to someone else — when he arrived on Boise State's campus in 2007 — that he was worthy of taking snaps on the school's famous blue turf.
Himself.
"When I first got to Boise, I had no imagination of ever playing," said Moore, who is listed at 6 feet and 191 pounds. "I wanted to make sure I looked like I actually deserved to be here because there were talented quarterbacks all over the place. Those guys helped me out through this process."
He got his shot as a redshirt freshman and since has gone on to become one of the nation's top quarterbacks, becoming a Heisman Trophy finalist last season.
Now he has the chance to make history, too. If Moore leads the fifth-ranked Broncos (7-0, 2-0 Mountain West Conference) past 41-point underdog UNLV (2-5, 1-1) in Saturday's 7:30 p.m. game at Sam Boyd Stadium, he will become the winningest quarterback in college football history.
Moore, who is 45-2, is tied with former Texas quarterback Colt McCoy for career victories.
Of all the statistics Moore has compiled — 12,877 yards passing to rank 10th all time, 123 touchdown passes to rank fourth — all pale in comparison to the record he is on the verge of breaking.
"I think the No. 1 stat that most coaches and most people care about is the wins and losses," Broncos coach Chris Petersen said.
So what makes Moore so special?
The near-unanimous verdict is Moore, who is pursuing his master's degree in kinesiology, outthinks everyone.
"He sees people before they're even open," UNLV defensive end James Dunlap said.
Moore began to learn the thinking element of football from his father, Tom, who as the coach at Prosser (Wash.) High School won 21 league titles and four state championships in 23 seasons.
Dad and son would watch game video together, and Moore soaked in the knowledge.
"I think once I got to the college level and maybe even toward the end of my high school level, I quickly realized I'm not the 6-5 guy who throws the ball 90 yards downfield," Moore said. "I'm not the guy gaining 30 yards running the ball. So I've got to find what I can be successful at and take advantage of. My whole goal is to be the most prepared quarterback in the country."
Moore played for his dad at Prosser, starting as a sophomore over a senior to the concern of some parents who wondered if the son was receiving preferential treatment.
It didn't take long for Moore to prove otherwise, but even though he went on as a senior to become the Gatorade Player of the Year in his state, most college coaches took a look at his size and decided to recruit elsewhere.
Besides Boise State, only Idaho and Eastern Washington offered him scholarships.
After redshirting in 2007, Moore won the starting job two weeks before the 2008 season.
As the quarterback, Moore knew the position demanded certain leadership qualities, but he also understood he needed to rely on veteran players who had become team leaders.
"You go into the huddle and you're a redshirt freshman," Moore said, "and there are guys around you that are 23, 24 years old."
He also knew he was trying to carry on Boise State's impressive quarterback tradition. Jared Zabransky led the Broncos to the memorable Fiesta Bowl victory over Oklahoma in the 2006 season, and Bart Hendricks and Ryan Dinwiddie were all over the school record book.
And just the year before, Taylor Tharp passed for 3,340 yards.
"I think it's all about carrying on a legacy," Moore said. "The quarterback position had been very successful before that. I think that was kind of a little nerve-racking. You better get up to speed. We're not going to change the standards because you're a redshirt freshman. You better play up to that level that we think you're capable of."
Moore did just that, completing 14 of 19 passes for 274 yards and two touchdowns in his first start, a 49-7 victory over Idaho State. Two games later, he erased any doubt about his ability by completing 25 of 37 passes for 386 yards and three touchdowns in a 37-32 win at No. 17 Oregon.
Now, three years later, Moore is one of the undisputed leaders in his sport.
He has completed an astounding 76.3 percent of his passes this season for 2,010 yards and 24 touchdowns, with five interceptions. He's been sacked twice.
Moore has pulled this off despite losing standout wide receivers Austin Pettis and Titus Young to the NFL.
But, with Moore as probably the best example, the Broncos didn't build their program on players who were obvious talents.
"I think at Boise we have a lot of guys in a similar situation that for whatever reason, someone said no," Moore said. "For me, I think it's always just been a smaller guy that's constantly having to try to prove yourself."
Contact reporter Mark Anderson at manderson@reviewjournal.com or 702-387-2914. Follow him on Twitter: @markanderson65.