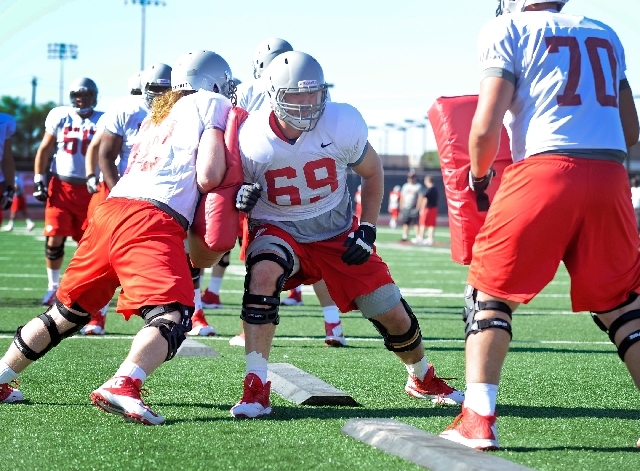 UNLV might be better for it this season, but at the time, offensive left tackle Brett Boyko's knee injury was a painful experience in nearly every way for the Rebels.
Their offense was beginning to roll last season when he injured his left knee for a second time, ending his season with six games to play.
Gone was the team's blindside protector for quarterback Nick Sherry as well as probably its best blocker.
With Boyko (6 feet 7 inches, 310 pounds) out of the lineup, however, the Rebels got experience for other players, which could positively impact this season.
"If there's some positive byproduct of (the injury), that would be it," coach Bobby Hauck said Thursday after practice at Rebel Park.
Cameron Jefferson moved from left guard to Boyko's spot last season, and Ron Scoggins moved into the lineup to play left guard rather than take the year to redshirt.
Though the Rebels ideally don't want to start an incoming freshman on the offensive line, Scoggins played well enough to be at the top of the depth chart at left guard this season. And Jefferson is the listed starter at right tackle.
The Rebels also could go eight deep across the line, with the possibility of reaching 10 by the time of the Aug. 29 season opener at Minnesota. UNLV went seven deep last season.
It's a more experienced group, a core group of linemen that has grown up together since they were freshmen forced into the lineup probably before they were ready.
"We're finally juniors," offensive line coach Chad Germer said. "It's allowed us now to build depth and not play guys when they're freshmen. I feel like our numbers have grown considerably, and it's showing this year."
Boyko twice injured his knee last season, first tearing cartilage that caused him to miss three early-season games. He then came back against Louisiana Tech and UNR, games in which the Rebels scored a combined 68 points, before tearing his anterior cruciate ligament.
In the four games he started, the Rebels averaged 27.3 points. That number was 19.7 in the other games.
The difference can't be attributed solely to Boyko's loss, but the injury unquestionably was a factor.
"Certainly losing your left tackle is a big deal," Hauck said.
Though gone from playing, Boyko tried to stay involved by attending practices, standing on the sideline and viewing video with his teammates.
"I didn't miss anything," he said. "I was still there giving my two cents, whatever that does."
Boyko missed spring drills but is back on the practice fields hoping to stay healthy. UNLV coaches could take measures to protect him, but they are limited in what they can do.
"We could come out here every day in no pads and probably have less risk of injury, but we aren't going to be game ready," Hauck said. "Most ACLs I've seen are noncontact. We try to be as safe as we can. We had a real physical spring ball. We came out pretty much completely healthy, so there's a way of doing it."
A healthy Boyko would be crucial if the offense is to repeat or even build on the success it had the first half of last season.
"I feel like getting hurt affected a lot of guys," Boyko said. "I wish I could've been there battling with them. We're a brotherhood here, and I want to be out there as much as the rest of them."
Contact reporter Mark Anderson at manderson@reviewjournal.com or 702-387-2914. Follow him on Twitter: @markanderson65.