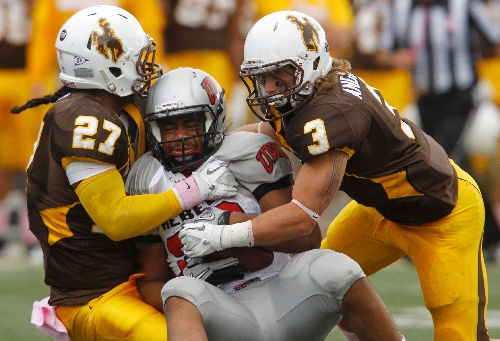 LARAMIE, Wyo. — UNLV freshman running back Dionza Bradford had just started his first college game and produced his first 100-yard effort, but that mattered little to him after the Rebels lost 41-14 to Wyoming.
"I had 100?" Bradford asked. "A win would be better."
Bradford started in place of sophomore Tim Cornett, who has been slowed by a hip injury, and rushed for 104 yards on 22 carries.
Cornett also played, picking up 25 yards on eight rushes and producing the Rebels' two touchdowns.
Another sophomore, Bradley Randle, gained 35 yards on 11 attempts.
■ DROPPING THE BALL – Quarterback Sean Reilly made his first start, but receivers dropped at least three passes.
"We could've helped him out by hanging on to the ball a little better," coach Bobby Hauck said. "But he looked composed. I didn't sense any apprehension."
Reilly didn't blame his teammates, and he could have done his part by better looking off receivers and getting rid of the ball quicker.
He finished 7 of 16 for 79 yards, with an interception and four sacks. Reilly also lost a fumble.
■ JUGGLING THE LINEUP – Five players received their first career starts – Reilly, Bradford, freshman wide receiver Devante Davis, freshman guard Cameron Jefferson and sophomore defensive tackle Tyler Gaston.
Jefferson gave the Rebels three freshman starters on the offensive line.
Davis took the field with seldom-used sophomore Mark Barefield at another receiver spot, while senior Phillip Payne began the game on the sideline.
Hauck said the coaches are being careful with how Payne, who broke his right foot in June, is used.
"With his foot, his conditioning and his health isn't flawless," Hauck said. "He can't go play 70 plays."
■ ODDS AND ENDS – The Rebels have lost 13 consecutive road games, two shy of the second-worst streak on the school's all-time list. UNLV lost 15 in a row on the road from 2004 to 2006. The record is 26 straight from 1994 to 1998. … Right tackle Yusef Rodgers caught a pass for 3 yards on the first drive of the third quarter, which is against the rules for an offensive lineman. Wyoming, though, declined the penalty so it could force the Rebels to punt, allowing Rodgers to make his way onto the stat sheet. … UNLV committed nine penalties for 73 yards.
Contact reporter Mark Anderson at manderson@reviewjournal.com or 702-387-2914. Follow him on Twitter: @markanderson65.