Breakdown: Position analysis of Saturday's UNLV-San Diego State game
November 20, 2015 - 1:22 pm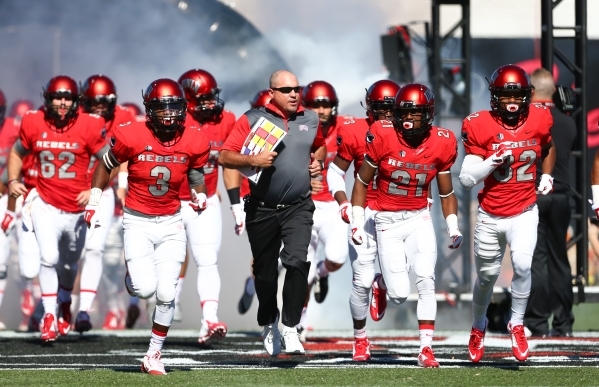 QUARTERBACK
San Diego State's Maxwell Smith has thrown 12 touchdown passes to two interceptions, and he does his job well as a game manager. For UNLV to have a chance, Kurt Palandech must stretch the field, which he finally did last Saturday at Colorado State.
Edge: UNLV
RUNNING BACK
UNLV averages 205.6 yards rushing per game, its highest since 2002. Donnel Pumphrey should become San Diego State's all-time leading rusher next season, supplanting Marshall Faulk. Yes, that Marshall Faulk.
Edge: San Diego State
WIDE RECEIVER
Pumphrey is San Diego State's leading receiver, so that's what you need to know about the Aztecs' unit. Devonte Boyd and Kendal Keys have become the kind of strong duo expected before the season.
Edge: UNLV
OFFENSIVE LINE
Here's what makes the Aztecs impressive. They're going to run, and everyone knows they're going to run, and they still average 4.7 yards per rush. That can only happen behind a strong offensive line.
Edge: San Diego State
DEFENSIVE LINE
Good luck running against the Aztecs, who yield 102.5 yards per game and 3.0 per carry. UNLV isn't even in the same range.
Edge: San Diego State
LINEBACKER
San Diego State's Calvin Munson is making a push for Mountain West Defensive Player of the Year. He leads the Aztecs with 67 tackles, which include 11 for loss and seven sacks. Jake Fely and Ryan Dunn have combined for 11½ tackles for loss for San Diego State.
Edge: San Diego State
SECONDARY
Both teams are good at making interceptions, with San Diego State picking off 16 passes and UNLV coming up with 12. The Aztecs' other pass defense statistics also are better, and Damontae Kazee has six interceptions and six pass breakups.
Edge: San Diego State
SPECIAL TEAMS
San Diego State's Rashad Penny averages 33.3 yards per kickoff return, and he has brought two back for touchdowns. The numbers for the kickers and punters between the teams are similar.
Edge: San Diego State
INTANGIBLES
UNLV isn't taking momentum into this game and is far from a healthy team. The loss to Colorado State was the first sign that the difficult losses were finally catching up emotionally. No Mountain West team is playing better than San Diego State, and the Aztecs come to Las Vegas a confident bunch.
Edge: San Diego State
HANDICAPPER'S TAKE
San Diego State 42, UNLV 22 — UNLV fan base officially in hoops mode as faint Reb bowl hopes now squelched. Rampaging SDSU (won and covered last six!) rolling thru the MW like Tom Osborne's old Nebraska teams thru the Big 8, and RBs Pumphrey & Price a bad matchup for deteriorating UNLV "D" that allowed CSU 325 YR last week.
Check our GameDay page for full coverage of the UNLV-San Diego State game.