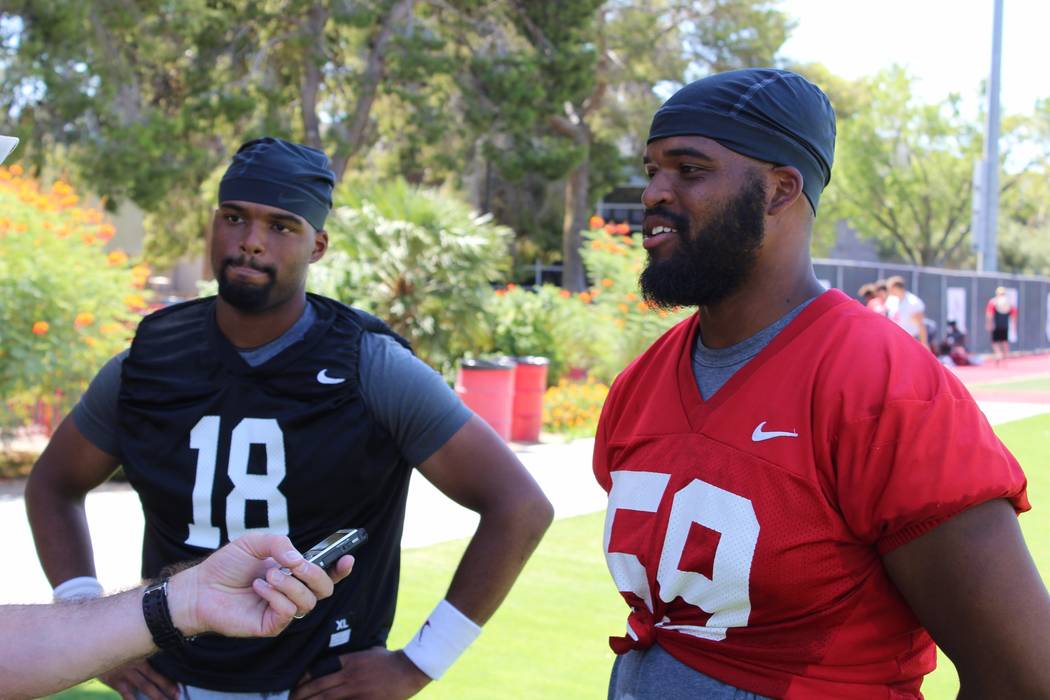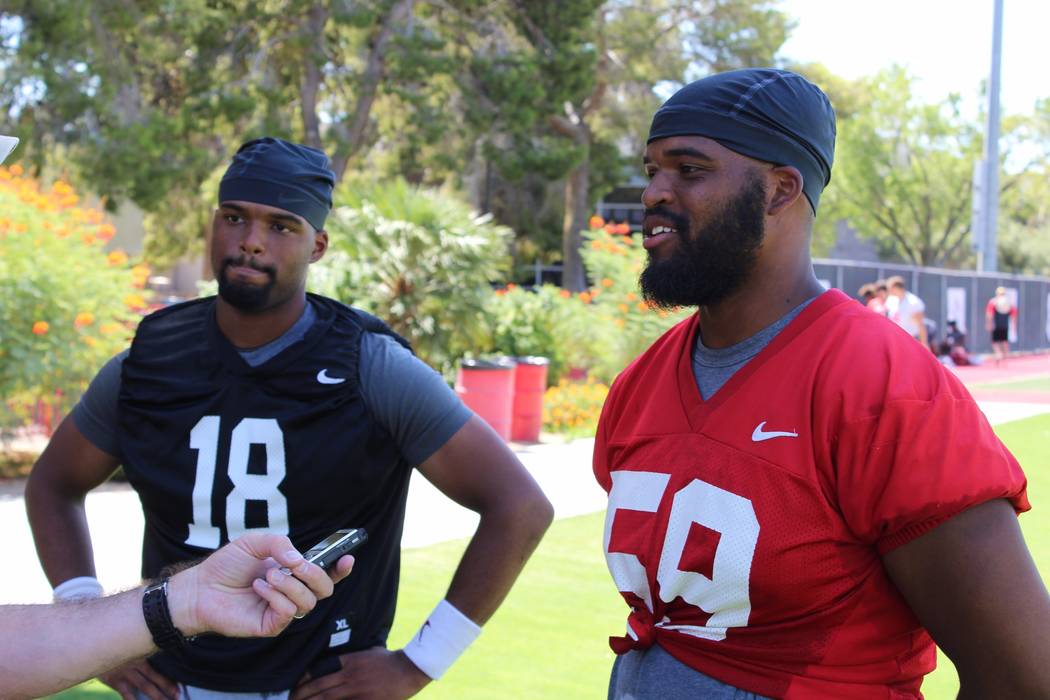 Practice was nearing an end Friday when the twins took the field on the opposite sides of the football, a brother-against-brother faceoff.
Rasheem Parks lined up a quarterback and Rasheed Parks on the defensive line.
But as much as they want to outdo each other, they are on the field as seniors because the Parks wanted to play one final year together.
They played at Arbor View High School, then at Pima Community College in Tucson, Arizona.
"I feel we're both smart players," Rasheem said. "Like (Thursday), we had a practice and he had a batted ball on me. Most D-linemen don't bat my balls down, but he knows my tendencies. So it's hard to disguise the things I try to do. It's hard to play against him, but I kind of know what he's doing at the same time, too, so it's like read and react."
The Parks might be brothers, but they're rivals, too, at least on the practice field.
"We're always talking about getting after each other," Rasheed said. "At the end of the day, he's my brother, but I would rather be better than him than he be better than me. It's always competition no matter what we do."
They already were attending classes at UNLV when they decided to try out for the team. And being able to suit up together for their hometown school makes the experience even more special.
"I think you always want to represent for your hometown school," Rasheem said.
Position breakdown
Defensive line
End
1. (tie) Jameer Outsey, Jr., 6-3, 240; Nick Dehdashtian, So., 6-1, 290
Tackle
1. Jason Fao, Sr., 6-0, 310
2. (tie) Kolo Uasike, Fr., 6-0, 320; Antonio Zepeda, Sr., 6-6, 280
Tackle
1. Mike Hughes Jr., Sr., 6-2, 315
2. Salanoa-Alo Wily, Jr., 6-0, 295
End
1. Mark Finau, Sr., 6-3, 235
2. Roger Mann, Jr., 6-3, 265
Notes
— Coach Tony Sanchez said Friday's practice was redshirt freshman "Armani Rogers' best day by far when it comes to reads. Some of the short throws, he's been a little erratic, kind of rushed his feet. He got his feet set today, and he was as accurate and (had) as good a decision-making as he's had the entire camp."
— Senior defensive tackle Mike Hughes Jr., who went to Palo Verde, will be held out of practice for about another week with a tight left hamstring.
"He's fine," Sanchez said. "You see him out here. He's doing all the walk-through stuff. He's jogging around, but we don't want him to pull that thing."
— UNLV will run about 120 plays in Saturday night's scrimmage at Sam Boyd Stadium. The scrimmage is closed to the public.
"We really want to get a bunch of reps," Sanchez said. "Now that's with all of our guys. We'll get ones, twos and threes in, but we'd like to see the ones get out there and get at least 60 snaps and get after it."
More Rebels: Follow all of our UNLV coverage online at reviewjournal.com/Rebels and @RJRebels on Twitter.
Contact Mark Anderson at manderson@reviewjournal.com. Follow @markanderson65 on Twitter.