Bye week gives Rebels chance to regroup, recover before TCU
October 19, 2010 - 11:00 pm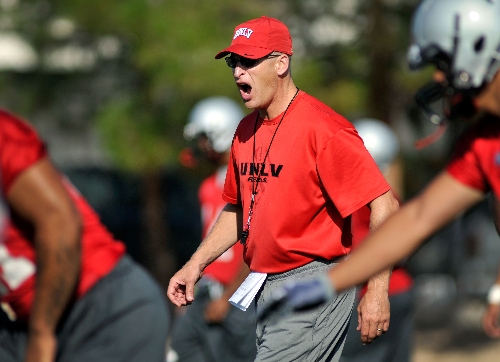 Having an extra week to prepare for Texas Christian, the nation's fourth-ranked football team, is an opportunity most coaches would quickly take.
UNLV's Bobby Hauck is happy to have the extra time, but this week's bye is not about TCU, but his beaten-up 1-6 Rebels.
"It doesn't do a lot of good to spend extra time on TCU," Hauck said Tuesday. "We're trying to get better."
He said the team doesn't need to mentally recuperate from the season's rough first half, but the two weeks will help players heal physically.
Though Hauck wouldn't blame the numerous injuries for the Rebels' woes, there is at least some correlation. That and the toughest schedule a UNLV team has ever faced.
In addition to getting back some injured players, UNLV also might put wide receiver Phillip Payne back on the field.
He is working with the regular offense, though Hauck made no promises as to when Payne's return to competition will take place. Hauck might not make an announcement to keep opponents guessing.
"That's probably going to be a week-to-week ongoing thing, and he did a nice job (Monday) in practice," Hauck said.
n LIVING DANGEROUSLY — Utah coach Kyle Whittingham looks at his team's minus-6 turnover margin, which is tied for No. 108 nationally, and almost marvels at Utes' 6-0 record.
But with games remaining against Air Force, TCU, Notre Dame and Brigham Young, Whittingham also knows the ninth-ranked Utes can't afford to continue to be so careless.
"I told the team (Monday) if we don't turn it around, it could cost us at some point in the season," Whittingham said. "We're living on borrowed time."
Utah is overcoming the mistakes with an offense that complements the Utes' usually strong defense. The Utes average 45.8 points per game, first in the Mountain West and fourth nationally.
"We had no idea we'd be as explosive as we are," Whittingham said.
n ROCKY'S RETURN — San Diego State defensive coordinator Rocky Long heads to New Mexico this weekend, a place where he was the Lobos' quarterback and their coach for 11 mostly successful seasons.
Long, who won a school-record 65 games, resigned following the 2008 season because he said he couldn't take New Mexico to the next level.
Maybe the Lobos had reached their ceiling, and there was nowhere else for Long to take them. That seems to be the case given the disaster that is the current state of the program, which is 1-17 under second-year coach Mike Locksley.
New Mexico athletic director Paul "I hired Steve Alford" Krebs has to be concerned about his job security should Locksley be forced out.
Long's reputation continues to be enhanced with every Lobos loss and with the emergence of 4-2 San Diego State as the MWC's most improved team.
Aztecs coach Brady Hoke knows, however, that Long isn't one to gloat.
"You know Rocky, he's focused on what we're doing on defense and playing our best football," Hoke said.
n JUST THE FACTS, MAN — TCU coach Gary Patterson doesn't have the greatest reputation among Mountain West media because he doesn't allow his players to give in-season interviews to reporters from opposing cities.
Then on Tuesday's league teleconference, Patterson accused an Idaho Statesman reporter of playing a quote from TCU linebacker Daryl Washington for Boise State players to hear and react to before last season's Fiesta Bowl.
But it wasn't Statesman reporter Chadd Cripe, it was a Boise radio reporter. "I had nothing to do with it other than we ran the quote in the paper," Cripe said.
Washington said of facing Broncos quarterback Kellen Moore, "We'll have our way with him come Monday night." That was said in a session with the media, making it fair games.
It was Washington, not any member of the media, who created a story. And a legitimate one at that.
Contact reporter Mark Anderson at manderson@reviewjournal.com or 702-387-2914.