BYU applies pressure without blitzing
October 29, 2008 - 9:00 pm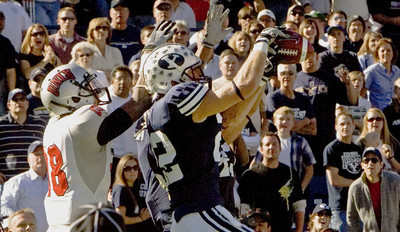 Perhaps it's telling that Brigham Young's two biggest plays defensively Saturday occurred when it dropped into coverage rather than blitzed.
The 17th-ranked Cougars preserved a 42-35 home victory over UNLV with a sack by defensive end Matt Putnam and a game-ending interception by safety Andrew Rich on those two plays.
BYU coach Bronco Mendenhall isn't big on blitzing, and his strategy has been successful.
Beyond philosophy, there's another reason the Cougars didn't send extra attackers after the quarterback. BYU blitzed the Rebels nine times, and they responded with nine completions.
"We weren't as precise as we wanted to be," Mendenhall said.
Not quite.
But BYU was good at getting to UNLV quarterback Omar Clayton. Though Putnam's sack was the only one the Cougars recorded, they knocked Clayton unconscious on one play and drove his helmet over his eyes on another, causing him to lose vision.
"To their quarterback's credit, he was very tough and was very resilient," Mendenhall said.
• MAN IN THE MIDDLE — UNLV coach Mike Sanford downplayed the impact of Joe Hawley's move back to center, but maybe it's not simple coincidence that the Rebels' offense has improved since the switch.
Hawley was a standout center last season but switched to right guard this year. He shifted back to center two games ago, and the Rebels broke 400 yards in both of them. They had only one 400-yard game before then, Sept. 20 against Iowa State.
Hawley isn't necessarily better at making line calls than previous starting center John Gianninoto, Sanford said, but the offensive line is stronger with Sifa Moala at right guard and Johan Asiata at left guard.
"Joe is a very good offensive lineman that is a leader and plays really hard and is very smart," Sanford said.
In injury news, the status of linebackers Ronnie Paulo and Beau Orth was uncertain for Saturday's 5 p.m. game against No. 12 Texas Christian at Sam Boyd Stadium. Both missed the game at BYU because of sprained ankles.
• DON'T FORGET TCU — At 10th in the Bowl Championship Series standings, Utah is the Mountain West Conference's best hope to make a BCS game.
But it's not out of the question for a one-loss TCU team to make the BCS if it beats the Utes on Nov. 6, then finishes the regular season with a victory over Air Force on Nov. 22. The Horned Frogs are 13th in the BCS standings.
TCU obviously would move ahead of Utah with a victory next week, but what about Boise State (7-0, 11th)?
That might be a tough argument, but it's one the Frogs could make. TCU could claim victories over two top-10 teams — the other being BYU — with its loss to then-No. 2 Oklahoma.
Boise State's remaining schedule includes New Mexico State, Utah State and Idaho.
That weak slate could help TCU with the computers, where it's 13th and Boise State is tied for seventh.
But the Broncos, after their stirring upset of Oklahoma in the Fiesta Bowl two years ago, have cachet with voters in the USA Today and Harris polls, which make up two-thirds of the BCS formula.
Boise State, which ends its regular season against UNR and Fresno State, must remain unbeaten, though.
Contact reporter Mark Anderson at manderson@reviewjournal.com or 702-387-2914.