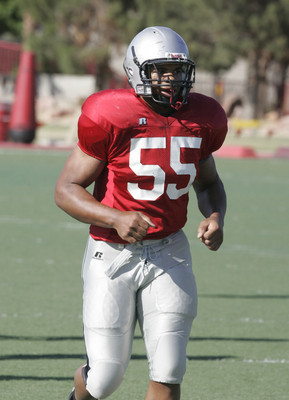 Football coaches are usually more cautious than a Democratic superdelegate when it comes to projecting playing time for newcomers, even for some of the more talented players.
Coaches tend to say those possible future stars might — not will — play immediately.
UNLV freshman linebacker Nate Carter will play.
Defensive coordinator Dennis Therrell, who also oversees linebackers, said he expects Carter to play 20 or so snaps a game next season, as well as appear on all the special teams units.
"He's got a very bright future here as a linebacker," coach Mike Sanford said. "He's a guy that gives great effort, plays hard, has a great attitude, loves the game of football. He's going to help us."
Carter, a former Las Vegas High School standout, grayshirted last fall, meaning he didn't enroll full time at UNLV until January. He could redshirt next season, but barring injury, he will save it in case he needs it in future years.
It didn't take long for Carter to impress coaches. He said he increased his strength by about 30 percent in winter conditioning and added 15 to 20 pounds to buk up to 232 on his 6-foot-2-inch frame.
"He came in in January and worked his rear end off," Therrell said. "He's earned this. That's what you do. You play the players that deserve to play."
The Rebels need Carter not only to play, but to produce.
They paid a steep price last season when linebacker Starr Fuimaono dislocated his right shoulder at Wyoming. UNLV's defense was dominating the Cowboys at the time, but when no one stepped up to adequately replace Fuimaono, the Rebels watched a 17-9 third-quarter lead turn into a 29-24 defeat as Wyoming's anemic offense came to life.
That loss dropped the Rebels to 2-7, and they eventually finished 2-10.
"So we've got to play more people, and hopefully we've got enough in there (at linebacker) to play at least six to eight players a game," Therrell said.
Carter entered spring practices listed second on the weak side, behind junior Jason Beauchamp.
But Carter also will play middle linebacker when UNLV goes into nickel (five defensive backs) and dime (six DBs) packages.
"The Will (weak-side linebacker) isn't as complicated, and there's less to learn," Carter said. "That's what I played in high school. Mike's (middle linebacker) new to me."
Coaches have had high hopes for Carter since signing him out of Las Vegas High, where he was selected first-team all-state after making 109 tackles in 2006.
Carter also helped the Wildcats capture back-to-back Class 4A state titles.
So far, he is living up to expectations, and even Carter's new teammates have noticed. They elected him the freshman representative to the leadership committee, which plays a large part in forming team policies.
"He's going to be a really good football player," Therrell said. "His work ethic and passion for the game (is most impressive). It means so much to him. It's easy to coach those kind of players. They want to learn. They make you want to come to practice every day."
Contact reporter Mark Anderson at manderson@reviewjournal.com or (702) 387-2914.