Close games no reason to panic for San Diego State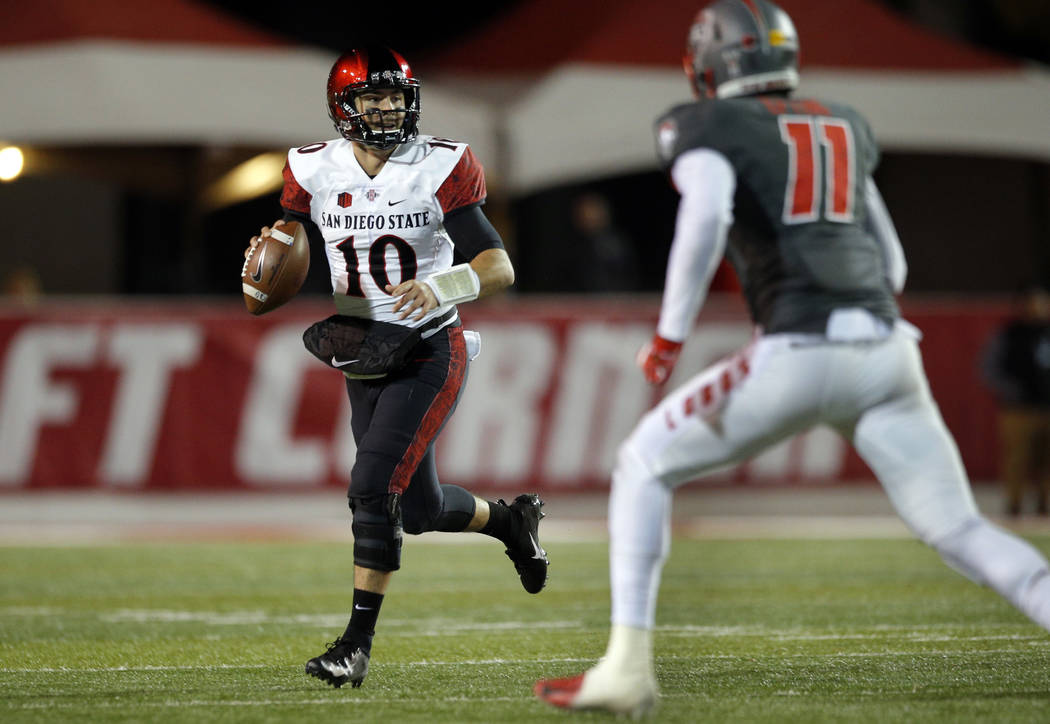 San Diego State coach Rocky Long assumes every game will come down to the end and believes his Aztecs will find a way to pull it out.
And for good reason.
San Diego State's past seven games have been decided by a possession. The Aztecs won six of them, with the only loss 28-24 two weeks ago at UNR.
After their most recent victory, a 31-23 comeback win last Saturday at New Mexico, Long told the San Diego Union-Tribune, "We've done it so many times now. We're not going to change our personality. That's our personality."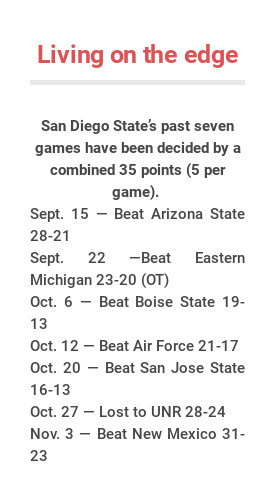 UNLV (2-7, 0-5 Mountain West) would love to make the Aztecs (7-2, 4-1) sweat out another close game when the teams meet at 7:30 p.m. Saturday in San Diego.
The Rebels haven't been involved in many close games during their six-game losing streak. Only the 27-20 loss at Arkansas State and 41-35 home defeat to Air Force ended within a possession.
UNLV is a program that has struggled for many years, last appearing in a bowl five seasons ago. San Diego State has won three conference championships since 2012.
San Diego State has walked the tightrope of competing for another conference title with this run of close games, and the Aztecs still control their own destiny as they fight Fresno State for the West Division. The teams meet a week later at Fresno State.
"You see a team like San Diego State, they've figured it out," UNLV coach Tony Sanchez said. "They've figured out how to recruit at a high level, organize at a high level, teach at a high level. They play fast, play physical, and then when you get a year like this when the quarterback does go down, a back does go down and other guys have got to come in, they just scrap and find a way to get it done."
San Diego State quarterback Christian Chapman missed six games with a knee injury and running back Juwan Washington was out after injuring a clavicle Sept. 22. Both players came off the bench to lead the rally over New Mexico, with Chapman throwing for 182 yards and a touchdown and Washington scoring on a 50-yard run.
Yet another tough victory earned late. That one joined other wins coming because of a late defensive stop (Arizona State), a field goal in overtime (Eastern Michigan), a weather delay (Air Force) and a fourth-quarter field goal (San Jose).
"I always feel confident in our group of guys," San Diego State fullback Isaac Lessard said. "(It) doesn't really matter the score or what time it is in the game, I know we're going to pull it out. I don't always know how we're going to do it, but I always know we'll get the job done eventually and we'll come out on top."
Long has seen this play out enough times that he's not surprised when it happens.
"What they do do is play hard and they play hard till the very end," Long said this week. "We've been fairly lucky that we've made a play or two to win the game. I don't think we're uncomfortable late in a game when it's close. If a team is good enough that they're not in that situation very often, sometimes they don't react right. I think our guys would feel weird if it wasn't like that at the end of a game."
More Rebels: Follow all of our UNLV coverage online at reviewjournal.com/Rebels and @RJ_Sports on Twitter.
Contact Mark Anderson at manderson@reviewjournal.com. Follow @markanderson65 on Twitter.