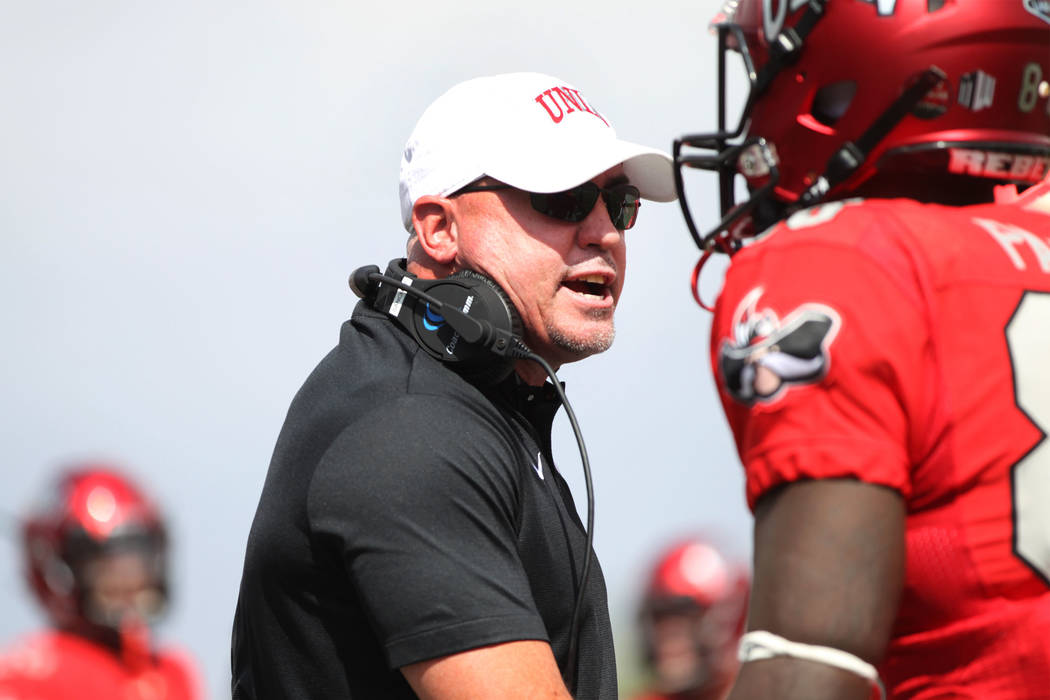 UNLV athletic director Desiree Reed-Francois remains firm in her stance that no decision will be made on coach Tony Sanchez's future until after the season, but the question hovers over the Rebels as they head into the finale against rival UNR.
Sanchez was a picture of calm Monday and didn't seem at all bothered when the subject of his job status was raised at his weekly news conference.
Maybe there's good reason to feel that way. Sanchez would be in line for a fifth season, just like each of the four previous UNLV coaches received.
"I know what we've done to build this program, to make it better," Sanchez said. "I think it's obviously disappointing where we're at right now, but there's some good that can come from it. Even with all the adversity, they've done a good job of being competitive in spurts. We've got to continue to grow. We're sitting here right now unfortunately with three wins, but we've got two losses by seven points and one by six points.
"Where are we going? We're going to a good place. We're going to keep building this thing, and a lot of good things are happening. It's one of those deals where I've always said you've got to be tougher than the situation. There's a reason why you're here. There's a reason why you've got to keep your head down and keep building on every front, every level."
The Rebels (3-8, 1-6 Mountain West) conclude their season at 6:30 p.m. Saturday against UNR (7-4, 5-2) at Sam Boyd Stadium. UNR is a 13-point favorite in the game that will be televised on CBS Sports Network.
Though Sanchez said Saturday that he expected Armani Rogers to start at quarterback, on Monday he said that decision will still need to be made. Rogers and Max Gilliam are listed as co-starters on the depth chart.
Gilliam has started the past seven games, but Rogers came off the bench Saturday and played in most of the 35-28 loss at Hawaii. It was Rogers' first appearance since suffering a toe injury Sept. 22 at Arkansas State.
"We're definitely going to use him more this week," Sanchez said. "Max is still ready to go. I perceive going into the game — we talked about it as a staff — to use both those guys.
"We'll probably wait till the latter part of the week (to choose the starter) and let everybody kind of think on it a little bit. I think we have a pretty good feeling on what we're going to do, but don't be surprised if you see Armani in there starting off. Max is going to get in there early. I think both of those guys give us the best opportunity right now. Even if Armani was ready to go, is he physically able to play an entire game the way he plays? He's just not in game shape. You're out six weeks, and that's a long, long time."
More Rebels: Follow all of our UNLV coverage online at reviewjournal.com/Rebels and @RJ_Sports on Twitter.
Contact Mark Anderson at manderson@reviewjournal.com. Follow @markanderson65 on Twitter.
UNLV vs. UNR
*When: 6:30 p.m. Saturday
*Where: Sam Boyd Stadium
*TV: CBS Sports Network
*Radio: KWWN (1100 AM, 100.9 FM)
*Line: UNR -13; total 63