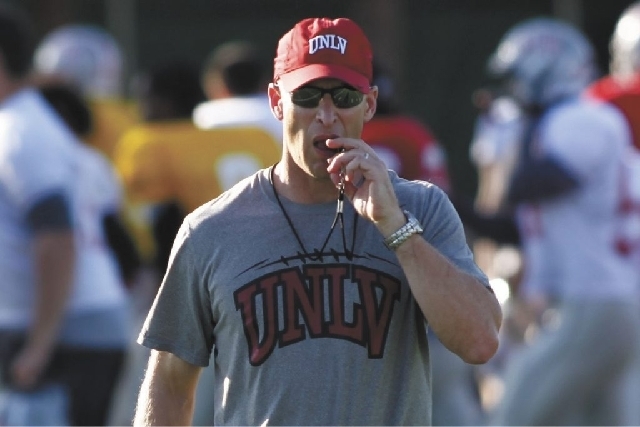 Now, truly, this is Bobby Hauck's football team.
With few exceptions, such as fifth-year senior backup quarterback Caleb Herring, these all are his recruits.
And it's the most veteran team Hauck, who will enter his fourth season at UNLV, will take into the season.
Though he downplayed the importance of coaching a team made up almost entirely of his recruits, Hauck acknowledged training camp in August will be different. The depth chart is mostly set, so rather than major fights for positions, much of the attention will be preparing for the Aug. 29 season opener at Minnesota and the other 11 opponents.
"It's nice to have the ability to come out of spring without a bunch of unknowns," Hauck said, throwing in the caveat apparent starters could be beaten out if they get too comfortable. "We kind of know what we've got. We feel pretty good about it. We're not having to wait till August to produce a fairly accurate depth chart."
This a big season for Hauck, who won just two games each of his first three seasons. Athletic director Jim Livengood has let it be known UNLV needs to become bowl eligible, or the coach's job could be in trouble.
But Hauck has been upbeat and hasn't appeared particularly worried, making it known he feels good about the team and upcoming season.
"This year, I'm way more comfortable than I have been at any point in time," he said.
He could have reasons for optimism.
The Rebels lost three games after leading in the fourth quarter last season. Perhaps a more experienced team wins those types of games this fall.
Offensively, UNLV has a sophomore quarterback to build around in Nick Sherry, who showed promise in his first season in passing for 2,544 yards and 16 touchdowns. Senior running back Tim Cornett rushed for 1,232 yards, becoming the first Rebel to eclipse 1,000 yards rushing since Dominique Dorsey in 2004. UNLV's wide receivers, led by Devante Davis and Marcus Sullivan, should be improved, as should the offensive line.
But the Rebels have a long way to go defensively, coming off a season in which they gave up 445.2 yards and 32.6 points per game. UNLV's defense hasn't been a strength since John Robinson was the coach a decade ago.
Both sides of the ball could look different strategically.
New offensive coordinator Timm Rosenbach put in the pistol offense in the spring with much more of a downhill attack than what the Rebels ran two seasons ago. First-year defensive coordinator Tim Hauck, the coach's brother, also is expected to use a more aggressive approach.
Whether these changes spark a turnaround will play out beginning in Minneapolis.
Hauck, finally, will try to change recent history with his guys.
"I think it's more that guys are in the flow of what we're talking about," Hauck said. "They know what's expected. They're getting the job done. And the guys we've recruited have spent a couple of years in a college weight room. They look different than they did when they were freshmen, so we're maturing into a pretty good-looking team."
■ NOTES — Herring emerged from spring practices as UNLV's No. 2 quarterback after beginning the spring playing mostly wide receiver. He played both positions last season and now probably would be the first quarterback off the bench should Sherry need to be replaced. … Redshirt freshman Tau Lotulelei is listed No. 1 at weakside linebacker. He is the younger brother of John Lotulelei, who led UNLV last season with 120 tackles and was a first-team All-Mountain West selection. … The Rebels open training camp Aug. 6, and they will practice in Ely from Aug. 10 to 21, leaving a day earlier for the Eastern Nevada town than in recent years.
Contact reporter Mark Anderson at manderson@reviewjournal.com or 702-387-2914. Follow him on Twitter: @markanderson65.