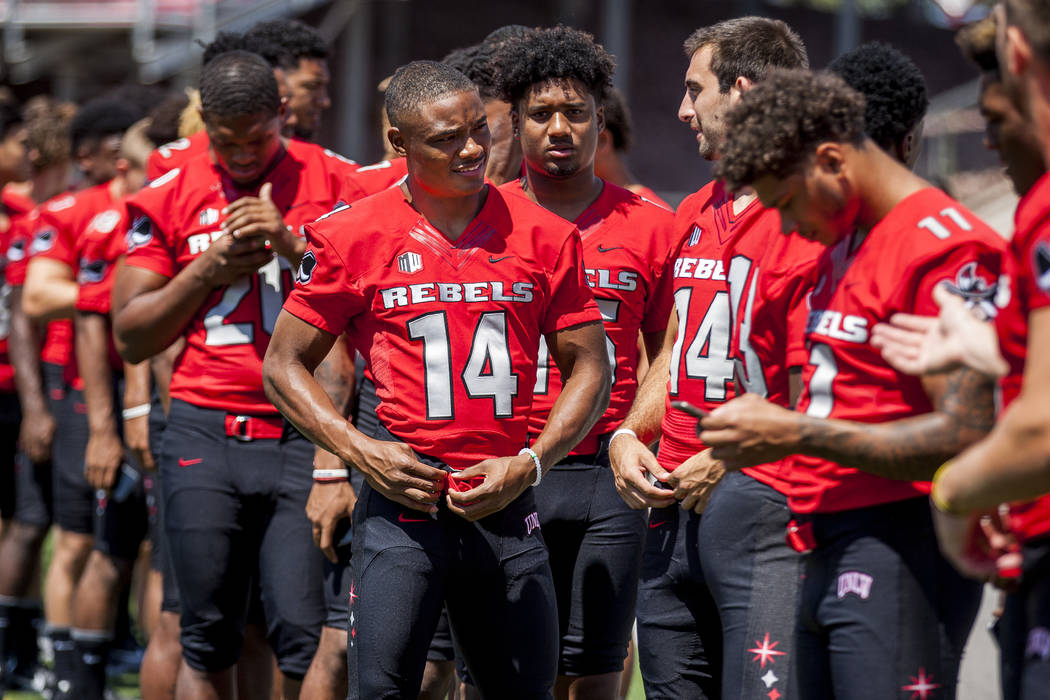 Saturday's UNLV football scrimmage report from Sam Boyd Stadium:
Tony's take
Coach Tony Sanchez, on the 10th day of training camp:
"I felt the defense started fast. The offense struggled a little early on getting their feet underneath them and getting in a rhythm. The second half was the total opposite. The offense was moving the ball pretty well. Defensively, we struggled a little bit. We had a couple of exchange issues that can alter drives. We've got to do a better job there.
"We got a lot of young guys in there, so we're really seeing the guys who are going to be traveling with us, who can contribute, who can get down on special teams. I like a lot of things I've seen, but who knows how I'll feel after I watch film."
Notes
— UNLV picked its captains, going with senior wide receiver Devonte Boyd, junior center Zack Singer, senior defensive tackle Mike Hughes Jr. and junior linebacker Bailey Laolagi. Three went to Las Vegas high schools — Boyd to Basic, Singer to Bishop Gorman and Hughes to Palo Verde.
"They were the clear-cut winners when we had the team vote," Sanchez said.
— Junior Ty'Jason Roberts received extensive work at first-team cornerback and is closing in on becoming the fourth player the coaches are looking for at that spot. The current rotation includes sophomore Jericho Flowers, junior Tim Hough of Desert Pines and senior Robert Jackson.
"That position's not solidified yet," Sanchez said.
— The Rebels worked on their four-minute drill, where the offense tries to pick up a couple of first downs to protect the lead and run out the clock. On one play, sophomore running back Charles Williams smartly slid after picking up the first down rather than run out of bounds.
That drive ended with a punt with 14 seconds left.
"Three times (redshirt freshman quarterback Armani Rogers) snapped the ball with more than five seconds," Sanchez said. "There's not any time on the clock if you snap the ball (later), but it's the first time Armani's done it. He's never been in a four-minute. Not even in high school has he been in a four-minute situation."
— Freshman linebacker Farrell Hester II, who went to Gorman, made a great play and put a hit on Rogers, which is a no-no because most of the quarterbacks are off limits to contact. Sanchez told Hester to get off the field, but noted later he had mixed emotions about the play.
"I got on the headsets to (defensive coordinator Kent) Baer and said, 'That was a hell of a hit,'" Sanchez said. "I don't want to see it again, though."
— A Minnesota Vikings scout attended the scrimmage.
More Rebels: Follow all of our UNLV coverage online at reviewjournal.com/Rebels and @RJRebels on Twitter.
Contact Mark Anderson at manderson@reviewjournal.com. Follow @markanderson65 on Twitter.