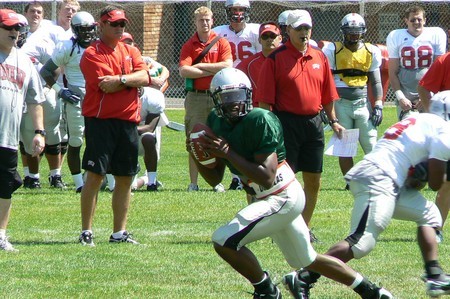 ELY — Until Saturday, UNLV sophomore safety Chris Jones would see an open receiver and know he could do little more than play touch football with him.
Then came the scrimmage, and suddenly tackling wasn't off-limits.
Carrying plenty of pent-up energy, Jones saw Phillip Payne, who had made two remarkable catches.
There wouldn't be a third. Jones closed in and slammed into Payne to force an incompletion. Jones then jumped up screaming, celebrating with his defensive teammates.
"This entire camp we haven't been going live (tackling)," said Jones, who went to Shadow Ridge High School. "Finally, we were going live, and I had a chance."
UNLV's defense had lots of chances, with its first- and second-teamers combining for three takeaways. Junior safety Alex De Giacomo and senior defensive back Ryan Tillman intercepted passes, and sophomore linebacker Beau Orth forced a fumble that junior linebacker Ronnie Paulo recovered.
Paulo stood out most. He had two tackles for loss, including a sack, and a fumble recovery.
"I think there's a lot more competition between offense and defense this year," coach Mike Sanford said. "I think the defense is improving."
But it's not like the offense didn't show up.
Payne again made tough catches look simple.
On Friday, he seemingly nonchalantly one-handed a touchdown catch. Then in the scrimmage, Payne was popped by junior cornerback Warren Zeigler but held on for a 12-yard touchdown. Later, freshman cornerback Courtney Bridget applied great coverage, but Payne still made a 3-yard scoring grab.
"He has a knack for that," Sanford said. "Those corners are going to be good at defending that because of going against him."
Junior quarterback Omar Clayton also had his moments, completing 6 of 9 passes for 60 yards and three touchdowns.
But he also threw two interceptions. Clayton said the mistakes were correctable and he had plenty of good to take away from the day.
"Any time you come out and scrimmage, people are going to make a couple mistakes," Clayton said. "The main thing is we'd rather make them now."
And not Sept. 5 when the Rebels open the season, playing Sacramento State at Sam Boyd Stadium.
• NOTES — Junior tailback Channing Trotter led all rushers with 33 yards and a touchdown on five carries. … Senior wide receiver Ryan Wolfe played the first two series before resting a bruised knee. … Senior safety Marquel Martin, who has been dealing with an ankle injury, didn't play. …
Two New England Patriots scouts attended the scrimmage, as did former UNLV wide receiver Casey Flair, now with Las Vegas' United Football League team. … Interior offensive line coach Keith Uperesa will leave after this afternoon's practice to begin radiation treatments for thyroid cancer.
Contact reporter Mark Anderson at manderson@reviewjournal.com or 702-387-2914. Read the latest practice reports at lvrj.com/blogs/unlv_sports.