Defensive back Jericho Flowers now catching passes for UNLV
November 16, 2016 - 11:58 pm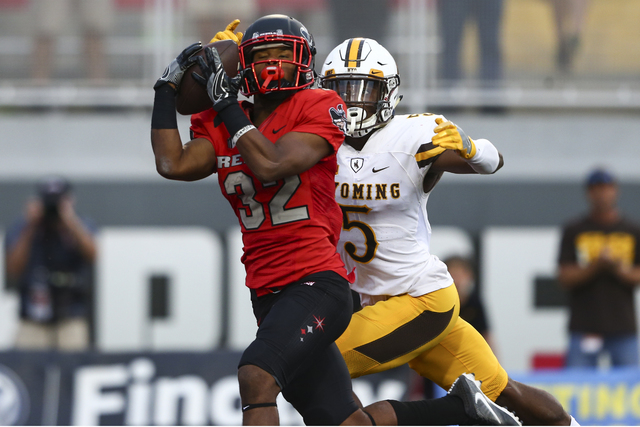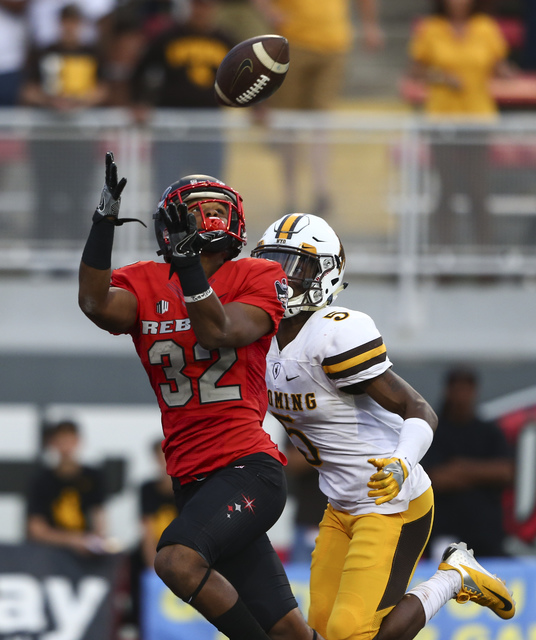 A month ago, Jericho Flowers was a third-string cornerback for UNLV who played only on special teams. On Friday, the redshirt freshman arguably will be the Rebels' best wide receiver entering their game at No. 22 Boise State.
Flowers was pressed into action to help offset the loss of three starting receivers to season-ending injuries, and that list grew to four Saturday when junior Devonte Boyd broke his left arm in a 69-66 triple-overtime win over Wyoming.
"You just make do with what you have and push the guys that are out there. I have total confidence in those guys," UNLV receivers coach Cedric Cormier said. "Our motto in our room is, 'There's no pause button on the season.' That's what we live by. We've got to keep going.
"The guys we play on Friday and Saturday, they're not going to feel sorry for us. So the next man up has got to step up and make a play."
Flowers has made some big plays for the Rebels, starting with a crucial third-down catch on a late tying touchdown drive in UNLV's 41-38 win at Hawaii in his Oct. 15 collegiate debut at wideout. He scored his first two collegiate touchdowns against Wyoming, putting the Rebels ahead early with a 34-yard run and tying the game in the first overtime with a 22-yard touchdown catch.
"He was huge. He stepped up and made some plays," Cormier said. "I wouldn't say he's the greatest receiver, but he's a hell of a playmaker."
Flowers ran track and played cornerback and receiver at Los Angeles' Hamilton High School, where he caught passes from Armani Rogers, UNLV's highly touted freshman quarterback who is Flowers' best friend.
"He's just a great athlete," Rebels coach Tony Sanchez said. "It goes to making sure you're always out there recruiting athletes. Not just players, but athletes, so you can kind of think outside the box."
Redshirt freshman backup quarterback Dalton Sneed also is expected to see action at receiver after volunteering Sunday and practicing at the position this week. Sneed has never played receiver, but is third on the team in rushing with 355 yards and a 91-yard touchdown run.
"He's made some great catches (in practice)," Sanchez said. "He's a competitor. He's a great athlete. He came to us and said 'I want to help the team.'
"He's had some great plays this year, so let's find a way to get the ball in his hands."
Along with learning a pared-down playbook, Flowers said adjusting to the different speed of the game on offense was the toughest part of his transition to receiver.
"I had to pick up on the speed and get in shape for the offense," he said. "Once I picked up on the speed and on the plays, I just had to perform."
He had three catches for 65 yards against Wyoming and has eight catches for 110 yards on the season.
"After this game, I feel more comfortable because I know the plays and adjusted to how the defenses are and I learned how to read them," he said. "Now it's just about going out and executing."
The loss of Boyd leaves Flowers as the elder statesman of the receiving corps, as he will start alongside true freshmen Mekhi Stevenson (12 catches, 155 yards, 2 TDs) and Elijah Trosclair (1 catch, 61 yards, 1 TD).
"I wouldn't say I'm the leader of the group because half of them have been through more at the receiver position," Flowers said. "But I feel I do have to bring a certain level of energy and leadership because Devonte is down. We all have to play our part and lead the team together."
While Flowers could see himself staying at receiver and catching passes in the future from Rogers, he would prefer to play cornerback.
"I grew up playing corner. I like locking people down," he said.
Contact reporter Todd Dewey at tdewey@reviewjournal.com or 702-383-0354. Follow @tdewey33 on Twitter.
UNLV vs. No. 22 BOISE STATE
When: 6 p.m. Friday
Where: Albertsons Stadium (Boise, Idaho)
TV/Radio: ESPN2; KWWN (1100 AM, 100.9 FM)
Line: Boise State -29; total 66½
GAMEDAY COVERAGE FOR UNLV-BSU GAME