Defensive end Jeremiah Valoaga brings impact to UNLV's pass rush
September 8, 2016 - 11:20 pm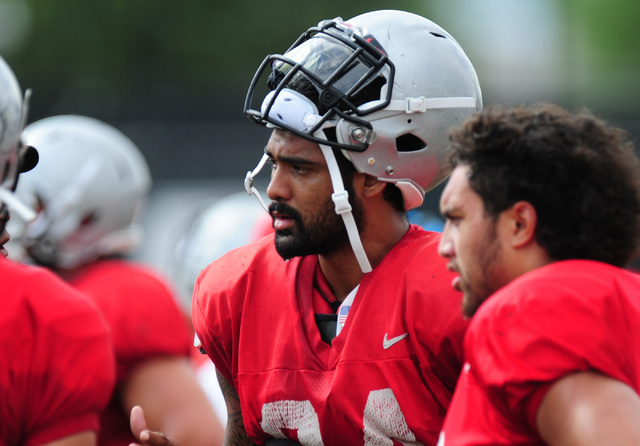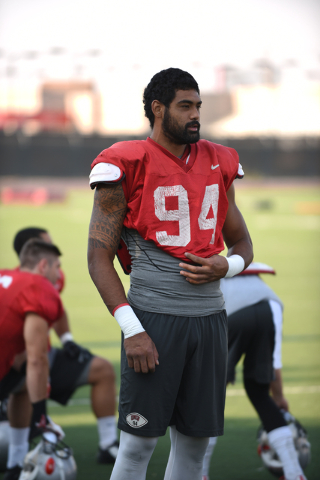 UNLV senior Jeremiah Valoaga is trying to make up for lost time this year after the defensive end missed the entire 2014 season with academic issues and was limited to six games last year after suffering a fractured ankle last summer.
"That's really what's been going through my mind since then," he said. "I get to play a full year and be out here with everybody. It's fun. I missed it. I've got to make the most of it now."
Despite limited playing time last season, the 6-foot-6-inch, 255-pound Valoaga still managed to finish second on the team in tackles for loss, with 4½, including 2½ sacks. Rebels coach Tony Sanchez has raved about Valoaga's offseason efforts and has great expectations for him this season.
"He's by far the most explosive, athletic, capable guy we have on our whole defense," Sanchez said. "He'll jump off the screen at people. He could be a game changer."
Valoaga helped change UNLV's game against UNR last season, when he tipped the pass that was intercepted and returned for a touchdown by linebacker Ryan McAleenan in the Rebels' win over the rival Wolf Pack that brought the Fremont Cannon back to Las Vegas.
Likewise, Valoaga could impact UNLV's game against heavily favored UCLA on Saturday at the Rose Bowl if he's able to put pressure on Bruins sophomore quarterback Josh Rosen.
"I'm not giving you the game plan, but if we can get to (Rosen) — I want to rush four and get to him — it's critical," Rebels defensive coordinator Kent Baer said. "They've got some speed, so you've got to be careful what you're doing, but I think if we can get a little pressure on him, it's going to help us."
UNLV struggled mightily to mount a pass rush last season, when it finished last in the nation in sacks with nine, but the Rebels expect to improve in that area, in large part, because of the return to full strength of Valoaga.
"He's a tremendous athlete," Baer said. "A guy that can run like that, as strong as he is. He has the length, he can rush the passer. I expect him to have a big year. He's got a whole lot of talent."
Valoaga had four tackles and broke up a pass in UNLV's season-opening 63-13 rout of Jackson State, during which the Rebels recorded only one sack, by defensive end Antonio Zepeda, while sitting their starters after the first quarter.
UNLV missed at least 14 tackles, most of them in the first quarter, but Sanchez expects the team to shore up that area this week.
"I don't care what phase it is, your largest improvement and growth should come between Week 1 and Week 2," he said. "We want to see it, especially in that phase."
The Rebels, who have allowed more than 30 points and 400 yards per game the past eight seasons, held the Tigers of the FCS to 252 yards of total offense and had two interceptions and two defensive touchdowns. But they'll face a must stiffer challenge against the Bruins, who were ranked No. 16 in the nation heading into their season-opening 31-24 overtime loss at Texas A&M.
"We should be a lot better this week, but we're playing a great football team," Baer said.
Valoaga said he feels a lot better as an individual and as a player since Sanchez and his coaching staff took him under their wing after he missed the 2014 season to deal with his academic issues.
"It was tough. I had to do a lot of reflecting off of that," Valoaga said. "Coming back here with Coach Sanchez and the new staff built in my mind that I need to start making better decisions. It helped a lot. I'm doing a lot better, and I respect those guys for helping me in that situation."
A native of Oxnard, California, Valoaga's career will come full circle at the Rose Bowl, where he played his first Pop Warner football game as a 7-year-old for the Oxnard 49ers.
"The first game I ever played was actually at the Rose Bowl. I don't know how it happened, but we ended up driving (75 miles) up there and playing our first game," he said. "It's kind of cool that I get to play there my last year of college."
Contact reporter Todd Dewey at tdewey@reviewjournal.com or 702-383-0354. Follow on Twitter: @tdewey33
Visit our GameDay page for full coverage of the UNLV-UCLA game.