Evan Pantels kicks UNLV to wild 41-38 win at Hawaii – VIDEO
October 16, 2016 - 6:35 am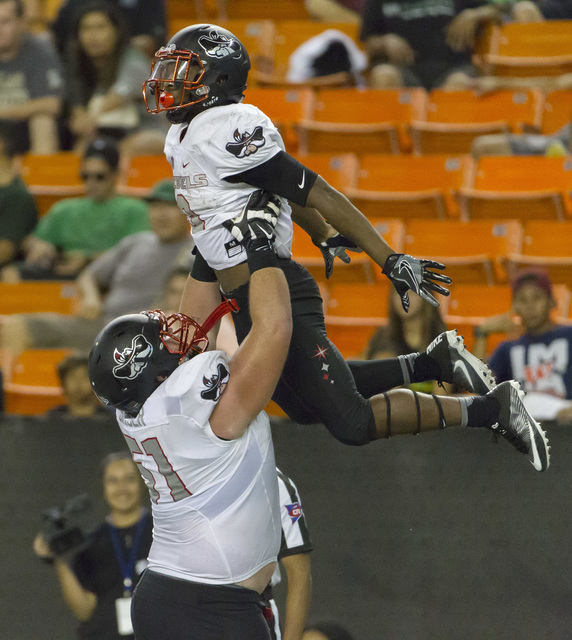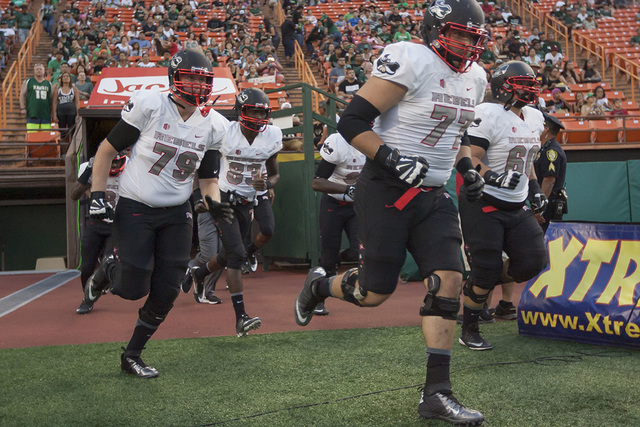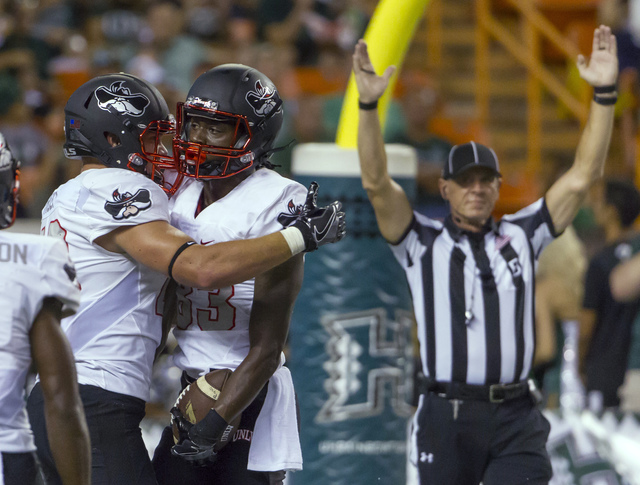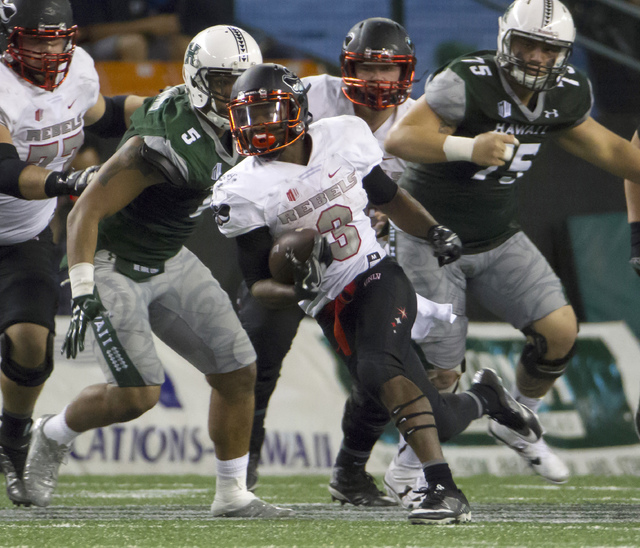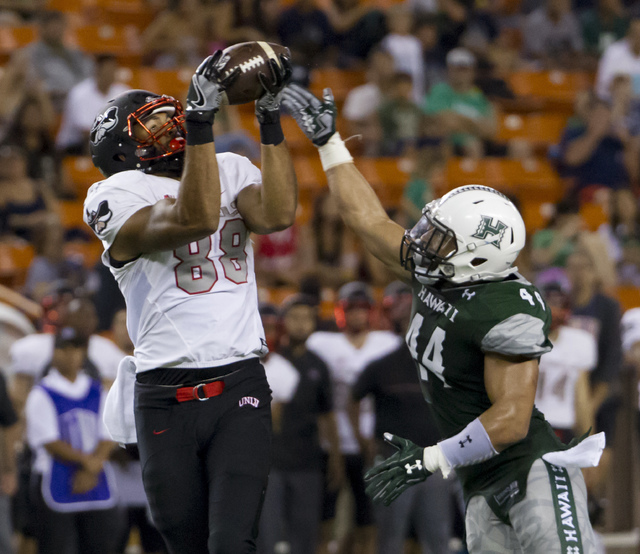 HONOLULU — Aloha means goodbye to the demons that had haunted UNLV's football team since it suffered a gut-wrenching loss here to Hawaii in 2014.
Aloha also means hello to bowl hopes for the Rebels, who matched their win total from last season in a wild 41-38 victory over the Rainbow Warriors that started Saturday night and ended early Sunday (PDT) before an announced homecoming crowd of 28,729 at Aloha Stadium.
Evan Pantels kicked a game-winning 28-yard field goal with 49 seconds left to lift UNLV (3-4, 2-1 Mountain West) to its first win at Hawaii (3-4, 2-1) since 2000 and only its third victory here in 13 meetings.
After losing 37-35 to the Rainbow Warriors following a bizarre finish in the last meeting here — when the Rebels took the lead with 15 seconds left only to give up a 20-yard touchdown pass with no time remaining — it appeared UNLV was destined to endure a similar fate when it fell behind 38-31 after a controversial play in the fourth quarter.
But the resilient Rebels weren't about to take a bitter plane ride home from Oahu this time. UNLV answered with an 80-yard, game-tying touchdown drive capped by Lexington Thomas's 34-yard run with 4:58 left. Then, after a penalty nullified a fumble return for a touchdown by the Rebels, UNLV retained possession and drove 45 yards to set up Pantels' kick.
"Even at the very end, we kick the field goal, and we got a bad snap and Kurt Palandech scoops it off the ground and gets it up. That was huge," second-year Rebels coach Tony Sanchez said. "This program, where we're coming from and where we want to go, there's no magic. You stay the course, you keep fighting, and if you fight long enough, good things are going to happen."
UNLV's mettle was tested when Paul Harris scored on a 7-yard touchdown run with 9:02 left to give the Rainbow Warriors a 38-31 lead two plays after it appeared the Rebels had recovered a fumble.
Marcus Kemp caught a 32-yard pass at the UNLV 33, but fumbled the ball when Darius Mouton punched it out. Kenny Keys recovered the ball, and the Rebels celebrated and were awarded possession.
However, after the officials reviewed the play, it was ruled the fumble went out of bounds because Kemp had touched the ball when he was out of bounds.
Harris rushed for 28 yards on the next play to set up his score.
"They made the right call, but it's like, 'Wow, we can't catch a break,'" Sanchez said.
Rebels quarterback Dalton Sneed bounced back in a big way from his historically poor passing performance at San Diego State, where he completed 2 of 12 passes for 9 yards. The redshirt freshman finished 19-for-27 for 279 yards and two touchdowns and ran for 61 yards.
On the tying drive, Sneed converted two third downs, firing an 8-yard pass to converted defensive back Jericho Flowers on third-and-7, then hitting true freshman Mekhi Stevenson for a 3-yard pass on third-and-2. Thomas, who finished with 102 yards rushing for his fourth 100-yard game of the season, took care of the rest.
"I told them, 'It's nothing new. We've been driving down the entire game,'" Sneed said of the tying drive.
In a seesaw shootout in which it appeared the team that had the ball last would win, UNLV linebacker Tau Lotulelei — one of eight Hawaiians on the Rebels' roster — made a huge play, forcing a fumble of Hawaii quarterback Dru Brown from behind as he ran for a first down at midfield. Mouton returned it for an apparent tiebreaking touchdown for UNLV, but the play was nullified by a penalty on the Rebels for an illegal block out of bounds. UNLV didn't score but retained possession.
"I can't even remember doing that," said Lotulelei, a Maui High School product. "I got up and seen one of our guys running down the other side. It was a great feeling. It means more than any play I ever made. I've always wanted to do something in my college career against Hawaii."
Sneed then lofted a 31-yard pass down the sideline to Devonte Boyd (five catches, 52 yards, touchdown) to the Hawaii 14 to set up the winning kick.
"We got embarrassed last week. That was a hard pill to swallow," Sneed said. "It feels so great to get this W. Coach Sanchez has been preaching, 'Finish, finish, finish.'"
Contact reporter Todd Dewey at tdewey@reviewjournal or 702-383-0354. Follow him on Twitter: @tdewey33
Visit our GameDay page for full coverage of the UNLV-Hawaii game.