Ex-Nebraska quarterback Johnny Stanton to start for UNLV in season opener
August 28, 2016 - 7:43 pm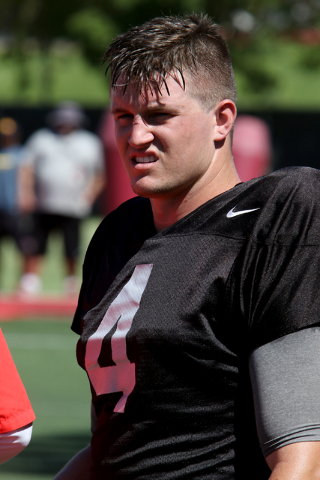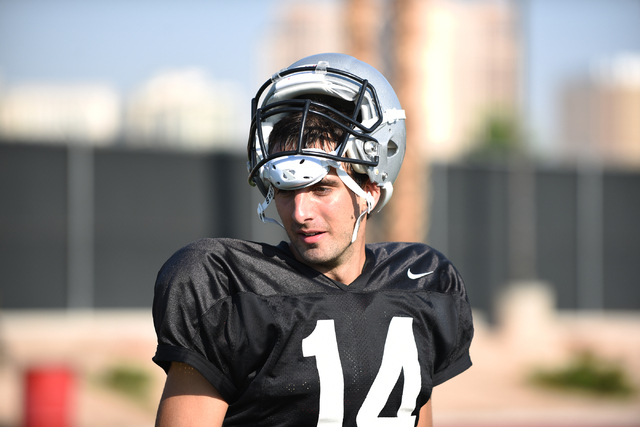 Former Nebraska quarterback Johnny Stanton will start UNLV's season opener Thursday night against Jackson State at Sam Boyd Stadium, Rebels coach Tony Sanchez confirmed Sunday in a text message to the Review-Journal.
Stanton and junior returnee Kurt Palandech had been locked in a tight two-man race for the starting quarterback job since the start of spring practice and were listed as co-starters Tuesday on a two-deep depth chart released by the team.
This will be the 10th time in the last 13 years that a different UNLV quarterback than the previous season will start the opener.
The 6-foot-2-inch, 245-pound Stanton was expected to quickly claim the starting job after transferring from Saddleback College in January, but neither he nor the 6-2, 185-pound Palandech was able to gain separation.
They were still in a dead heat Aug. 19 after each threw red-zone interceptions in the team's second and final scrimmage of fall camp, and Sanchez — who declined comment Sunday — said both of them will play against Jackson State.
"It's one of those deals that if you need to let it play itself out and wait, then you wait," he said after the Aug. 19 scrimmage. "You don't rush the decision, because the decision's going to have a major impact on the season.
"I'll be honest with you … both guys are going to play in Game 1. I think one guy's going to be named the starter, and he'll start to get the majority of the reps. But you're going to see whoever the No. 2 is at some point in the first half."
With a beefed-up offensive line and potentially explosive talent at the skill positions, Sanchez had said he was looking for the best game manager.
"We've got all the pieces," he said. "The guy that's going to make the right decisions and get the ball to our athletes is the guy that's going to play."
The strong-armed Stanton and fleet-footed Palandech began their college careers at four-year schools before going to junior college and then signing with the Rebels.
A native of Rancho Santa Margarita, California, Stanton was rated one of the best dual-threat QBs in the country coming out of Santa Margarita High School. He chose Nebraska over Oregon and Wisconsin and spent two seasons with the Cornhuskers, playing in two games as a redshirt freshman. Stanton earned junior college first-team All-American honors last season at Saddleback College after completing 63 percent of his passes (293-for-465) for 3,471 yards and 27 TDs and rushing for 747 yards and 12 TDs.
Palandech, originally a North Dakota signee, played in 11 games for UNLV last season, starting three of them in place of the oft-injured Blake Decker, after transferring from Laney College. He completed 49.3 percent of his passes (75-for-152) for 794 yards and nine touchdowns with five interceptions. The third-fastest player on the team in the 40-yard dash, Palandech also rushed for 293 yards and four TDs.
Contact reporter Todd Dewey at tdewey@reviewjournal.com or 702-383-0354. Follow him on Twitter: @tdewey33