Ex-Rebel Wolfe works to get foot in NFL door
February 21, 2010 - 12:00 am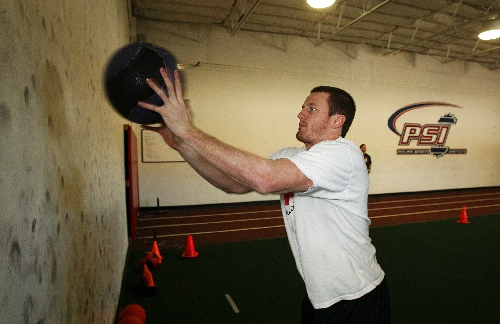 Hidden from the road and almost unnoticeable even while in the parking lot, no one mindlessly wanders into the nondescript Philippi Sports Institute. And anyone looking for flat-screen TVs and fancy juice bars inside the 3,000-square-foot training center will be disappointed.
This is where serious athletes train, those who are more interested in using the state-of-the-art equipment rather than trying to make the next spinning class. It's the ideal place for former UNLV wide receiver Ryan Wolfe, who has called this his workout home since last month.
He goes nearly nonstop, fitting in everything from doing six quick repetitions of 145-pound bench presses to bouncing a 30-pound ball repeatedly off the wall to doing five push-ups using 2-foot-high boxes. Afterward, he goes to UNLV for aerobic and agility work.
All of that without any hint of a broken left foot he sustained in mid-November, though Wolfe is expected to be fully cleared for full workouts Monday.
"I think a lot of guys would've looked at an injury like this as an excuse not to work out," said Steve Caric, Wolfe's agent. "With Ryan, it's been the opposite. He's almost pushing too fast to where sometimes you have to hold the reins back."
Wolfe understands why he has been held back, but that doesn't mean he has to like it, saying he would "keep going until something started to hurt."
Because he needs time to get back into top condition, the reins won't be completely off in Indianapolis when Wolfe heads there for the NFL scouting combine, which begins Wednesday. He will undergo physicals, do the bench press and participate in team interviews at the combine but will wait until UNLV's pro day March 25 to run the 40-yard dash and passing routes.
Mark Philippi, who owns the workout facility, said passing "the eyeball test" with scouts will be crucial. "The thing with Ryan is there's got to be some kind of 'wow' factor," Philippi said.
Wolfe is one of three former Rebels going to the combine. The others are linebacker Jason Beauchamp and guard/center Joe Hawley. Utah linebacker Stevenson Sylvester, who went to Valley High School, also will be in Indianapolis.
An invitation to the combine means the chances of getting drafted in late April are good.
Wolfe (6 feet 1 inch, 204 pounds) set enough records to garner at least some attention from the NFL. His 283 catches for 3,495 yards are school records, and the receptions total is the Mountain West Conference's all-time best.
NFL scouts have plenty of questions, though, notably about the foot, which Wolfe broke in practice the week before the season finale.
Some machines at PSI allowed Wolfe to not only stay in shape but become stronger and leaner without putting pressure on the foot. So he was doing some true training "instead of just sitting around riding an exercise bike," Philippi said.
"Everything was trying to do as much as we could without impact," said Philippi, UNLV's former strength coach and one-time America's Strongest Man.
Teams will get a look for themselves in Indianapolis, closely examining Wolfe's foot to make sure there aren't any lingering concerns. "I haven't had any pain in my foot," Wolfe said. "That's the most important thing."
His foot isn't the only issue. So are his legs, and scouts particularly are interested in what kind of 40 time Wolfe can post, which will make his March pro day at Rebel Park especially intriguing.
He hopes to run in the 4.5-second range, and Caric likes to compare Wolfe to former Brigham Young wide receiver Austin Collie because of their similar abilities to make tough catches and separate from defenders.
Collie, who ran the 40 in 4.63 seconds at last year's combine, was selected in the fourth round by the Indianapolis Colts. Collie then put together a strong rookie season for the AFC champions.
Whether Wolfe is this year's Collie is far from certain.
But in PSI's unpretentious facility, where NFL players and baseball slugger Jason Giambi are among those who train, Wolfe shows he isn't afraid to work hard. He never was, treating each UNLV practice and video session as if kickoff was minutes away.
The personal stakes just happen to be higher this time.
"It all comes down to being relaxed and performing," Philippi said. "It's a matter of lining up and doing what he's capable of doing. If he does that, he'll be fine."
Contact reporter Mark Anderson at manderson@reviewjournal.com or 702-387-2914.
LOCALS AT THE COMBINE
UNLV
Jason Beauchamp
NFLDraftScout.com rankings: 27th of 261 outside linebackers; No. 351 overall
Scouts Inc. ranking: No. 31 outside linebacker
Joe Hawley
NFLDraftScout.com rankings: 20th of 200 guards; No. 376 overall
Scouts Inc. ranking: No. 9 center
Ryan Wolfe
NFLDraftScout.com rankings: 39th of 354 wide receivers; No. 338 overall
Scouts Inc. ranking: No. 42 wide receiver
ALSO
Stevenson Sylvester, Utah/Valley High School
NFLDraftScout.com rankings: 22nd of 261 outside linebackers; No. 281 overall
Scouts Inc. ranking: No. 22 outside linebacker