Fans enjoy UNLV spring showcase, capped by marriage proposal
Updated April 8, 2023 - 9:00 pm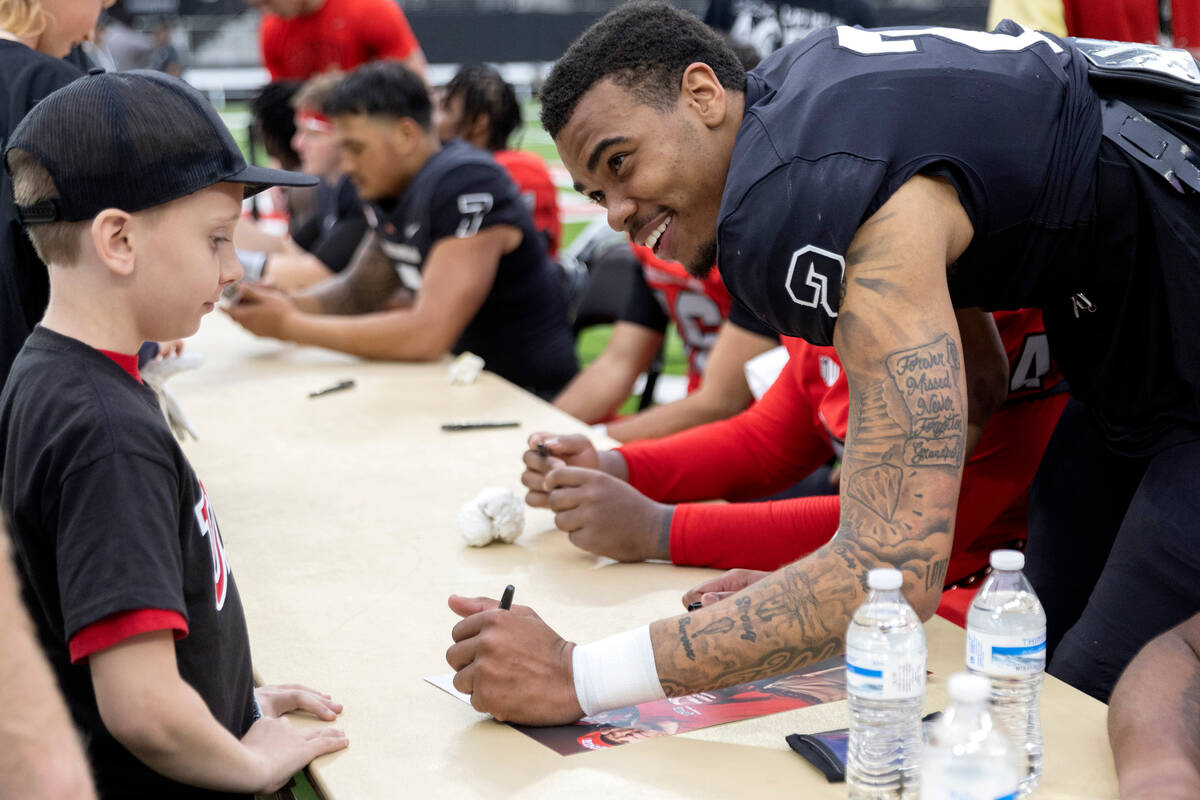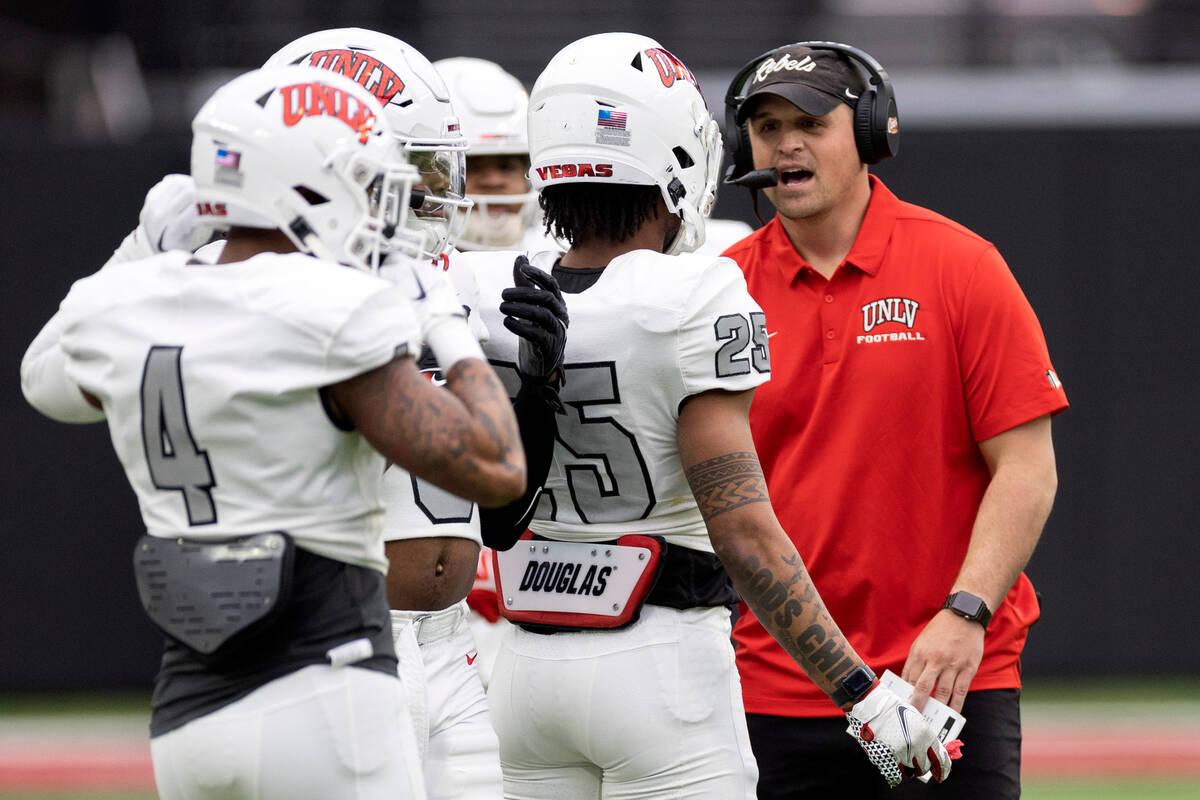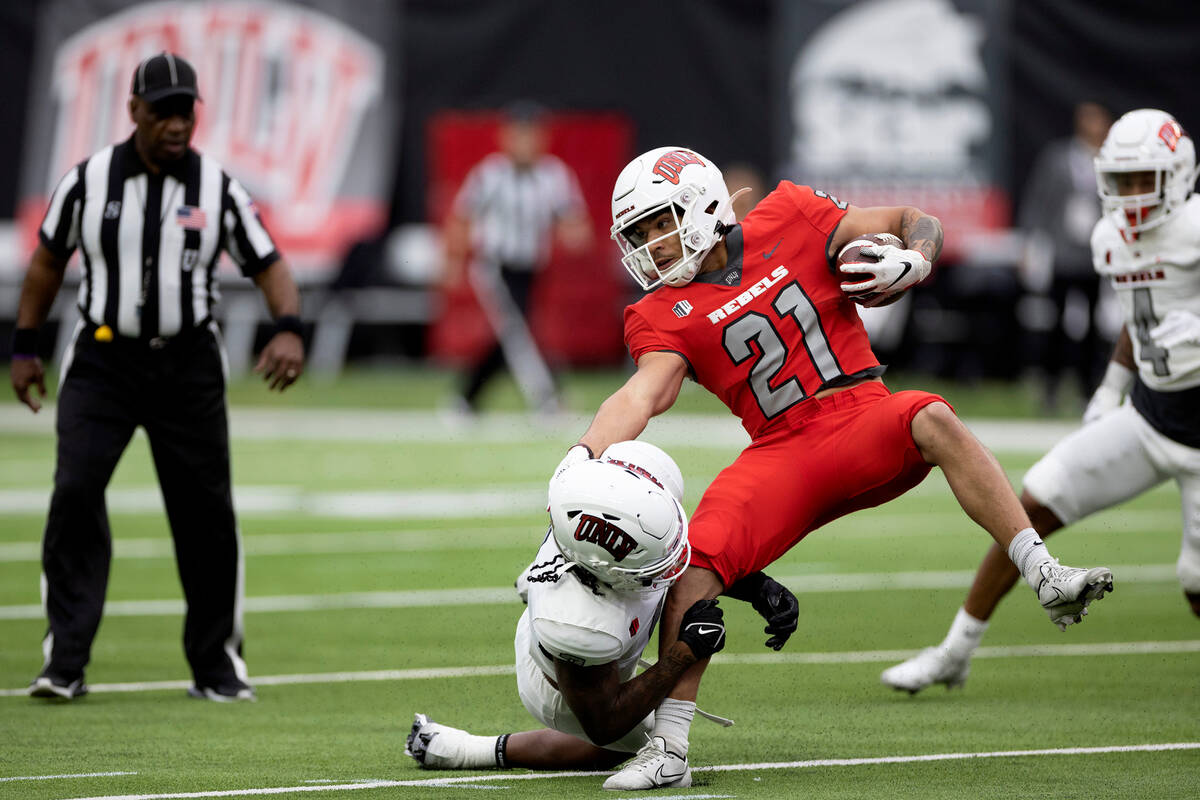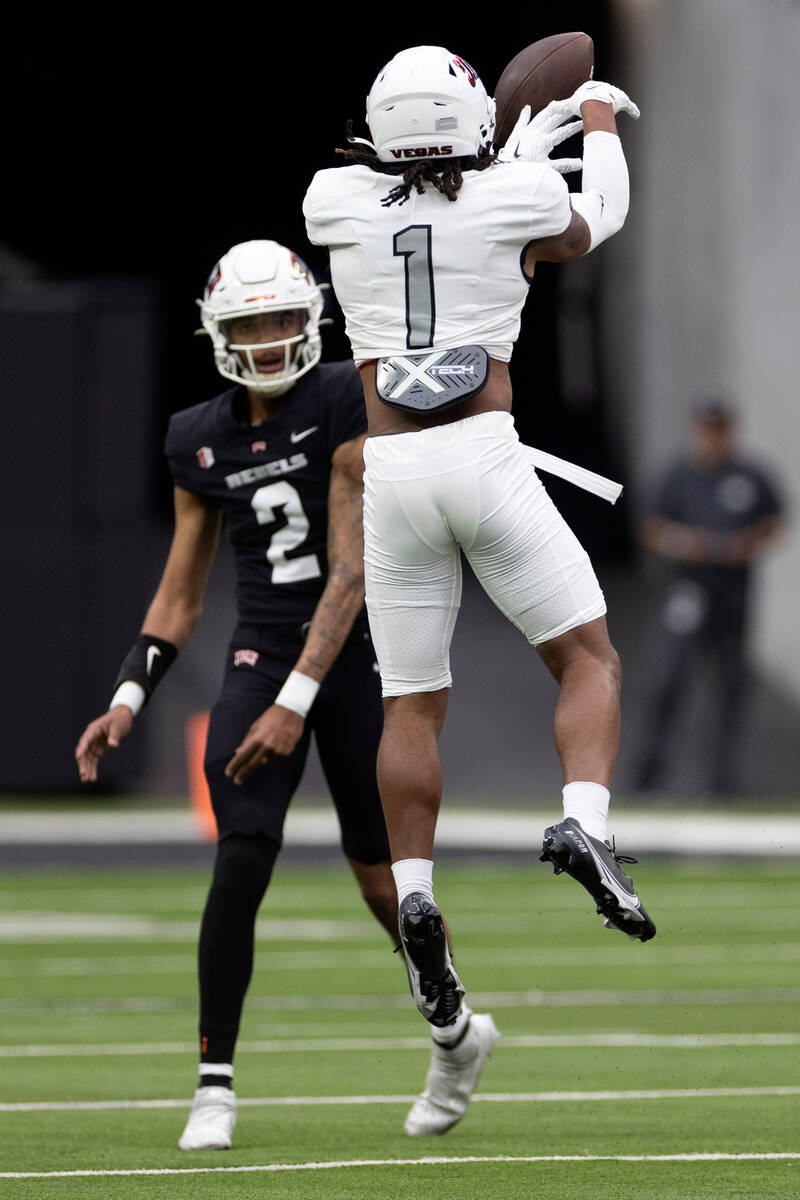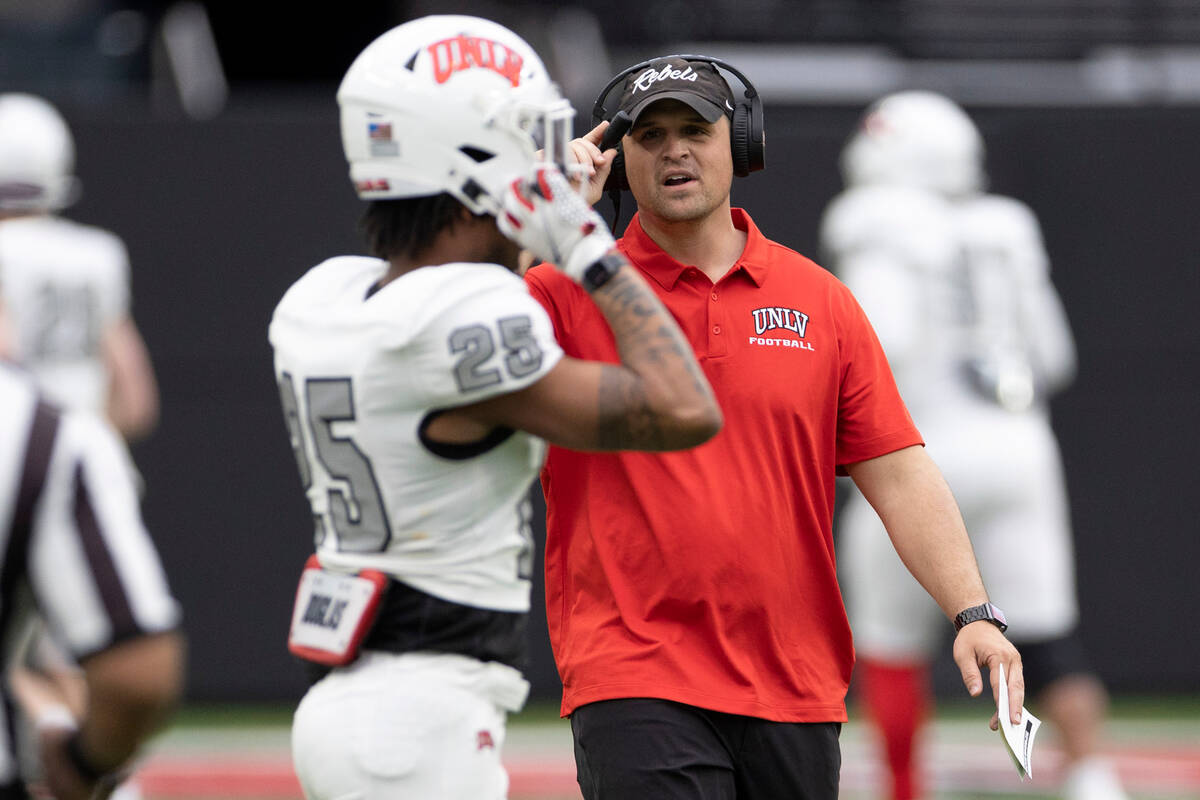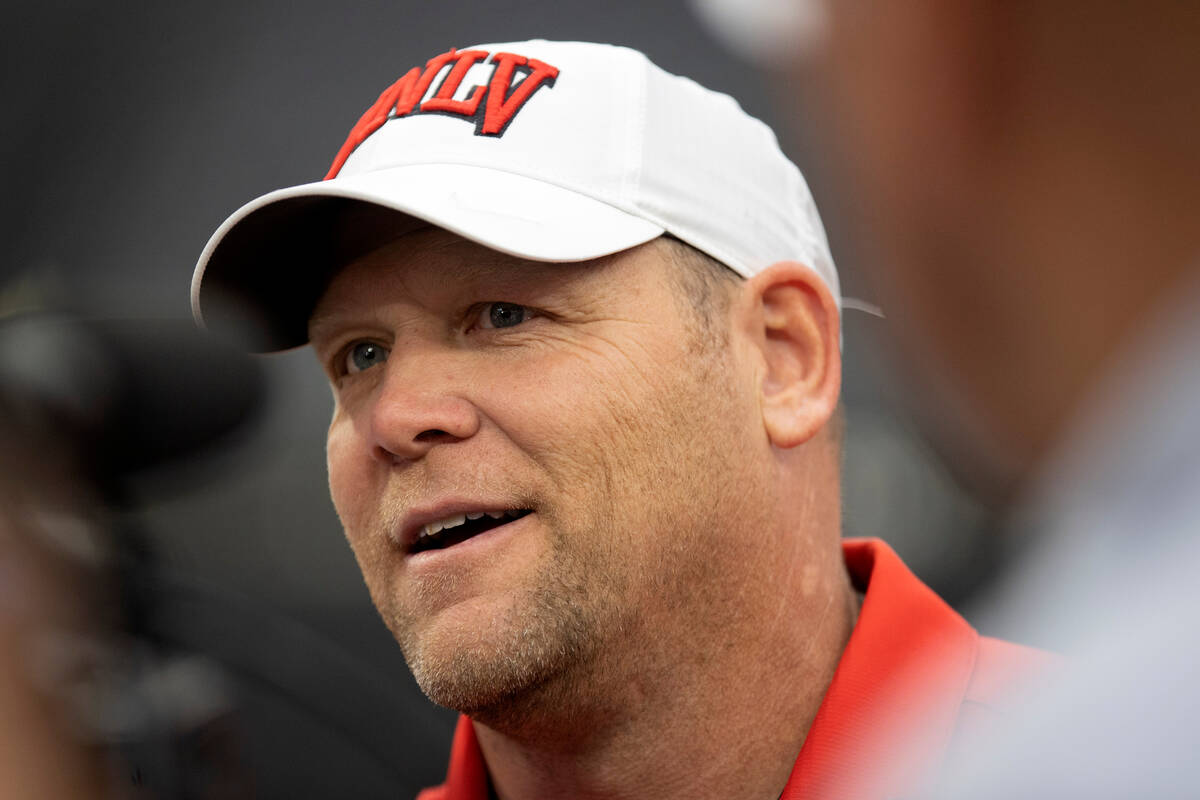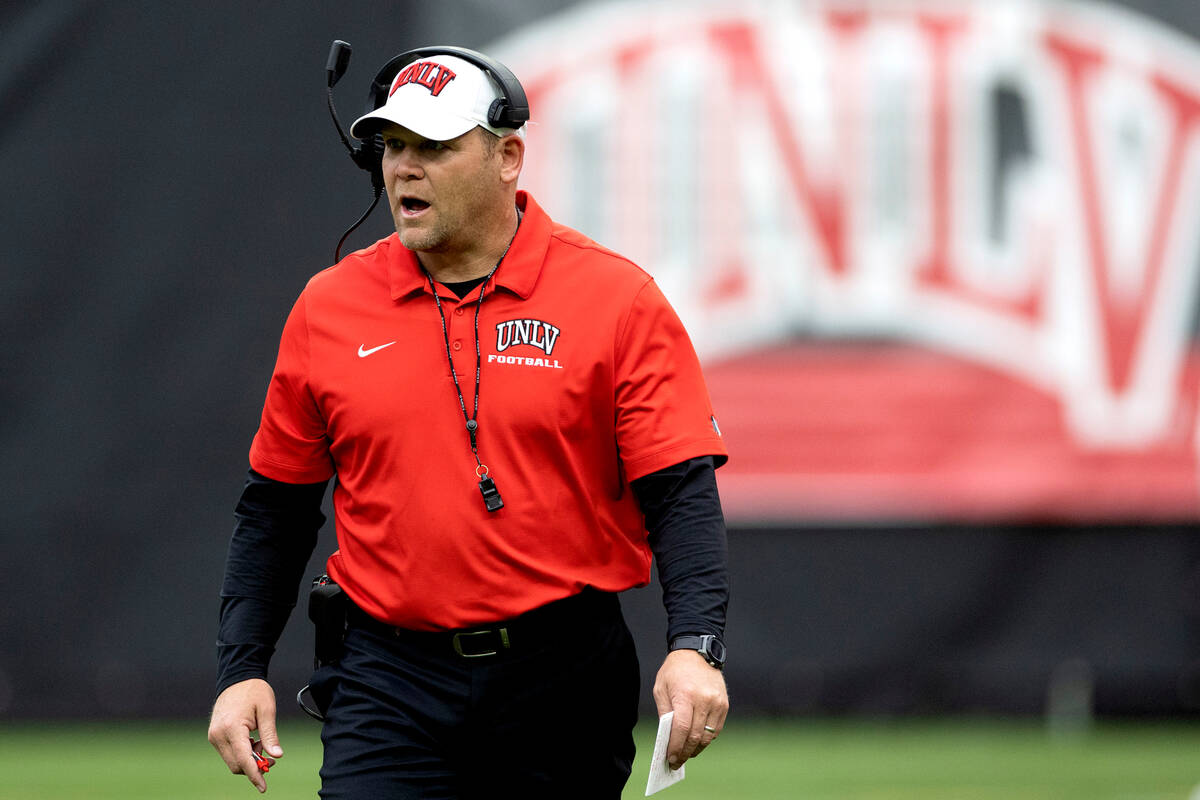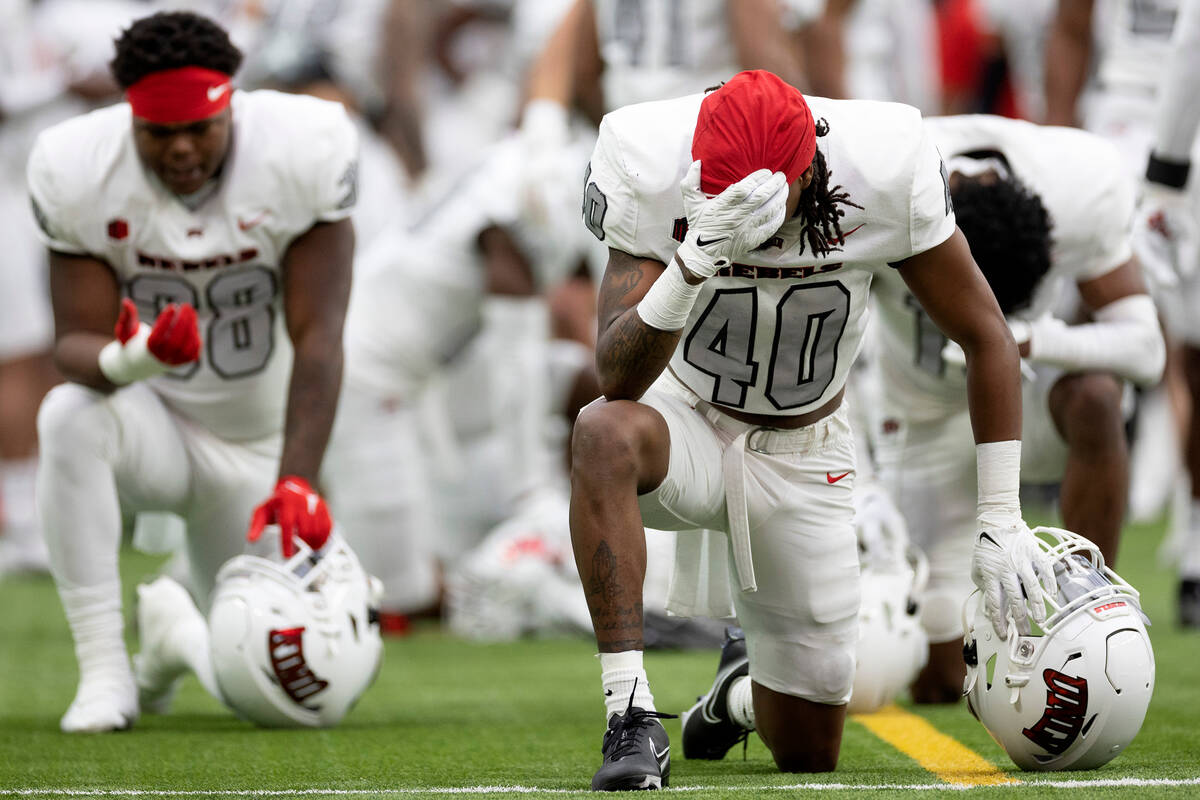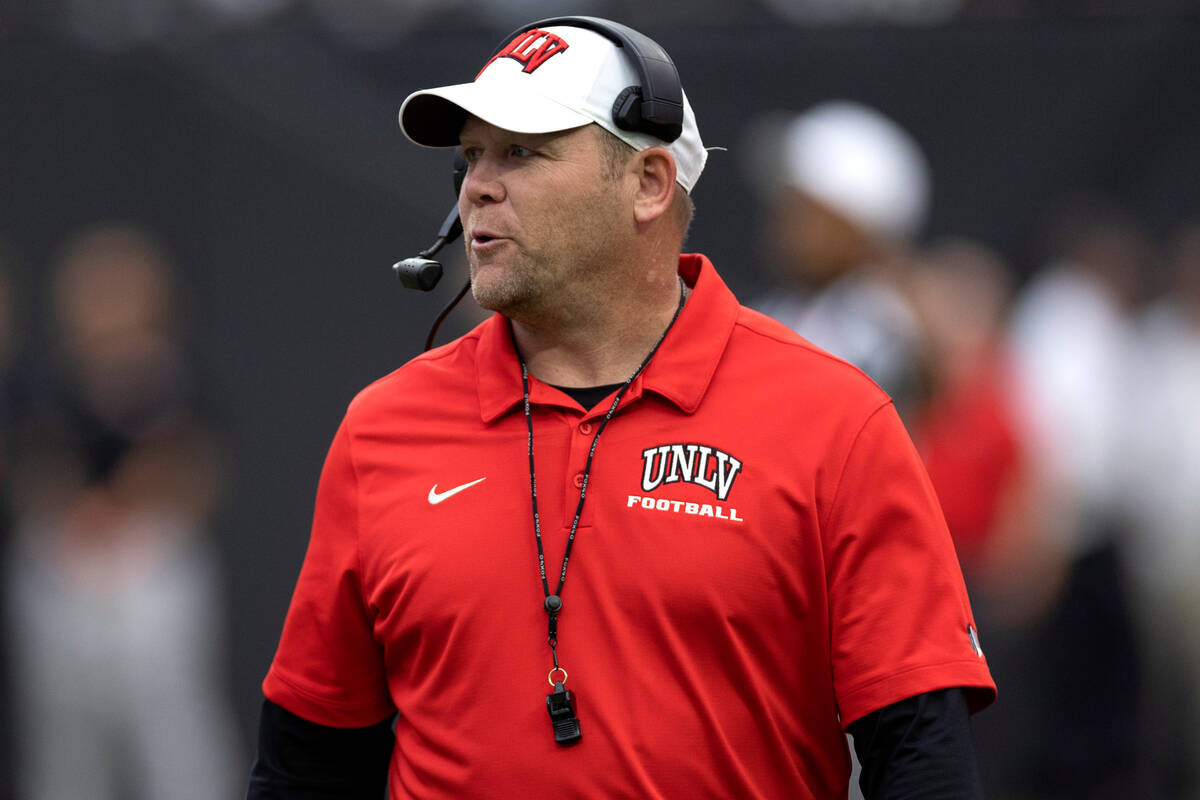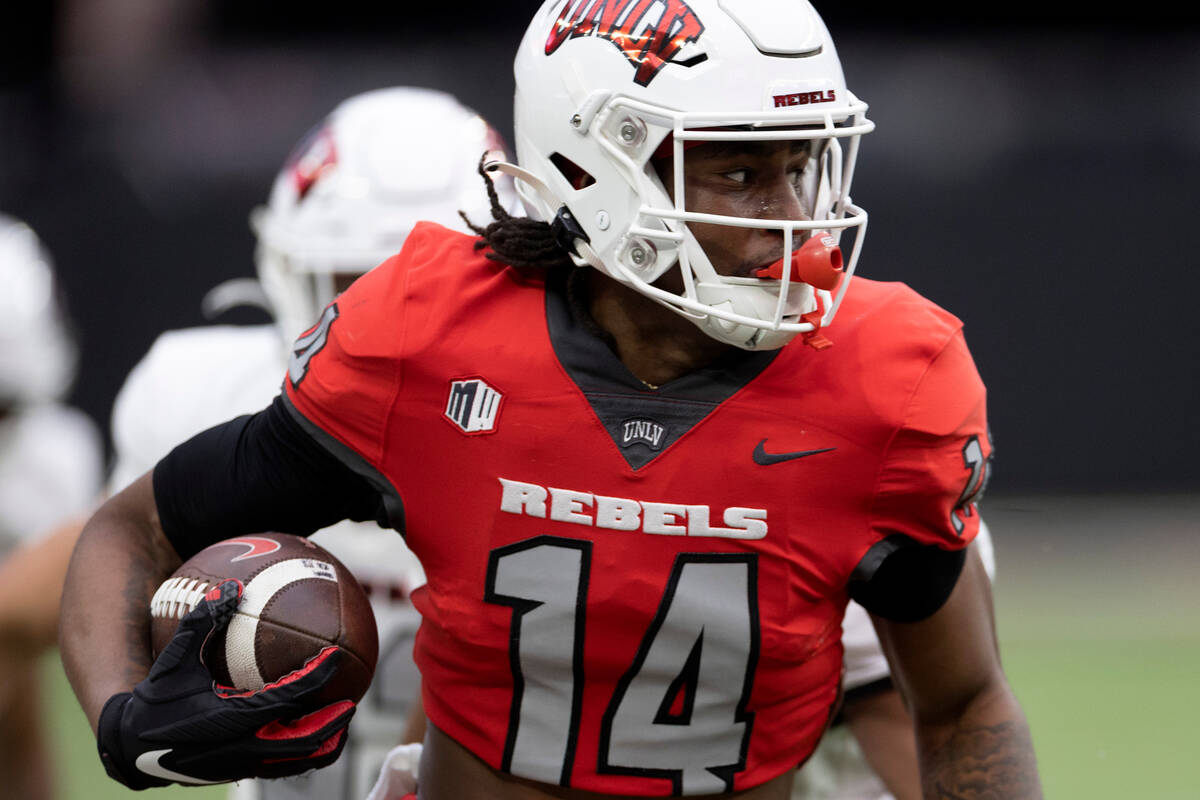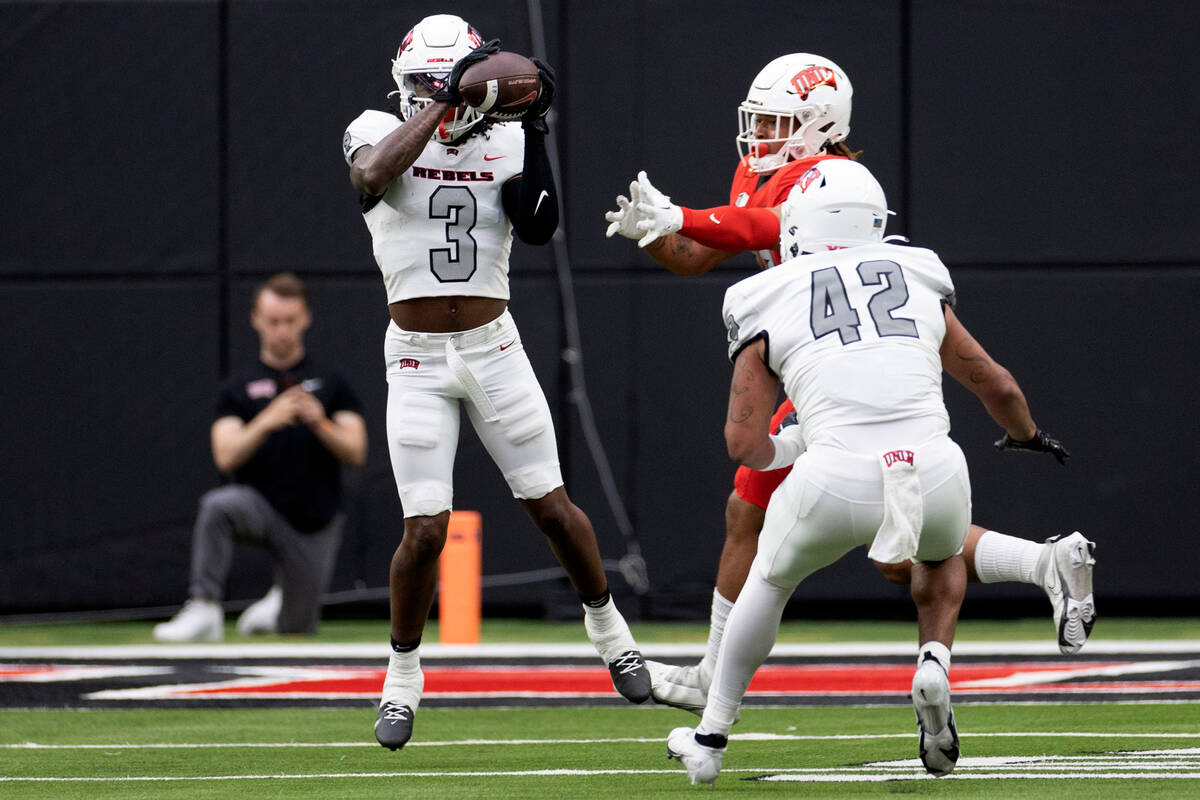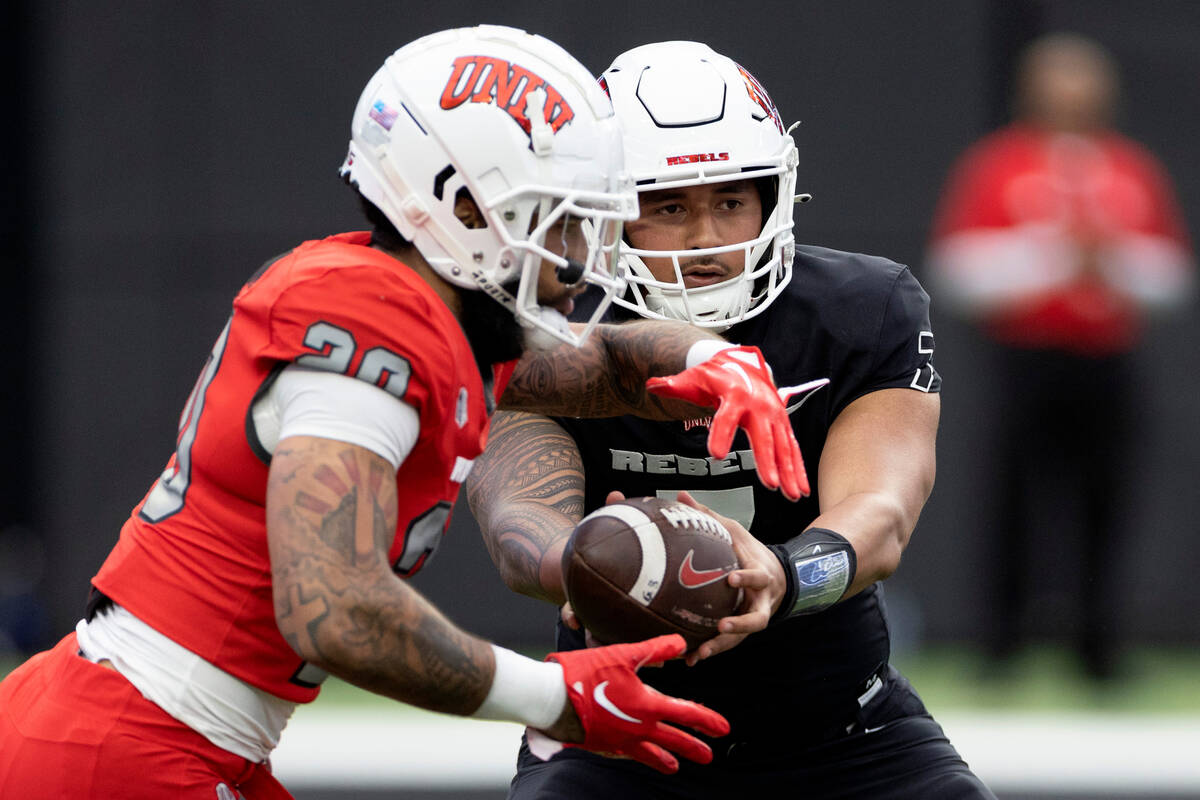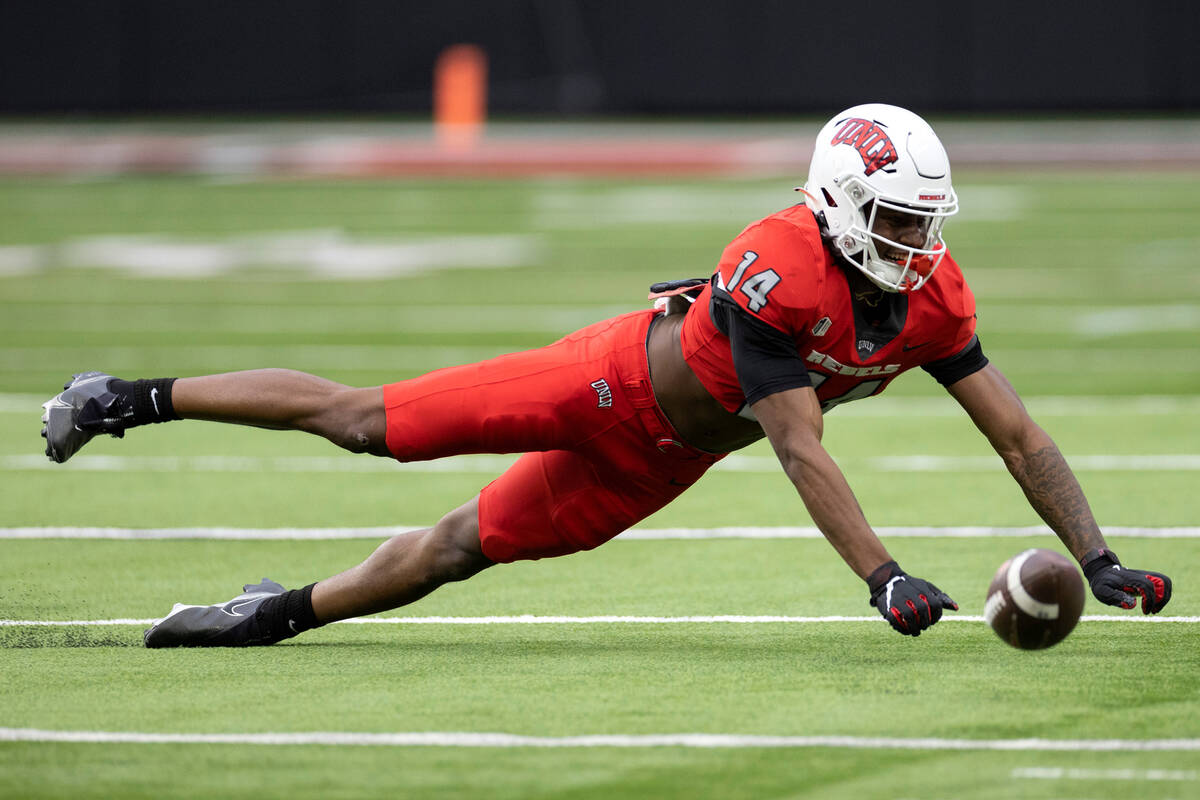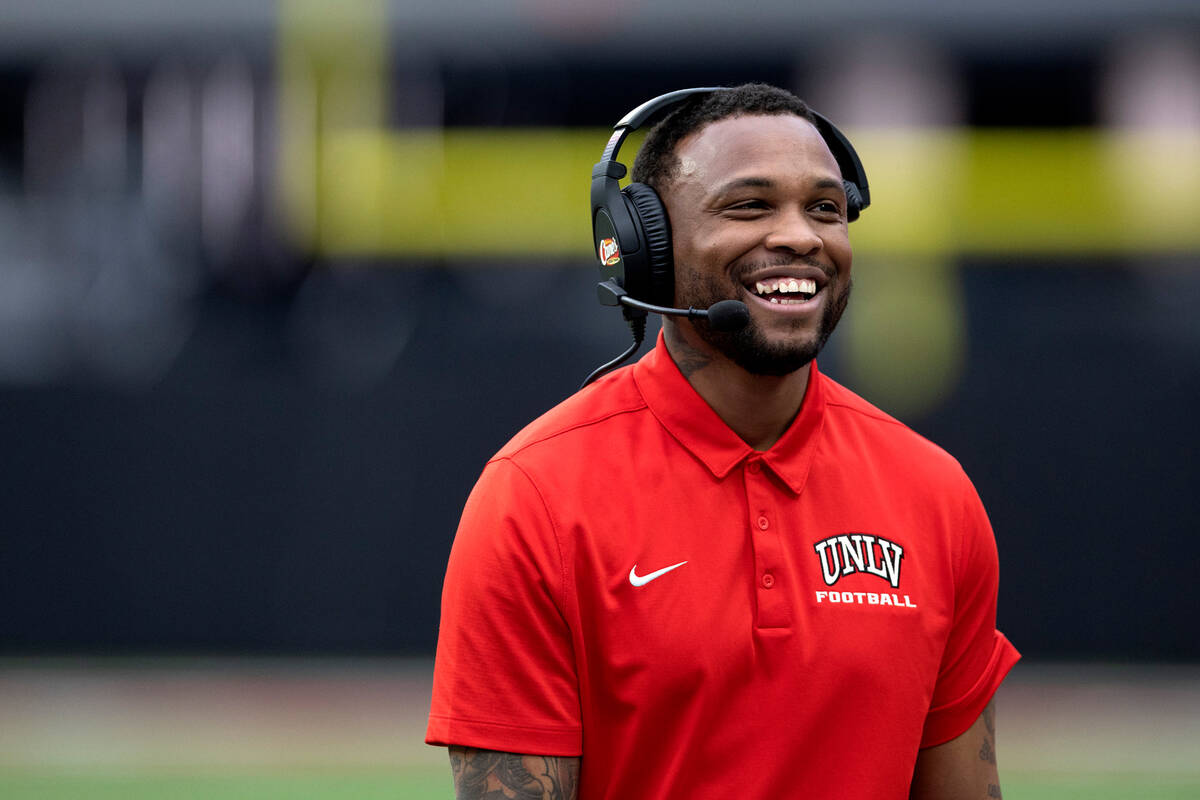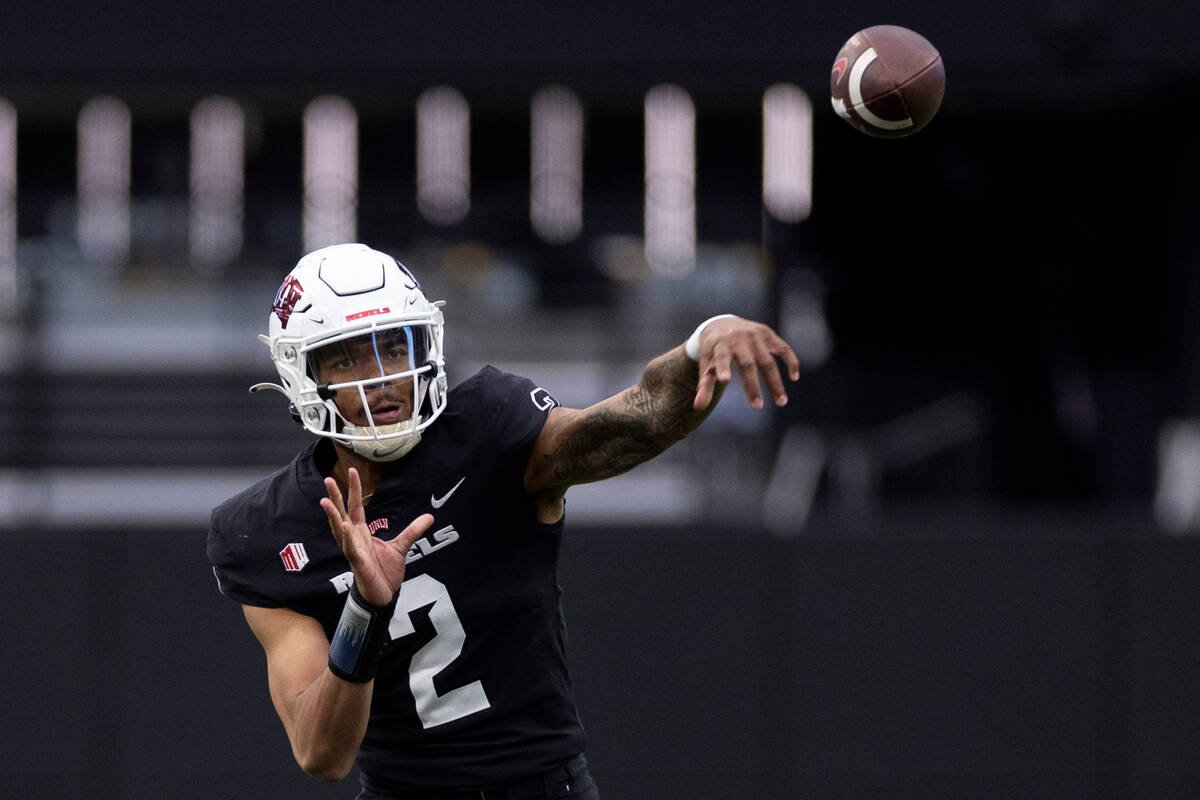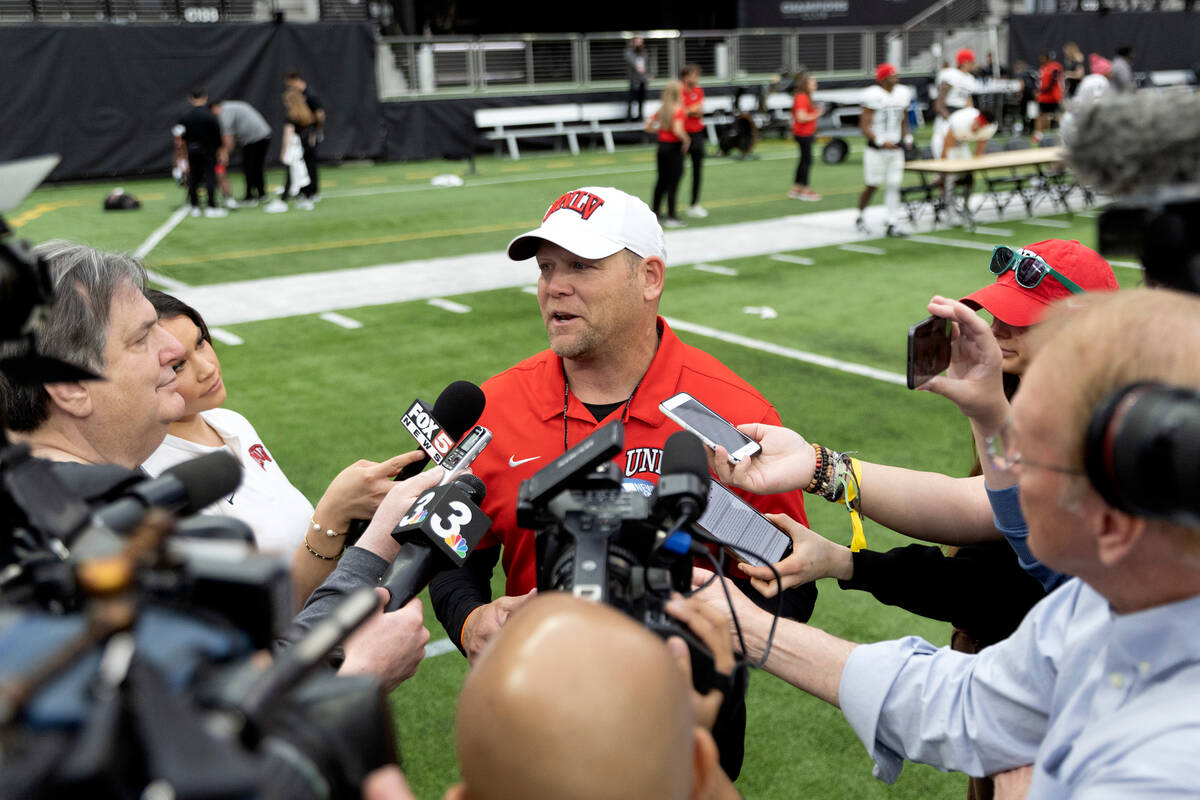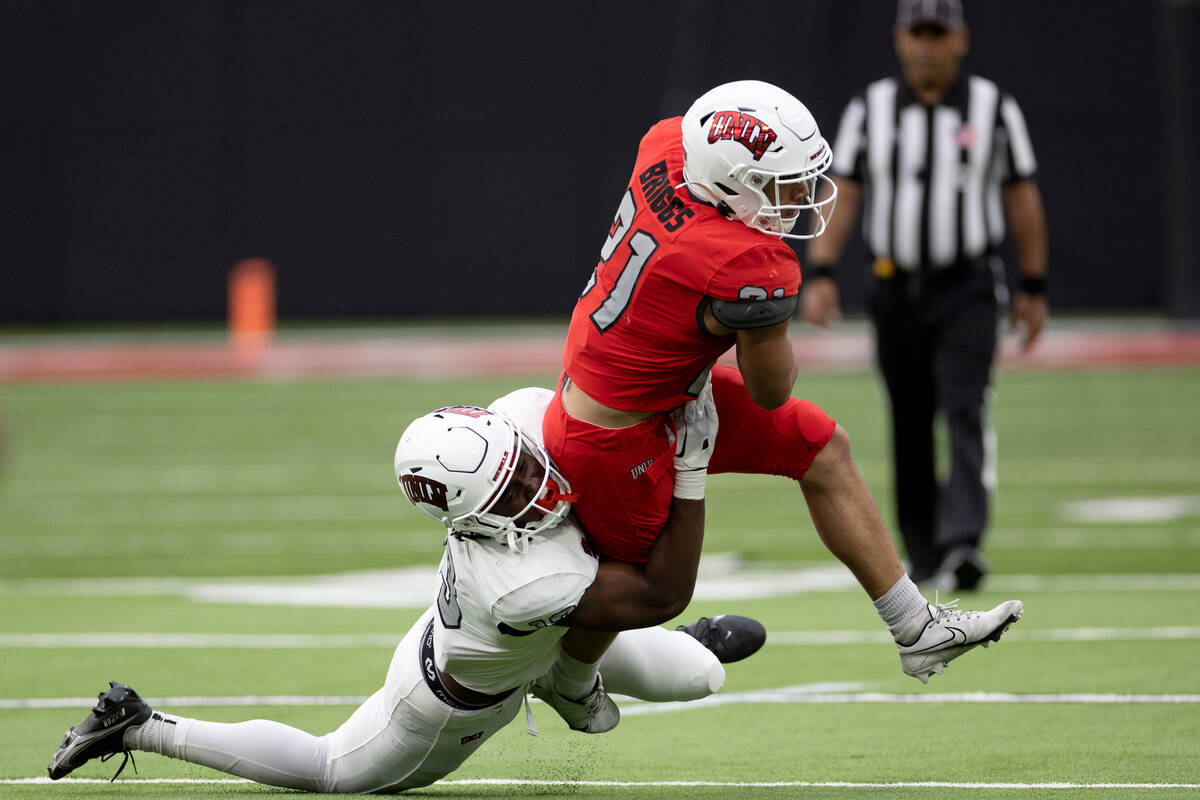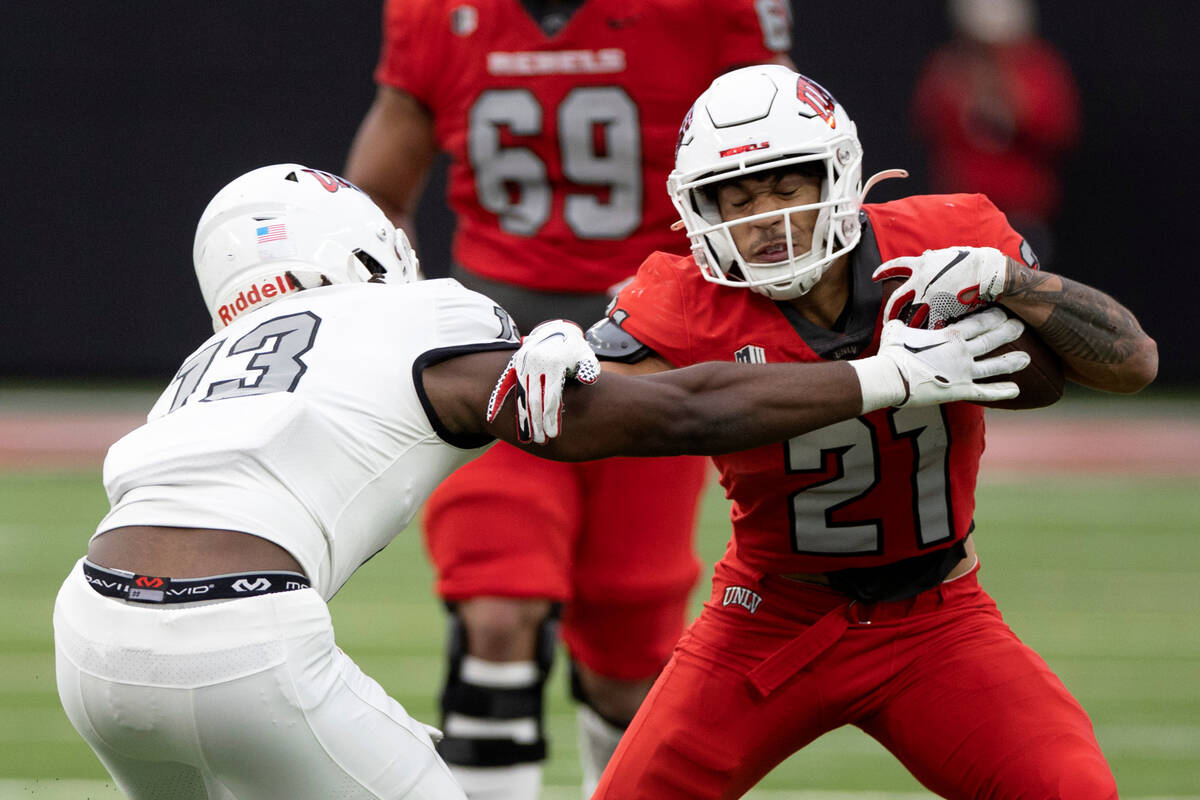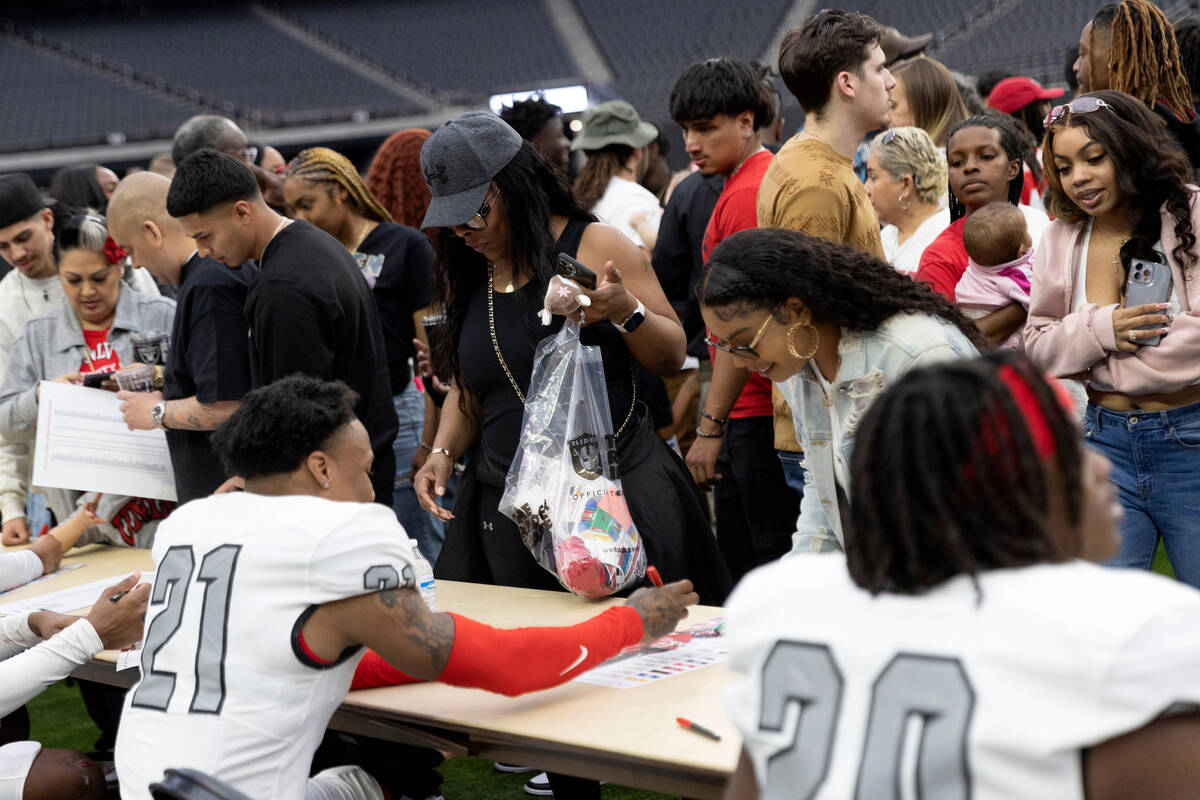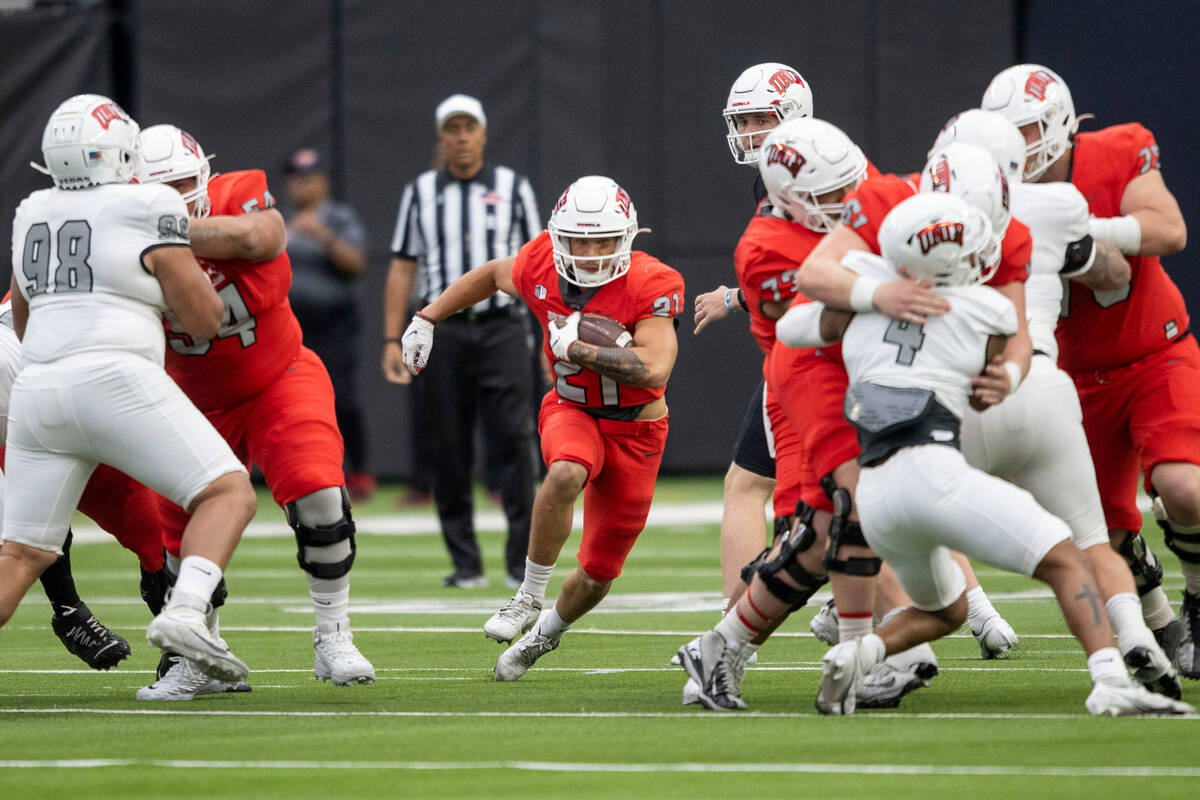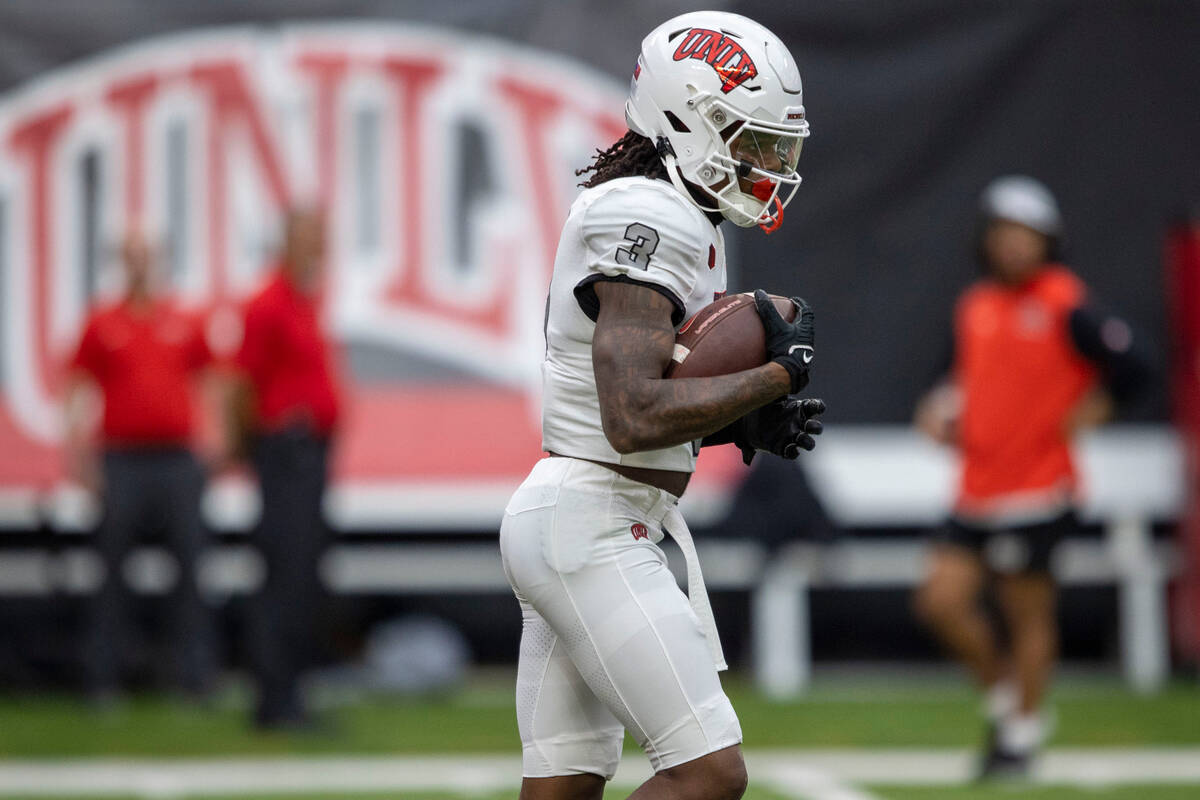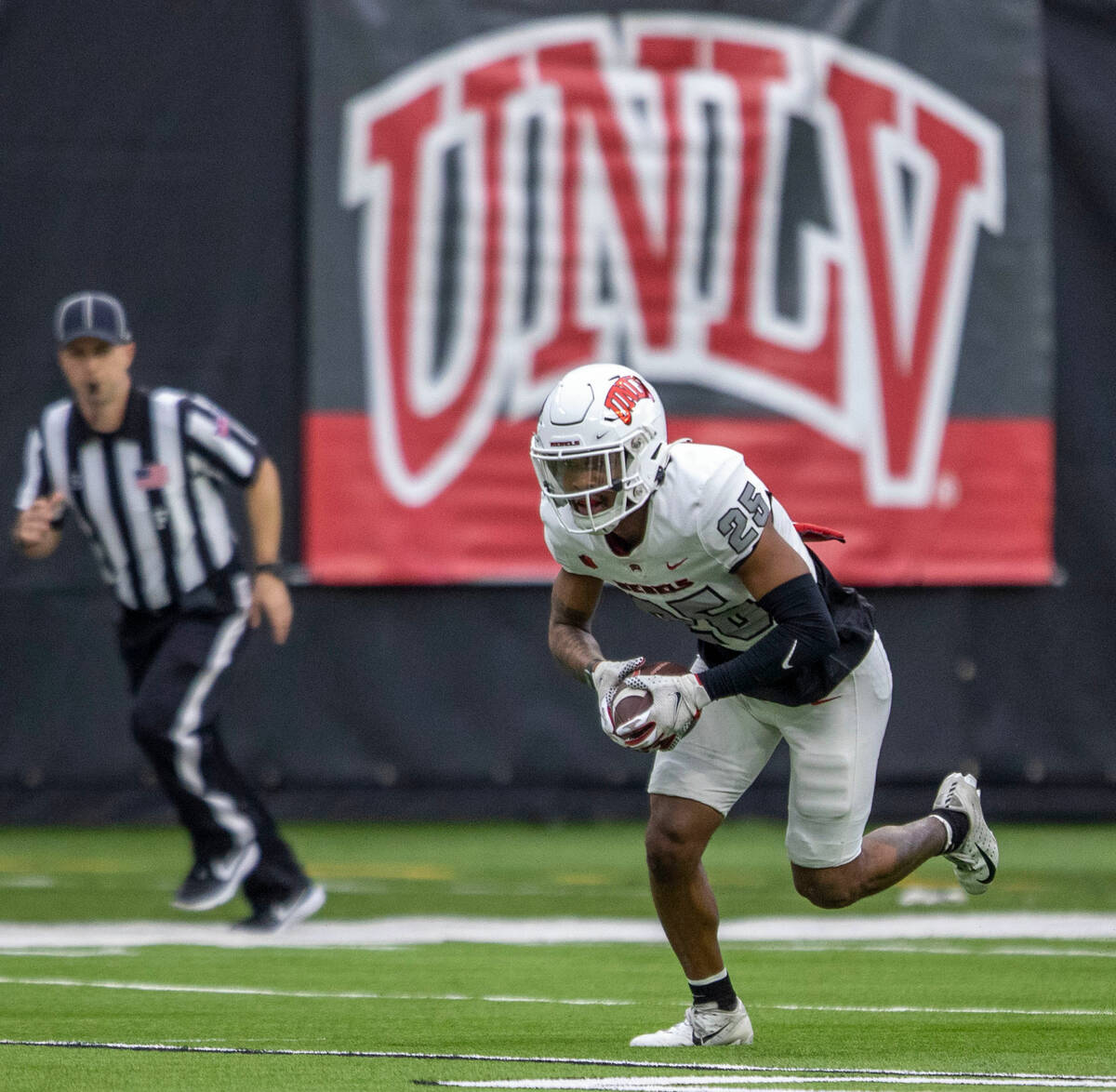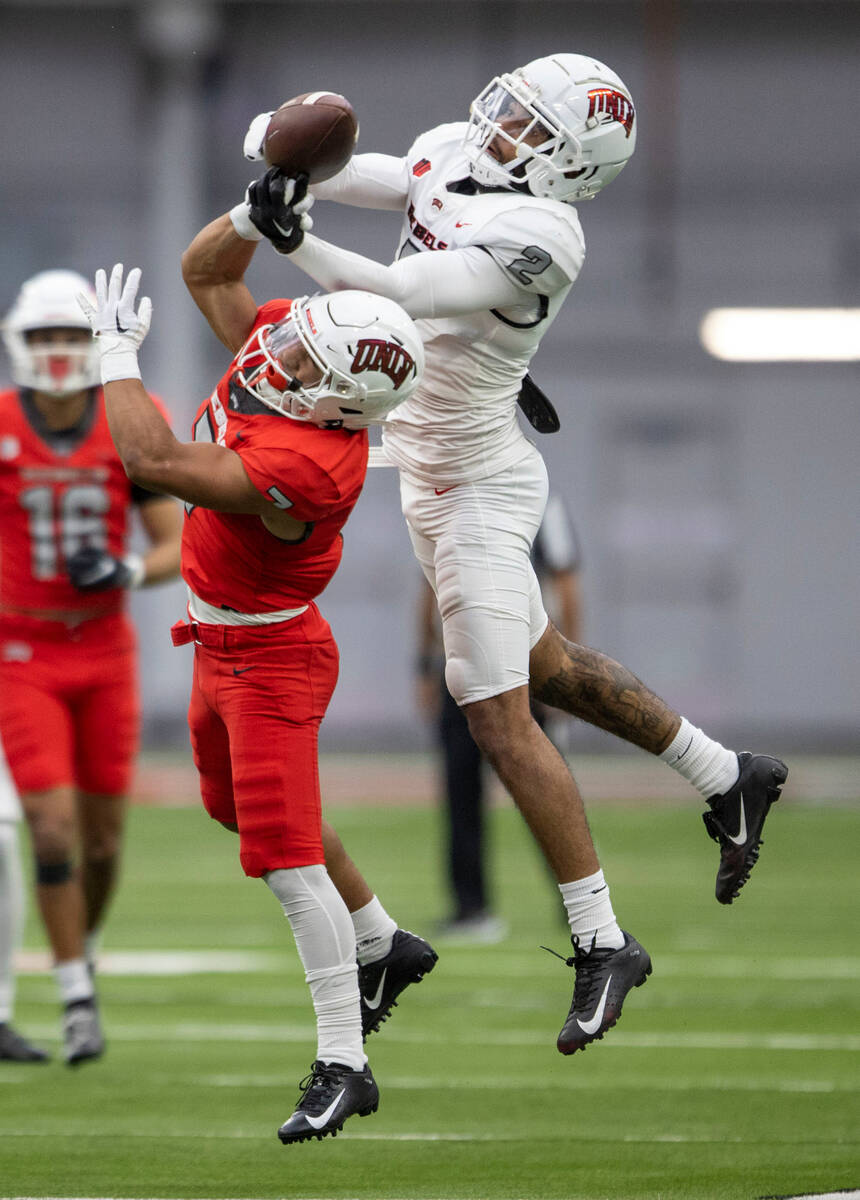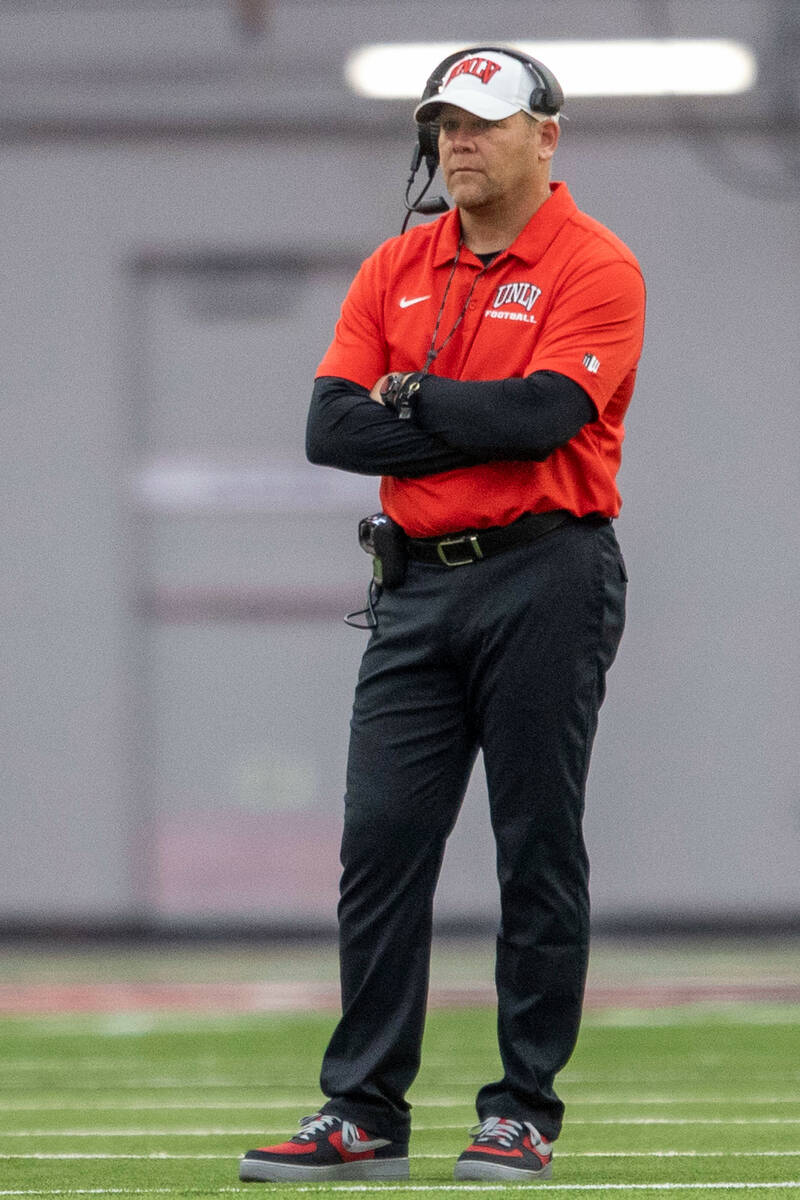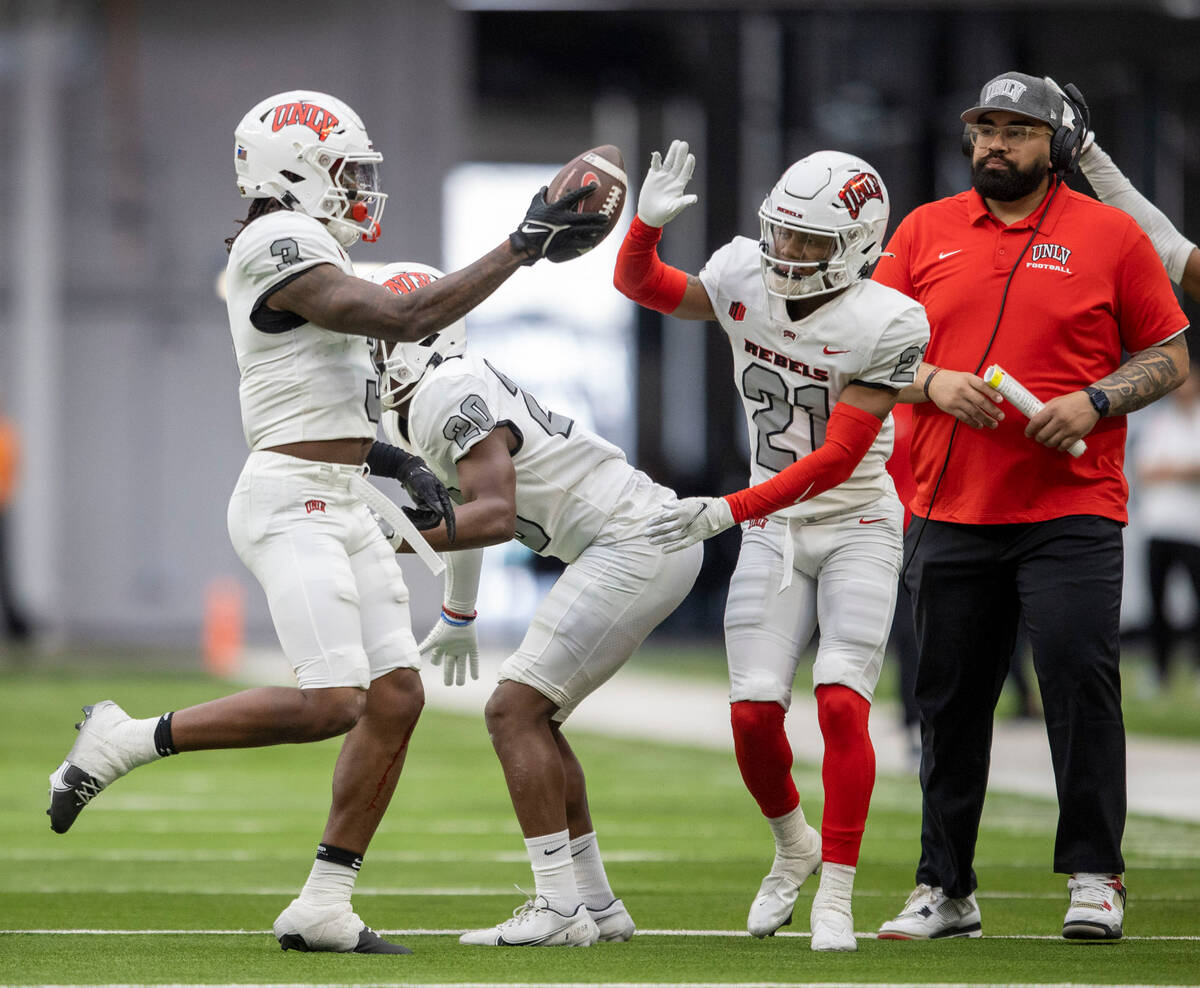 Jacob De Jesus was already having a memorable day.
The 5-foot-7-inch slot receiver, who transferred to UNLV from Modesto Junior College during the offseason, was one of the Rebels' standout players during Saturday's spring showcase. De Jesus, a self-described Raiders fan, caught 10 passes for 136 yards and a touchdown during his first outing at Allegiant Stadium.
The TD and the chance to call his favorite NFL team's stadium home for the first time were just the beginning for De Jesus. Following the team's autograph session with fans, the Manteca, California, native got down on one knee to propose to his longtime girlfriend, Kirstien Lopez.
There was only one problem. He technically forgot to ask the big question.
"I was just super nervous to ask her," he said. "When I got down on my knee, I just completely forgot and just showed her the ring, but she said yes." De Jesus' proposal was the final part of a productive day for UNLV football and new coach Barry Odom. The team wrapped up its spring practices Saturday with a showcase scrimmage in front of about 2,000 fans.
The event was dominated by defense. UNLV's quarterbacks combined for six interceptions and completed just 47 percent of their passes, but Odom said he was just happy to see the Rebels come through the spring unscathed. He feels the program is already taking steps in the right direction.
"Whatever you become, your DNA, it will show up in crunch time," Odom said. "I think we've made a lot of ground up in that area, and now we've got to continue to improve."
While the spring showcase was the first chance for players such as De Jesus to get out onto the field at Allegiant Stadium, it was also an opportunity for fans to see how the team looks under Odom.
The former Arkansas defensive coordinator was hired in December following the dismissal of Marcus Arroyo, and several fans said they feel optimistic about the Rebels and their new leader.
Oscar Conchas is one such fan. The UNLV alum, who graduated in 2016, has been an avid Rebel football fan since arriving at the school in 2014. Conchas said he felt former coach Tony Sanchez had put UNLV on a good path, but the team hit a rough patch with Arroyo and its progress stalled out.
Conchas said he likes the decision to hire Odom, who has previous head coaching experience after a four-year stint at Missouri in the Southeastern Conference. Conchas said the Rebels will win between four and six games, but he hopes they make a bowl game.
UNLV hasn't been to the postseason since the 2013 season, when it played North Texas in the Heart of Dallas Bowl, a year before Conchas arrived on campus.
"I just want to go and be able to experience that whole thing," he said.
He's not the only one who's optimistic. Cassius Ware is a personal trainer who spent some time as an assistant strength and conditioning coach at UNLV during Mike Sanford's tenure.
Ware, a former linebacker at Mississippi, said Odom's SEC background will help him build a foundation at UNLV, and he hopes the new coach can keep some of the local talent in Las Vegas.
"They've let some of the best local players leave," Ware said. "I don't care if they want to go to Ohio State or USC or Washington, you've got to sell the dream right here in Las Vegas."
Ware also said a team filled with local stars could help the Rebels grow their fan base in Las Vegas, something Odom has repeatedly said is a high priority for his vision of the program.
Odom said the entire spring showcase experience had reaffirmed his opinion that the Rebels have some of the best facilities in all of college football.
"This has got to become Vegas' team," he said. "And we can get this place rocking."
Contact reporter Andy Yamashita at ayamashita@reviewjournal.com. Follow @ANYamashita on Twitter.