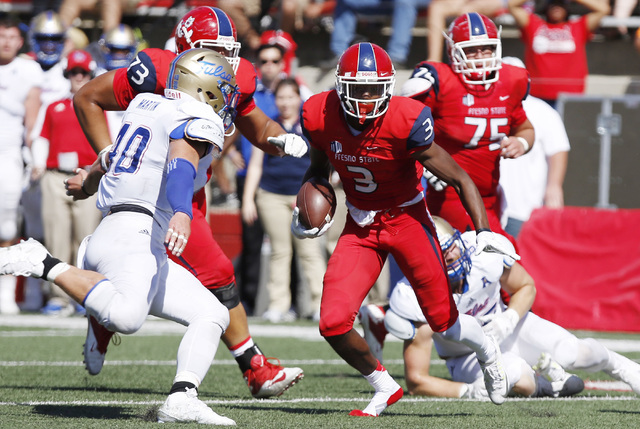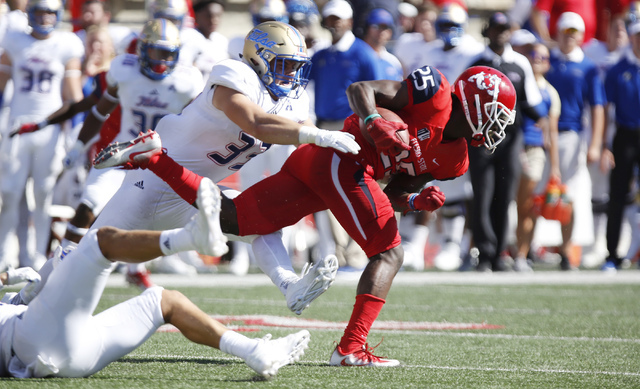 UNLV's football team (1-3) will try to bounce back from its 33-30 overtime loss to Idaho when it opens Mountain West play against Fresno State (1-3) at 7:30 p.m. Saturday at Sam Boyd Stadium. Here's everything you need to know about the Bulldogs:
■ WHO: Fresno State Bulldogs
■ WHEN: 7:30 p.m. Saturday
■ WHERE: Sam Boyd Stadium
■ TV: CBS Sports Network
■ LINE: UNLV -10
■ SERIES: Fresno State leads 13-5
■ LAST MEETING: Fresno State 31, UNLV 28 (Oct. 16, 2015 at Fresno State)
■ 2015 RECORD: 3-9 (2-6 MW)
■ 2016 RECORD: 1-3 (beat Sacramento State 31-3; lost 43-10 at Nebraska, 52-17 at Toledo and 48-41 in double overtime to Tulsa on Saturday)
■ HEAD COACH: Tim DeRuyter (overall record: 31-26, sixth year; school record: 30-26, fifth year)
■ RETURNING STARTERS: 7 offense, 5 defense
■ THREE PLAYERS TO WATCH: QB Chason Virgil, WR Jamire Jordan, RB Dontel James
■ ABOUT THE BULLDOGS:
— Fresno State blew a 31-0 lead in Saturday's 48-41 home loss in double overtime to Tulsa, which rushed for 334 yards, including 242 on 46 carries by D'Angelo Brewer.
— Virgil threw for 276 yards, including a 65-yard touchdown pass to Jordan, on Saturday and ran for 47 yards and two scores. The redshirt freshman is 115th in the nation in completion percentage (50.7, 72 of 142). He's thrown for 873 yards, six touchdowns and three interceptions.
— Jordan, a sophomore, had six catches for 108 yards against Tulsa and added a 44-yard touchdown on a fumble recovery.
— UNLV blew a 28-14 second-half lead over Fresno State in last season's 31-28 loss at Bulldog Stadium.
— Since Oakland Raiders quarterback Derek Carr's final season at Fresno State in 2013, when it went 11-2, the Bulldogs are 10-20.
— Only six Football Bowl Subdivision teams give up more rushing yards per game than Fresno State (262.5 ypg). The Bulldogs also are No. 105 in the nation in total defense (456.8 ypg) and 112th in scoring defense (36.5 ppg).
Todd Dewey/Las Vegas Review-Journal
Visit our GameDay page for full coverage of the UNLV-Fresno State game.