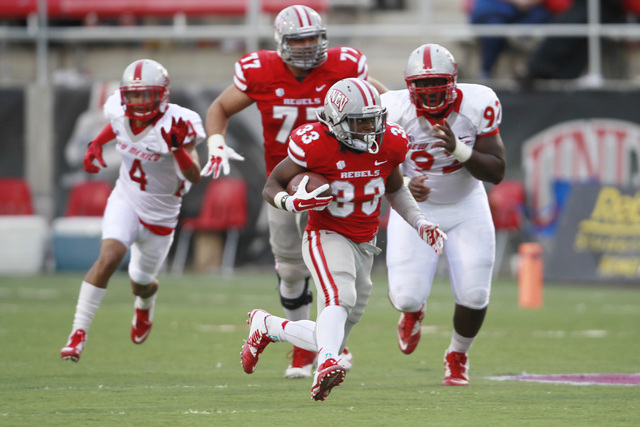 Five things to watch
Five things to look for when UNLV's football team plays UNR at 7:30 p.m. Saturday at Sam Boyd Stadium:
1. UNR quarterback Cody Fajardo will make big plays. The key for UNLV is limiting the number and impact of them. And if Fajardo creates a big play or two, the Rebels can't get down because that's when things could snowball.
2. UNLV needs to establish a running game to have much of a chance. Shaquille Murray-Lawrence has been either way up or way down, and if he doesn't come through with a 100-yard performance against a UNR defense that allows 176.9 yards per game, the Rebels are all but doomed.
3. Whether it's Blake Decker or Jared Lebowitz, UNLV's quarterback cannot make mistakes. Lebowitz threw a terrible interception Saturday as the Rebels were on the verge of taking a three-score lead at Hawaii, changing the complexion of the game. Decker has made similar mistakes, but he threw three touchdown passes in the fourth quarter against the Rainbow Warriors.
4. For UNLV to establish a run game and for the quarterbacks to play well, the Rebels' offensive line needs to play its best game. The line hasn't played up to expectations this season.
5. Both teams will play with emotion, but how smart they play will help determine which side wins. UNR has been fuming over losing the Fremont Cannon last season and just last weekend blew a shot at the West Division. The last thing UNLV wants to do is give the cannon back after not owning it for eight years, and the Rebels come off a game at Hawaii in which they think they were ripped off. The winner probably will be the team that better channels those emotions.
MARK ANDERSON/LAS VEGAS REVIEW-JOURNAL
Check our GameDay page for all the news leading up to the UNLV-UNR game.