Forced fumble seals Liberty victory over Damonte Ranch
November 26, 2016 - 11:29 pm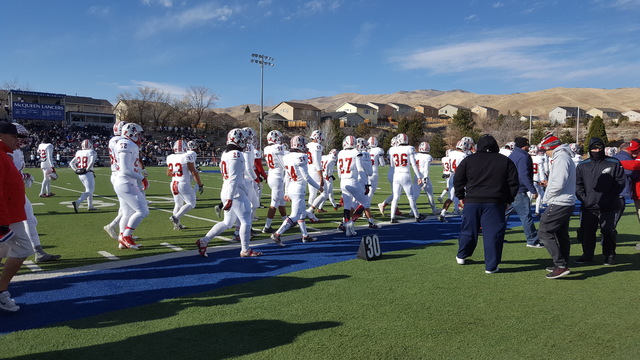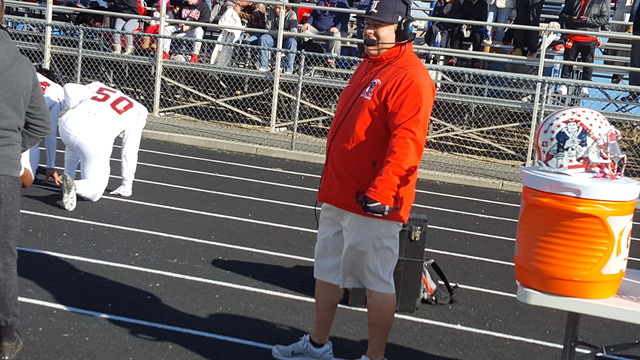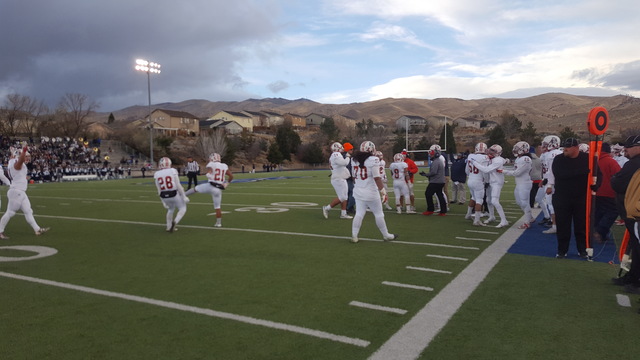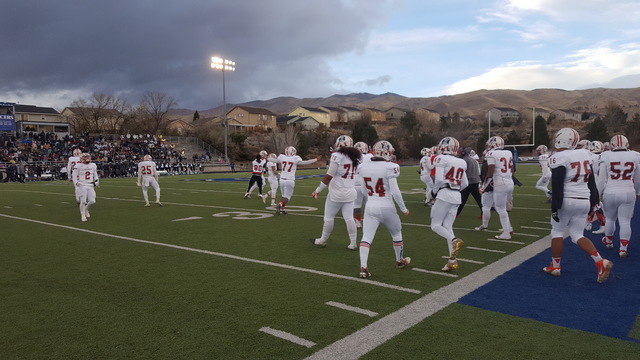 RENO — Like a 1960s hippie, Liberty football coach Rich Muraco couldn't help having flashbacks.
Three years ago, the Patriots ventured north for the Class 4A state semifinals and had a chance to seal a victory with a late fourth-down conversion but couldn't convert and lost to Reed in the final minute.
Liberty faced almost an identical situation Saturday and again was stuffed with a chance to ice the game.
But this time, the defense came though when the Patriots needed it most.
Dariyen Sample forced a fumble that was recovered by Noah Espinoza with 1:41 remaining to preserve Liberty's 30-27 victory over Damonte Ranch at McQueen High.
Liberty (12-1), ranked No. 21 nationally by USA Today, overcame 13 penalties and arctic winds that gusted up to 25 mph to reach the Class 4A state title game against seven-time defending state champion Bishop Gorman (14-0) on Dec. 3 at Sam Boyd Stadium.
"Absolutely. I said it to the kids in the huddle. 'I've been here two times before and we lost,'" Muraco said when asked whether he thought back to the game in 2013.
"It's tough. This is a hard trip, especially on Thanksgiving, traveling up here the day before, being in the cold. There was a lot going against us, and I'm proud of the way the kids battled and stayed focused."
Ethan Dedeaux accounted for three touchdowns, including a physical 1-yard scoring run that put Liberty on top 23-15 late in the third quarter, and quarterback Kenyon Oblad tossed two TDs.
Kishon Pitts ran for 117 yards on 20 carries, and Bryson Delacruz added 74 yards on 13 attempts for Liberty. The Patriots ran 57 times for 229 yards, and the game plan helped keep the ball away from Damonte Ranch's high-powered offense.
"If we need to get down and nasty that's what we're going to do. That's where our strengths are," Dedeaux said. "Yeah, we can spread it out, but when it comes down to it, we're going to get nasty. None of our boys were cold, and we came out here prepared and fought."
Crishaun Lappin hauled in a 36-yard TD pass from Oblad midway through the fourth quarter to give Liberty a 30-21 advantage, but Ryan Riggle returned the squib kick 68 yards to the Liberty 5-yard line. Mustangs quarterback Cade McNamara scored from 2 yards out two plays later to cut Liberty's lead to 30-27 with 6:19 left.
The Patriots answered with an 11-play drive that featured nine running plays and faced fourth-and-2 from Damonte Ranch's 21, but Dedeaux was stopped for a 3-yard loss with 1:49 remaining.
"We get the first, we end the game," Muraco said.
The Mustangs (12-2) took over at their own 24, but Sample sacked McNamara on the first play of the drive, jarring the ball loose, and Liberty was able to run out the clock.
"We just didn't finish like we wanted to," Damonte Ranch coach Shawn Dupris said, "All you can hope for is to try to get the ball back, and unfortunately they got to us."
McNamara threw for 250 yards and three TDs to finish his sophomore season with a state-record 46 TD passes.
Damonte Ranch was limited to 95 yards of offense in the first half as Liberty led 14-6 at the break, and the Mustangs finished with 261 yards, more than 200 below their average.
"I think this is the biggest win all season," Oblad said. "I know we beat Westlake (Texas), but it's different terrain, it's cold and windy, and we came through."