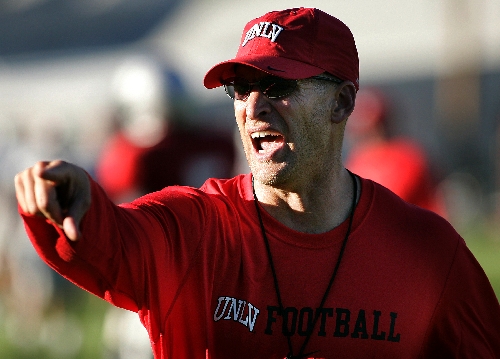 Bobby Hauck doesn't talk about wins and losses, and those who closely follow UNLV know this isn't the season to judge a coach based on the bottom line.
He is a first-year coach taking over a program that hasn't had a winning season in 10 years, facing probably the toughest schedule in UNLV history.
"In Year One, it's more important to try and build a great foundation and make sure we don't try the quick fix or hurry things," athletic director Jim Livengood said.
Hauck has tried to address long-term concerns by signing a recruiting class that had only one junior college transfer.
At some point, Hauck will have to produce victories, which is what he did for seven seasons at Montana, going 80-17 and appearing in three Football Championship Subdivision title games.
"I do believe we not only will win moral victories with Bobby Hauck in the next few years, but a lot of football games in the next few years," noted booster Rich Abajian said.
Hauck's demanding, organized and disciplined approach to everything from offseason conditioning to training camp has fueled optimism that he is the right coach for a tough job.
"I think everyone knew what kind of guy he was, and everyone respected him when he came in that first day," senior guard John Gianninoto said. "He came in and talked to us, and we knew that he meant business. We all bought in."
But there has been optimism before with other coaches, and the Rebels have produced only four winning seasons in in the past 25 years.
"This is a hard game, and you've got to be willing every day all year to grind and get better some way, whether it's recruiting or weight training or conditioning or scheme," Hauck said. "You've got to find ways to improve every day. Incrementally you get better, and then maybe someday you're in that conversation" of becoming a contender.
The definition of success for UNLV, both short and long term, is different to different people, as the opinions in the accompanying graphic show.
BOBBY HAUCK, FIRST-YEAR UNLV FOOTBALL COACH
SHORT TERM: "A successful season to me will be one where we're highly competitive, we improved week in and week out, got better as the season went on. I think if those things happen, when we look back on it, then we'll be at least somewhat pleased with the win total."
LONG TERM: "Before I'm done here, I would love for us to compete for the Mountain West championship. That's kind of the idea."
JIM LIVENGOOD, ATHLETIC DIRECTOR
SHORT TERM: "I think from our standpoint, we're trying to be better organized, to be better disciplined. We're trying to be a football team that will play all 60 minutes. We're trying to be a football team that when we go on the field, we have a chance to compete in any one of those 13 games."
LONG TERM: "The obvious thing is we have to become a contender. We have to become a winning football program."
OMAR CLAYTON, QUARTERBACK
SHORT TERM: "Doing what nobody expects us to do. Simple as that."
LONG TERM: "I want to be able to look at my university when I'm in my late 20s and early 30s and so on, and (know) my program is looked at as a solid program. I want my university to be one that people know when they come in and they play us, it's not just a basketball school."
QUINTON POINTER, CORNERBACK
SHORT TERM: "Going to a bowl game. I've been here three years and have never been to a bowl game."
LONG TERM: "I feel like in time, this team will be on top of the Mountain West.
JOHN GIANNINOTO, OFFENSIVE LINEMAN
SHORT TERM: "At the end of the season if we're in bowl contention, I think that would be a success — if we go out there and win games, to beat some of these guys that have beaten us in the past."
LONG TERM: "I can see (Hauck) being here for a long time, being successful. I think success to him is winning championships."
RONNIE PAULO, LINEBACKER
SHORT TERM: "It's a tangible goal for this season to be in a bowl game, obviously."
LONG TERM: "I really can't measure success by wins and losses. I know the mentality (Hauck) brought here will translate into something good."
CHUCK DAVISON, BOOSTER
SHORT TERM: "Success this season is getting through it and turning morale around. Bobby could have some close games. He might not win them all. At the minimum, it will be a three-year process."
LONG TERM: "I think you've got to determine that, quite honestly, by how many people are at the stadium. … I don't believe it's all about wins. It's about being a great program. A great program is in the hunt. There are no massacres by (UNR coach) Chris Ault."
Contact reporter Mark Anderson at manderson@reviewjournal.com or 702-387-2914.
View complete Football Preview '10 section