Fremont Cannon on the line for UNLV-UNR game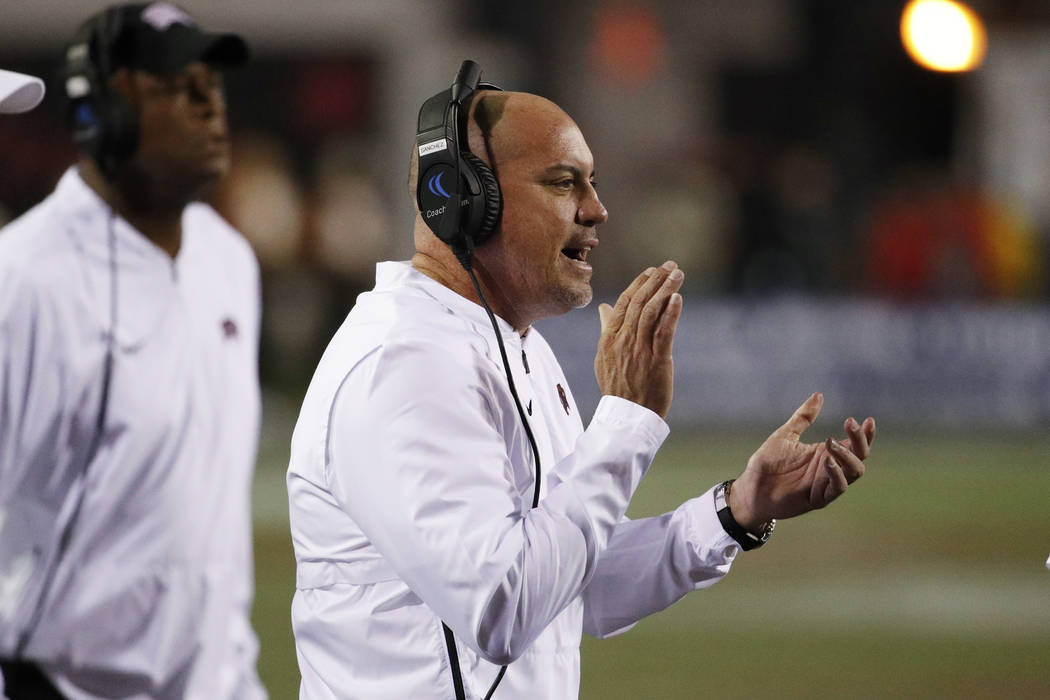 Chris Ault was between UNR coaching stints at the time more than 20 years ago, so in his job as athletic director, he was in Lawlor Events Center for a women's basketball game.
He sat next to a reporter on press row and was clearly bothered that the Wolf Pack coach who was wearing red.
Never mind the Wolf Pack weren't playing UNLV. Red was not an acceptable color on the UNR campus any time of the year.
No one personified the Wolf Pack's enmity toward UNLV than Ault, who knew a little something about winning the annual battle for the Fremont Cannon, a fight that will be renewed at 6:30 p.m. Saturday at Sam Boyd Stadium.
"They're really indoctrinated into it a lot faster than our guys," UNLV coach Tony Sanchez said. "We have to really spend time talking about it. It's a big deal (in Reno). It's a smaller college atmosphere, where here there's a lot of stuff going on. It's not in the paper every single day. There's not a news story every single day about it. You've got to make sure that you educate and create that atmosphere. For our guys, it's really living through the experience of playing in the game to really understand what it's about."
UNR (7-4, 5-2 Mountain West) has won 11 of the past 13 meetings and is a 14-point favorite over UNLV (3-8, 1-6). The game will be televised by CBS Sports Network.
UNLV lost seven of its past eight games, which has created speculation about Sanchez's future. Questions about the fourth-year coach's job also are raised in comparison to what second-year coach Jay Norvell has accomplished. UNR went 3-9 last season, but the Wolf Pack are rolling this year with four victories in a row to become bowl eligible.
"We play at a school that has tremendous football tradition, and the four years when you play college football, you get to add to that tradition," Norvell said. "That's what our kids have done. They've wanted to make the jersey better. This 2018 team has a chance to win eight football games. Since the University of Nevada moved to the Mountain West conference (in 2012), we've never won eight games."
UNLV can keep that from happening this weekend, but it won't be easy against a UNR pass offense led by quarterback Ty Gangi that averages 284.5 yards per game. Sanchez said he would play quarterbacks Armani Rogers and Max Gilliam, who each bring a different dynamic to the offense.
Given how the season has gone, this is the equivalent of a bowl game for the Rebels.
Maybe their players aren't reminded every day of the rivalry like in Reno — no one is given grief for wearing blue the other 51 weeks of the year — but it still means something.
Former coach John Robinson began the tradition of having the names of the seniors who beat UNR engraved on a plaque, which sits in Rebel Park and will be moved to the Fertitta Football Complex next year.
"Back home in Houston, we really didn't have rivals," Rebels senior running back Lexington Thomas said. "But when I first got here and the way Coach Sanchez was talking about it, I wanted to make a lot of plays. Now being my fourth year, it means a lot. Me and (running back) Xzaviar Campbell were talking about it the last three weeks about getting our names installed inside the field. It means a lot to us and the university. We just want to get the cannon back."
More Rebels: Follow at reviewjournal.com/Rebels and @RJ_Sports on Twitter.
Contact Mark Anderson at manderson@reviewjournal.com. Follow @markanderson65 on Twitter.