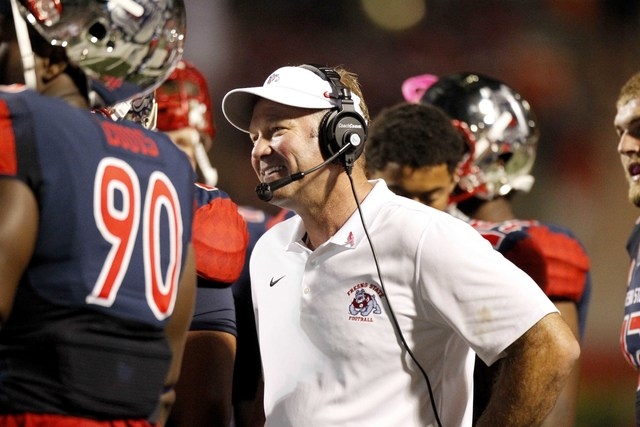 Fresno State showed just how difficult it is to replace players such as quarterback Derek Carr and wide receiver Davante Adams, not only losing its first three games, but getting blown out in each of them.
The Bulldogs have bounced back to win three in a row entering Friday's 7 p.m. game against UNLV at Sam Boyd Stadium, and they are putting themselves in position to defend their Mountain West title.
The difference between the first three and the second three games?
The schedule, largely.
Fresno State opened at Southern California and Utah and then played Nebraska at home, losing by an average score of 55-20. Then the Bulldogs defeated Southern Utah, New Mexico and San Diego State by an average of 38-18.
Because the Mountain West is so down this season, even if Fresno State wins out and claims another championship, the Bulldogs won't receive complete credit because of the difficult start against quality competition.
But the improved results are about more than the schedule. The Bulldogs needed time to replace key players, and expecting newcomers to step in and play at a high level usually doesn't happen at schools that aren't national powers.
All the Bulldogs can do is beat the teams in front of them, and by the way they're playing, that's more than enough to cause concern at the other Mountain West schools.
"At 0-3, obviously guys are scrambling," Fresno State coach Tim DeRuyter said. "Their confidence is being checked to see what kind of team are we. A lot of people on the outside, we talked about this with our team, were questioning them.
"But we've got a bunch of guys who have put in a lot of hard work, and they have a lot of pride. They ignored the outside voices and they kept practicing harder, and we're getting better. We're not a finished product by any stretch right now, but I think we've got guys with really good leadership."
THREE-STEP DROP
■ UNLV quarterback Blake Decker (throwing arm) and running back Keith Whitely (left leg) practiced Tuesday and will attempt to play, coach Bobby Hauck said. Coaches also gave quarterback Jared Lebowitz, a redshirt freshman who has never played, plenty of extra work while No. 2 QB Nick Sherry watched from the sideline. That doesn't mean Lebowitz will necessarily be Decker's backup. Hauck said coaches were still trying to decide the quarterback situation.
■ Fresno State last played UNLV in Las Vegas in 1996, but the Bulldogs have played at Sam Boyd Stadium twice since then. They played in the 1999 Las Vegas Bowl and then represented the Mountain West in that game last December, a forgettable 45-20 loss to USC.
"It's in the past," Fresno State safety Charles Washington said. "This is a new team, UNLV. I know it's … in Vegas, but I don't think that will have anything to do with how we play this Friday."
■ Hauck's final four Chalk Talks, beginning with today's at noon, will be at the Stan Fulton Building at Flamingo Road and Swenson Street. UNLV Rebel Football Foundation members get in for free, and the charge is $20 for others at the entrance. Hauck participates in this luncheon the Thursday before each home game.
FOR THE RECORD
■ UNLV is one of four schools nationally that has not lost a fumble. The Rebels originally were credited with a fumble lost when punter Nicolai Bornand dropped the snap Saturday at San Jose State, but he recovered the ball, so it was a turnover on downs. Boston College, Kansas and Missouri are the other teams that have not lost a fumble.
■ Rebels wide receiver Devonte Boyd, who went to Basic High School, is seventh nationally among freshmen with 357 yards receiving and third with 17.9 yards per catch.
■ Fresno State held its past two opponents to less than 100 yards passing, though one team (New Mexico) runs the triple option and the other (San Diego State) was playing with a backup quarterback. Still, it was the first time since 2007 the Bulldogs limited opponents in such a way.
Contact reporter Mark Anderson at manderson@reviewjournal.com or 702-387-2914. Follow him on Twitter:@markanderson65.
Check our GameDay page for all the news leading up to the UNLV-Fresno State game.