Giveaways doom Rebels in loss to Southern Utah
September 24, 2011 - 4:51 pm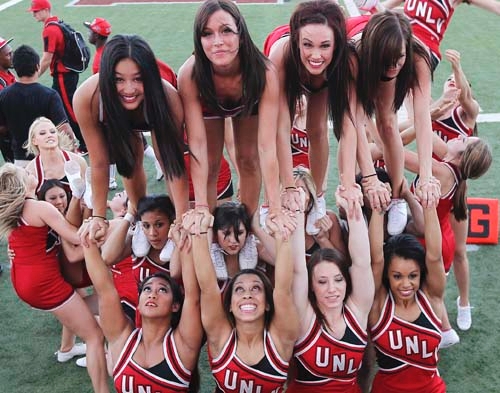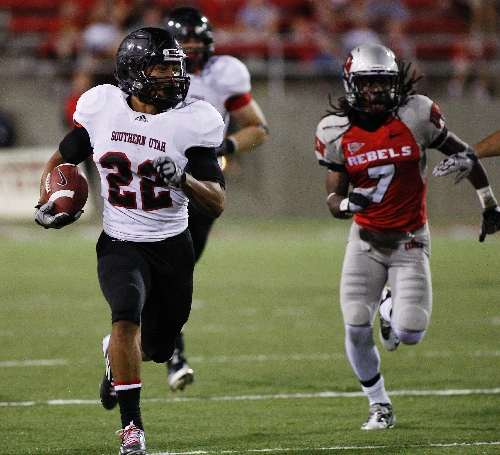 UNLV allowed 41 points to a Football Championship Subdivision school Saturday night.
Not the Rebels' defense. That unit actually played pretty well.
No, it was UNLV quarterback Caleb Herring, who had three interceptions returned for touchdowns, allowing a competitive game to become an embarrassing rout and one of the worst losses in Rebels history.
Which is saying something, considering the school's shoddy football history.
But that's how bad the 41-16 loss was for UNLV, which saw all the good from its upset victory over Hawaii a week earlier come undone with a ghastly performance at Sam Boyd Stadium.
UNLV (1-3) will have some time to think about this defeat. The Rebels go into their first of two October bye weeks before traveling to UNR on Oct. 8. UNR, which had been shaky, nearly won at Texas Tech on Saturday before losing 35-34.
"Everything we gained a week ago in terms of momentum or excitement about our season is gone," Rebels coach Bobby Hauck said. "It's just wildly disappointing. We served it up, and they took it.
"We gave them (four) touchdowns. I've never been around anything like it."
The loss to Southern Utah (3-1) could have lasting effects, and part of Hauck's challenge will be to keep his players from becoming overly discouraged.
"I worry about everybody involved's mental state right now," Hauck said. "This is all-time bad. Not to take anything away from (Southern Utah), but we've got to look at ourselves in the mirror starting with the head coach.
"This can't happen. Can't happen. For everybody in that locker room, it's an all-time personal low in terms of football."
If UNLV was to lose to Southern Utah, it figured it would be because of quarterback play. The Thunderbirds' Brad Sorensen, who began his college career at Brigham Young, came in hot.
Sorensen passed for just 178 yards and threw two interceptions, but the deciding factor was Herring, a sophomore who played easily the worst game of his young career.
Herring's first interception was returned by nose tackle Nick Witzmann, who scored from 35 yards to give Southern Utah its first lead, 10-7 early in the second quarter.
On the first play of the second half, Herring was picked off by linebacker Blake Fenn, who scored from 22 yards to give the Thunderbirds the lead for good, 16-10.
Southern Utah made it 41-10 with 8:12 to play on safety Erron Vonner's 74-yard return.
"I didn't need to press, and I did," Herring said. "It kept spiraling from there. I felt like I let my team down this week, and I'm going back to work on Monday."
Those interceptions clouded how close the game was for most of the night, and how UNLV — which outgained Southern Utah 402-256 and kept the ball for 35:22 — came close to actually taking early control.
The Rebels, leading 7-0, used runs of 23 and 17 yards by running back Tim Cornett to help set up a first-and-goal at the 1-yard line. But rather than hand off, Herring checked off at the line of scrimmage when he saw single coverage on wide receiver Phillip Payne.
But Payne, who caught 13 passes for 175 yards and a touchdown, didn't see Herring change the play and blocked his defender in the end zone as if it was a running play. The pass sailed over their heads, and Payne was called for offensive pass interference.
"It was my fault," Payne said.
Three plays later, Herring fumbled and Southern Utah recovered.
The Rebels never did.
"That one's going to hang forever," Hauck said. "I'll go to my grave with that one.
"Giving (the quarterback) that option is bad coaching by me. We try to give our guys some leeway to try to be smart, and we outsmarted ourselves."
Contact reporter Mark Anderson at manderson@reviewjournal.com or 702-387-2914. Follow him on Twitter: @markanderson65.
SOUTHERN UTAH — 41
UNLV — 16
KEY: The Thunderbirds returned three interceptions for touchdowns.
NEXT: UNLV at UNR, 4 p.m. Oct. 8