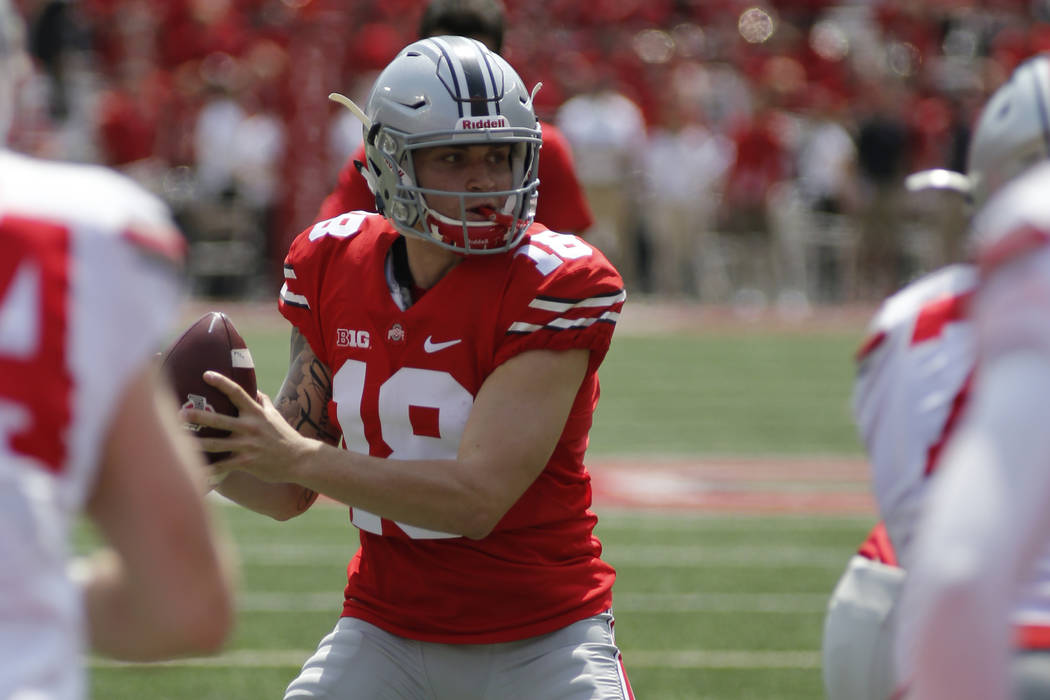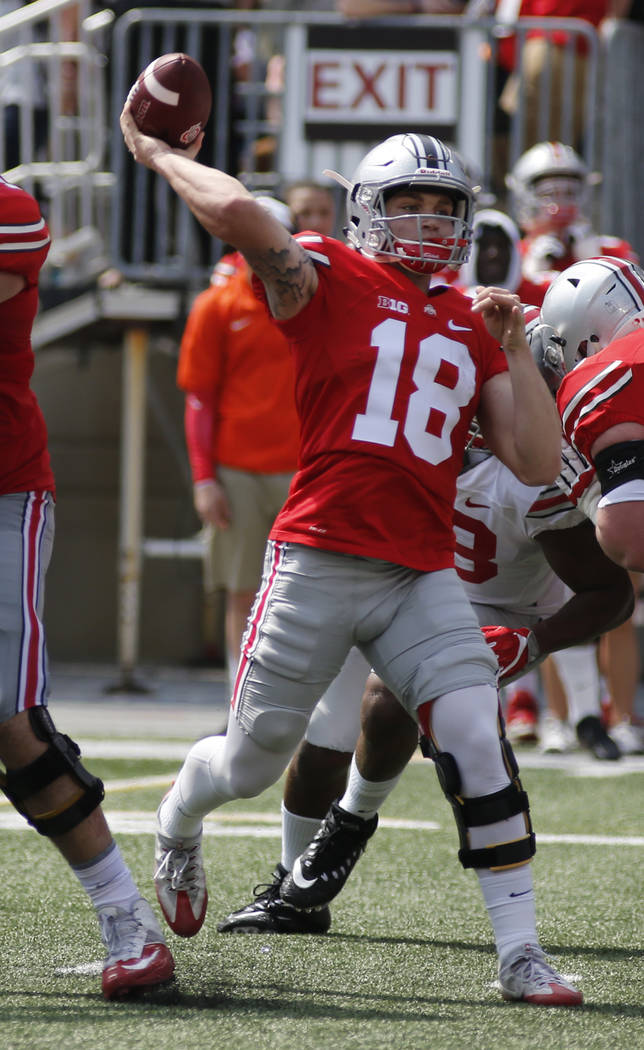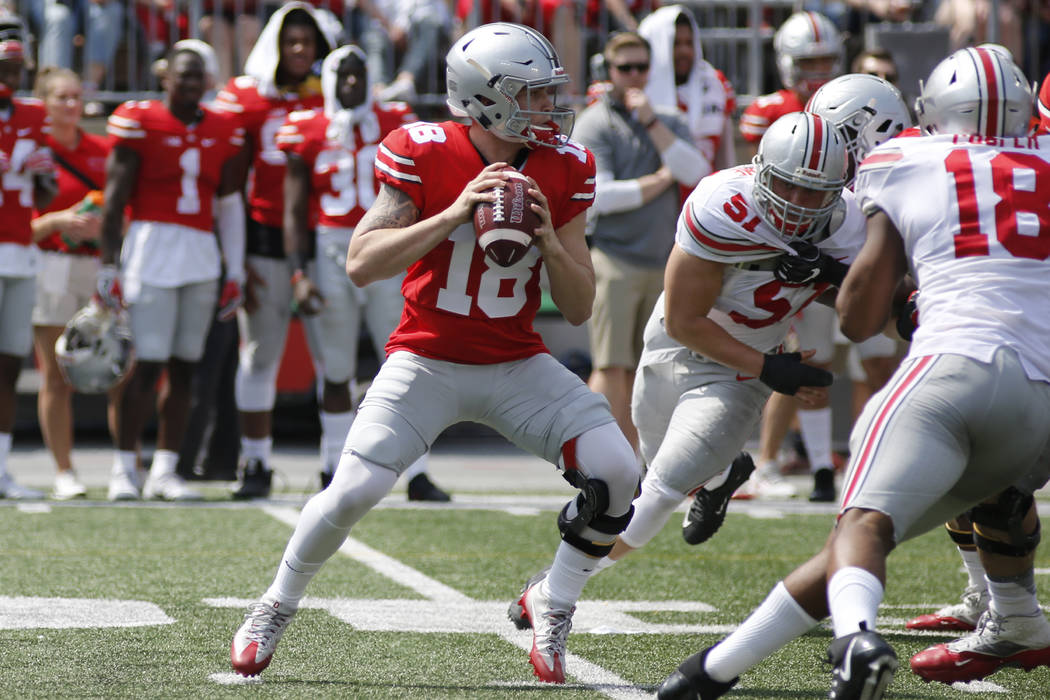 Tate Martell is doing what most freshman quarterbacks do — run the scout team.
It's a mostly overlooked but incredibly important task to help a team prepare for an opponent, and the Bishop Gorman High School graduate has captured the notice of his Ohio State coaches.
Buckeyes coach Urban Meyer credited Martell with helping Ohio State get ready for last Saturday's 38-7 victory over Army and its triple-option offense.
"We won the game because of that," Meyer said. "There were over 700 reps that went into this, Coach (Greg) Schiano (defensive coordinator) was telling me. We started this in March.
"And Tate Martell was playing quarterback. That was legit."
Martell is one of two Gorman products on Ohio State's roster — freshman defensive lineman Haskell Garrett is the other. Both will be in Ohio Stadium when UNLV visits at 9 a.m. PDT Saturday. Each also played for Rebels third-year coach Tony Sanchez at Gorman.
Ohio State doesn't make freshmen available for interviews, except for those who have played.
Martell was highly decorated at Gorman, receiving national player of the year honors from Gatorade, MaxPreps and USA Today.
"I'm really excited for his future," Meyer said. "I saw a player in the spring, without getting too personal, that was worried about this, worried about that, was probably social media, whatever, and that happens in high school when you're at a very successful program and you're a very successful player.
"I've seen a guy that's ripped his chest open. I hope it stays that way and he's a 'I'll do anything to help this team win a game.' Those are the guys whose careers will take off."
From 'Big House' to 'Horseshoe'
Many UNLV players know what it's like to play in a storied Big Ten Conference venue with seating in the six figures.
The Rebels traveled to Michigan two years ago and played in front of 108,683 fans, the largest to see a UNLV game. Michigan won 28-7.
Ohio State seats 104,944.
"We'll go to the stadium at 4 o'clock (Eastern) on Friday night, and that way they can walk around and take a look at it and take some pictures and send them home to Mom," Sanchez said. "So on game day, it's all business. You're walking in; it's not like you haven't seen it before. You've been in the locker room. You've walked down the tunnel."
Though the team leaves Thursday to account for the three-hour time difference, the early kickoff shouldn't be an issue because the Rebels typically practice at 8:10 a.m.
"We're literally 50 minutes into practice," Sanchez said. "That's a normal time we're rolling around anyway, so that won't affect us at all."
Mountain West to big time
Meyer placed himself on the national stage in 2004 when he led Utah to a 12-0 record and victory in the Fiesta Bowl.
He parlayed that success into more high-profile jobs, going on to win two national championships at Florida and one (so far) at Ohio State.
Meyer not only helped his own career, he helped elevate Utah to the point where it left the Mountain West in 2011 for what became the Pac-12 Conference.
"It was an incredible two years," Meyer said. "It was a part of our lives, my family's and I, that we will never forget. We won a lot of games, but more importantly, we helped build a program that was a sleeping giant. Then a great friend and one of the best coaches in the country, coach (Kyle) Whittingham, built it to be a power in the Pac-12.
"It's a melting pot of different cultures, and I loved every minute of it."
Contact Mark Anderson at manderson@reviewjournal.com. Follow @markanderson65 on Twitter.