'Got the job done': UNLV pounds Hawaii to reach 4-1 — PHOTOS
Updated October 2, 2023 - 7:20 pm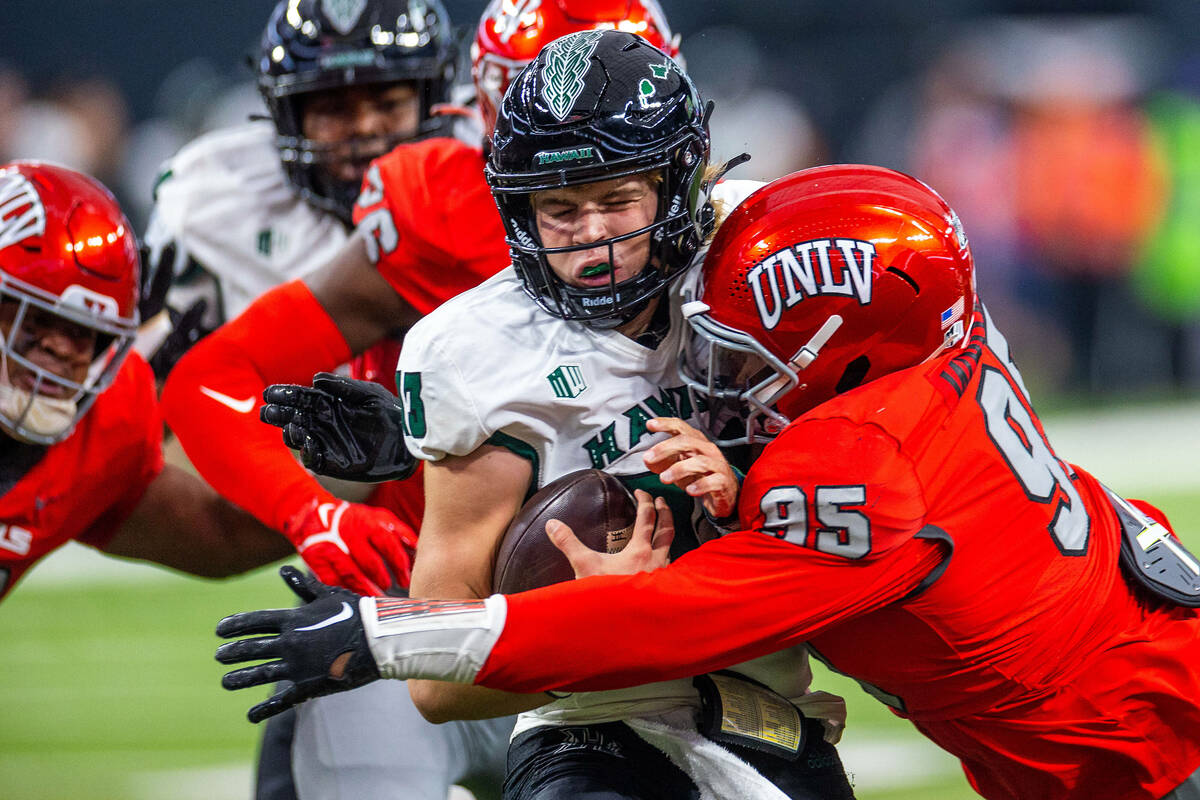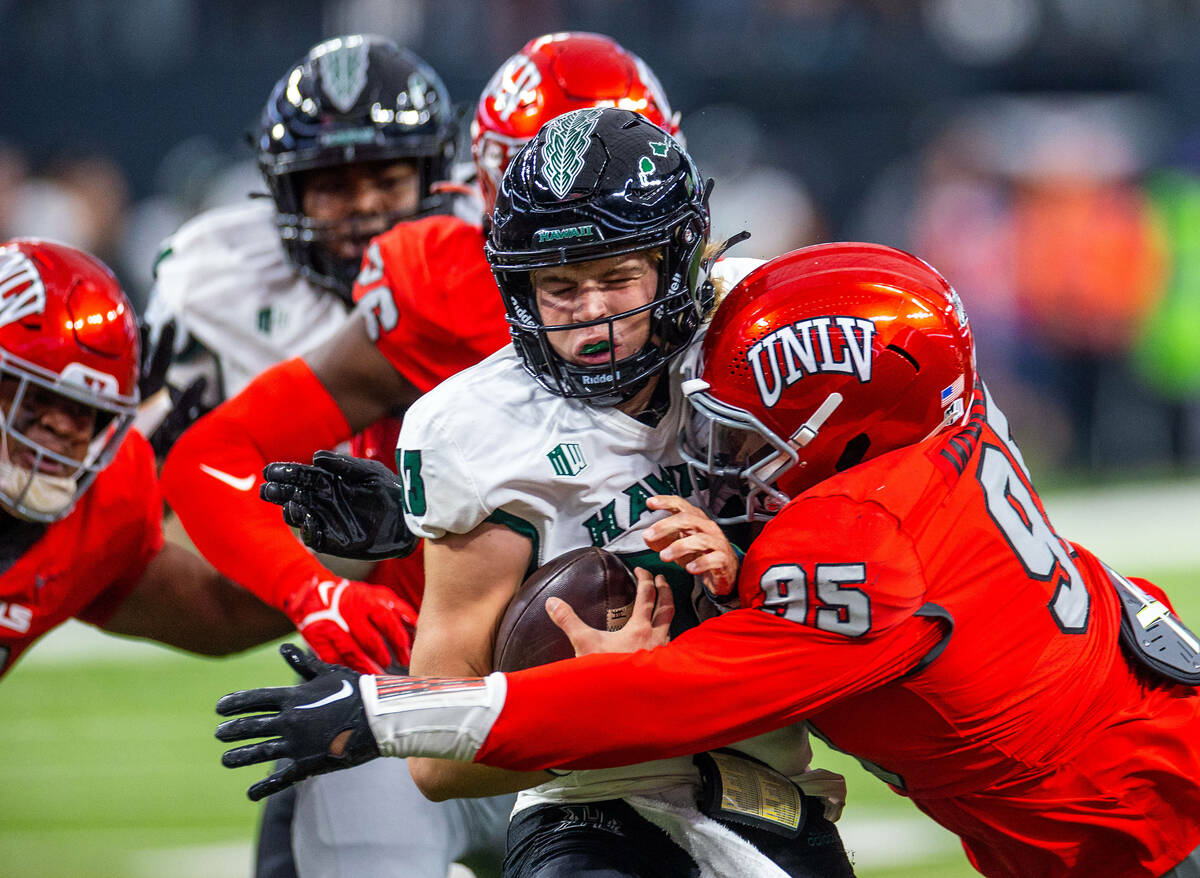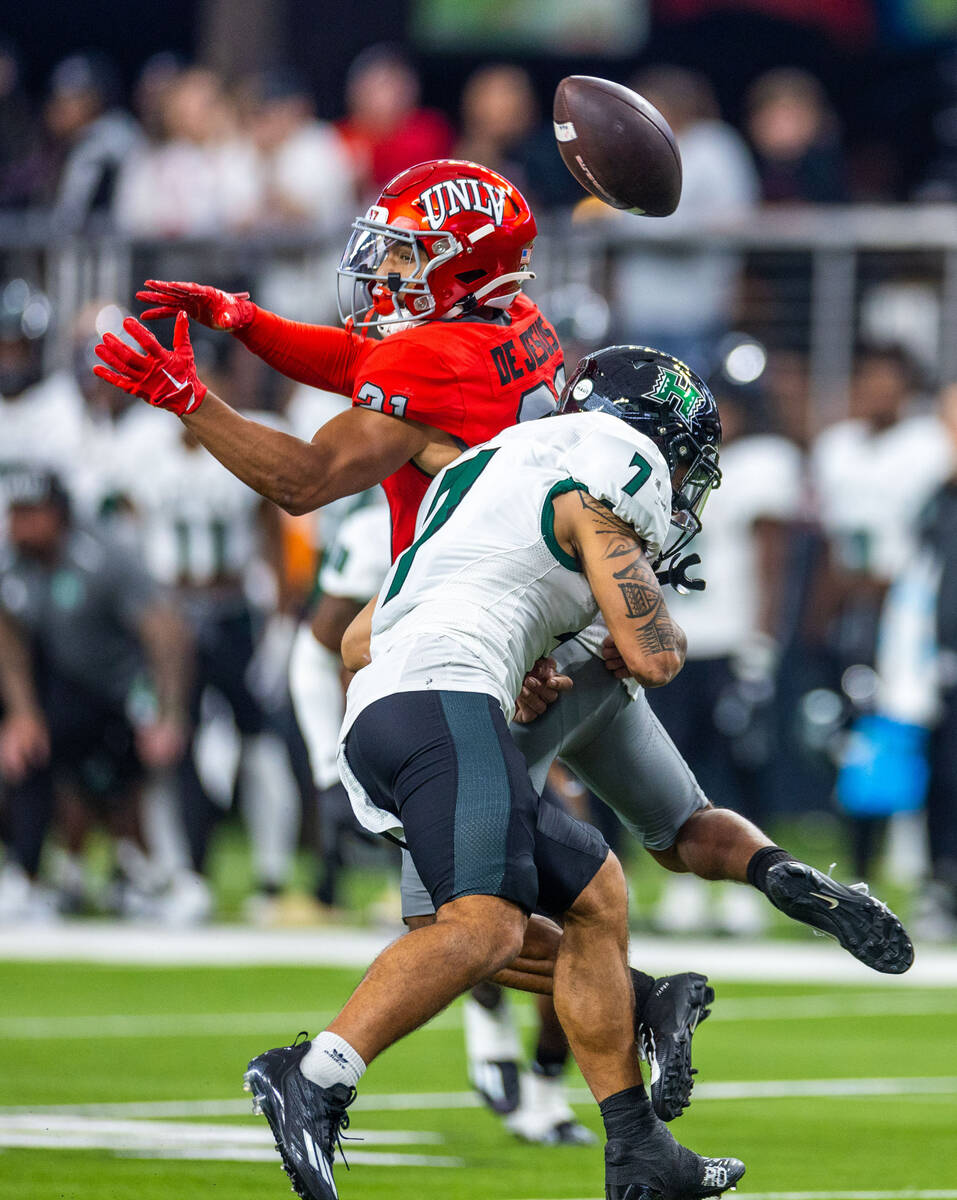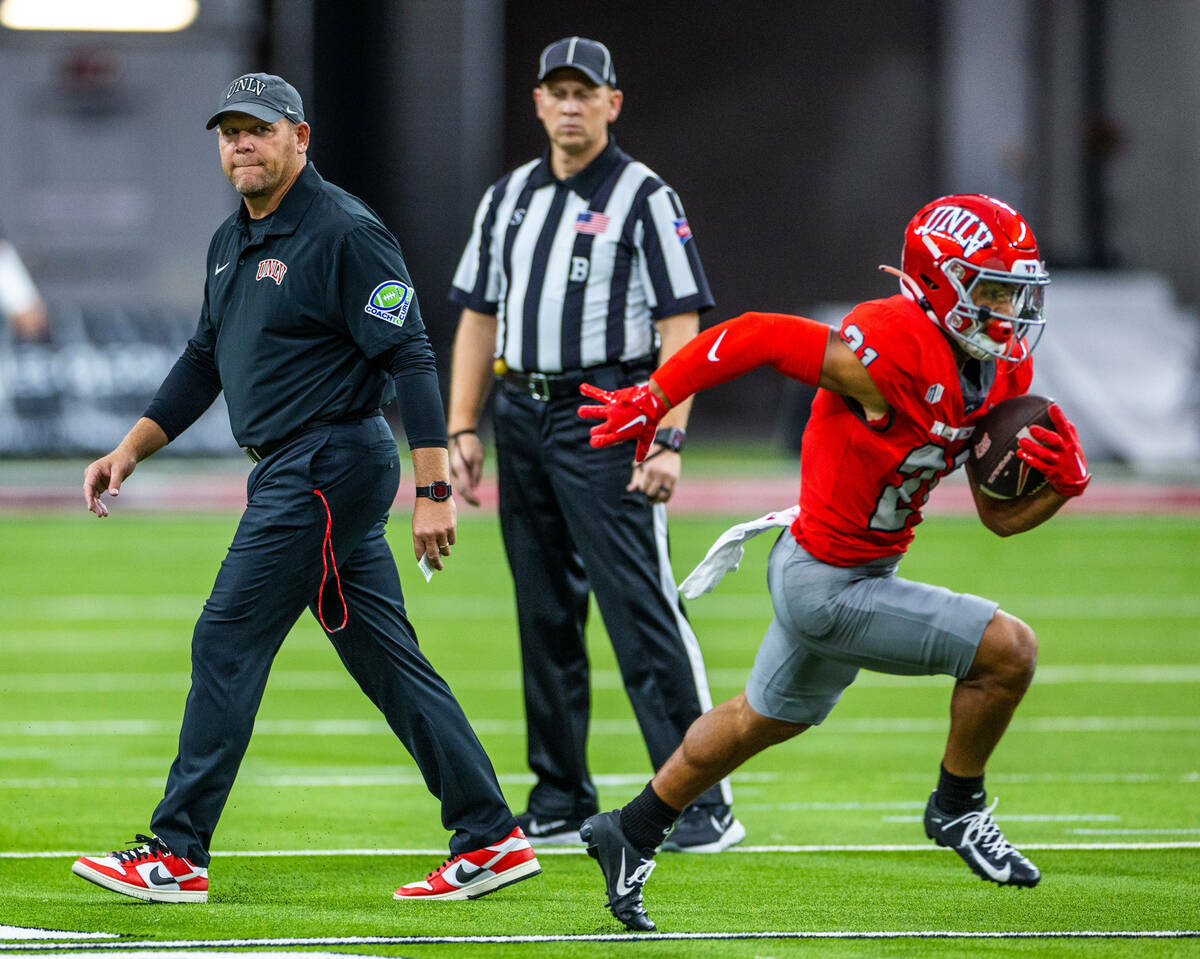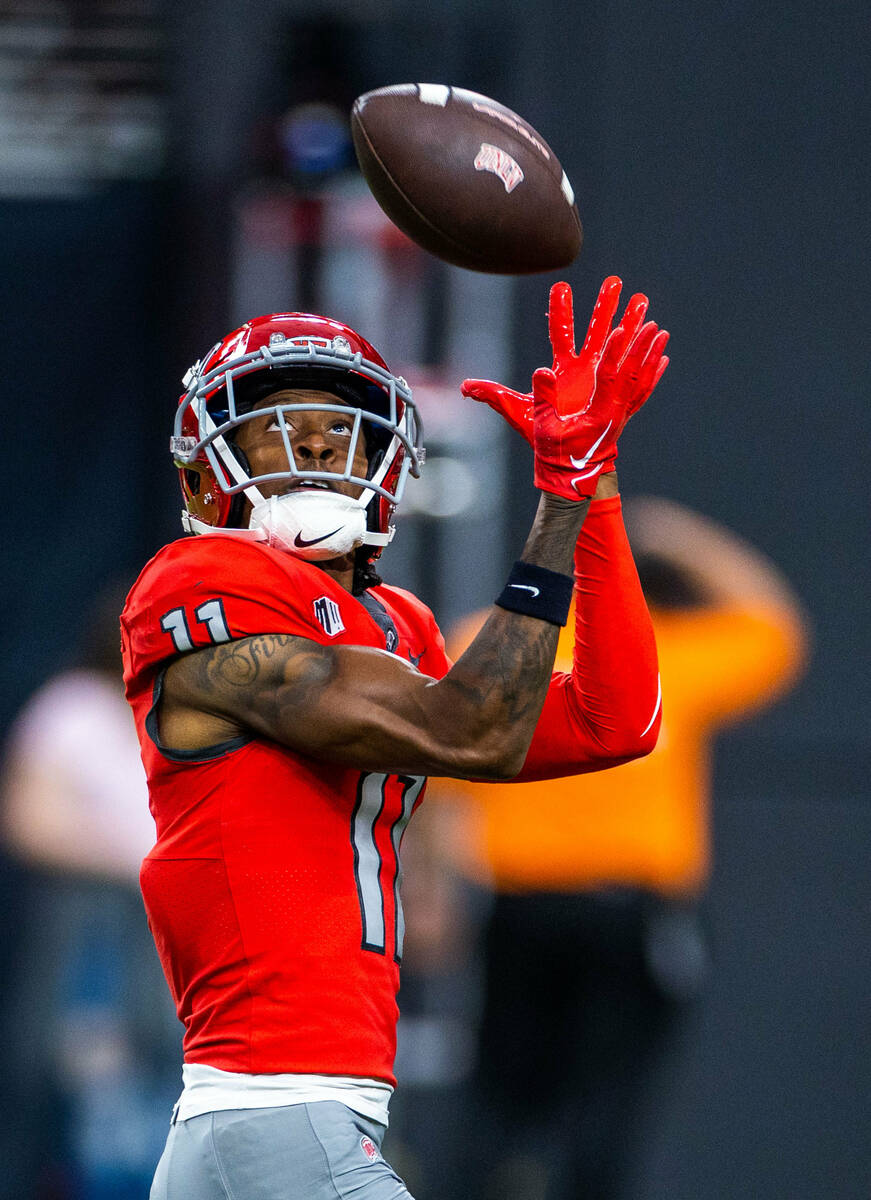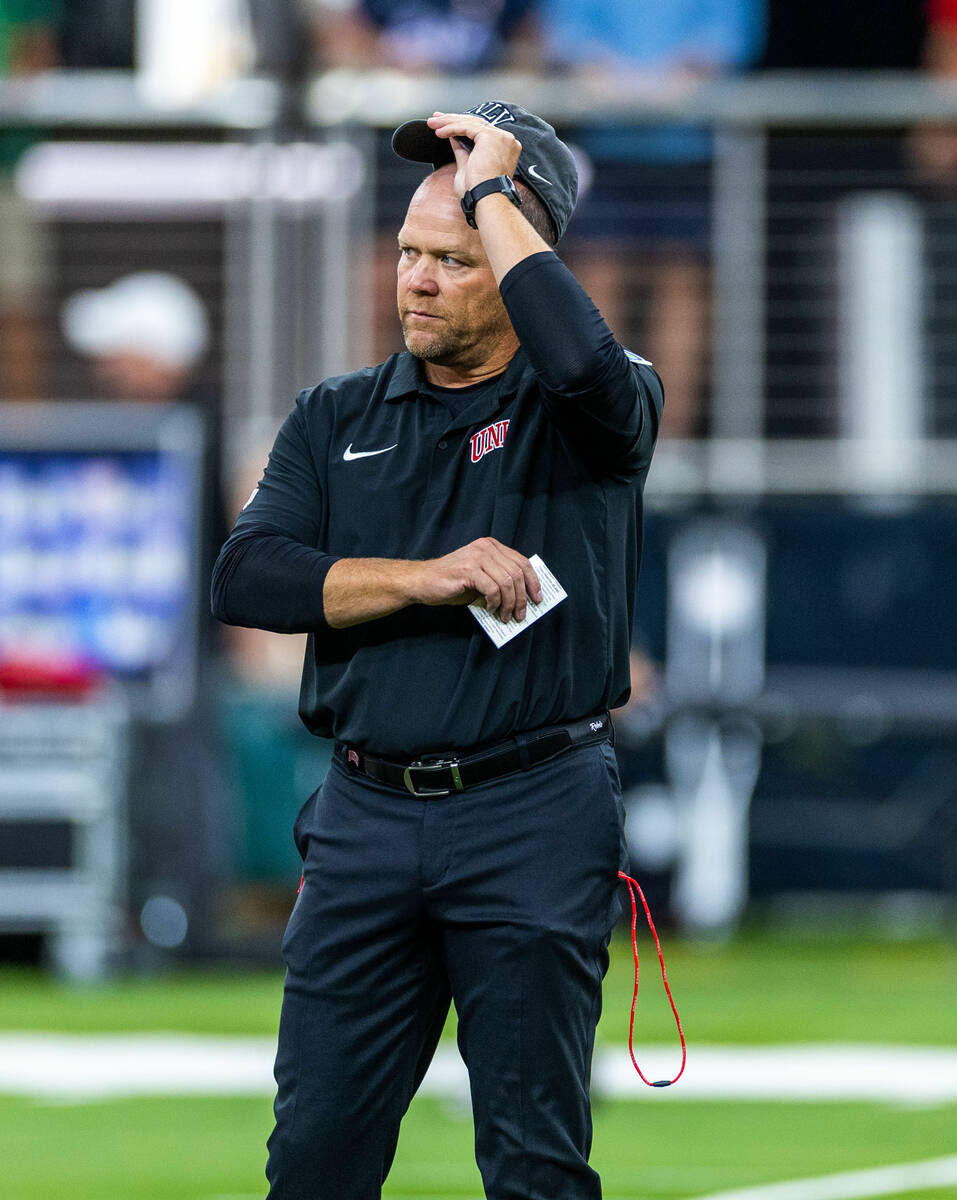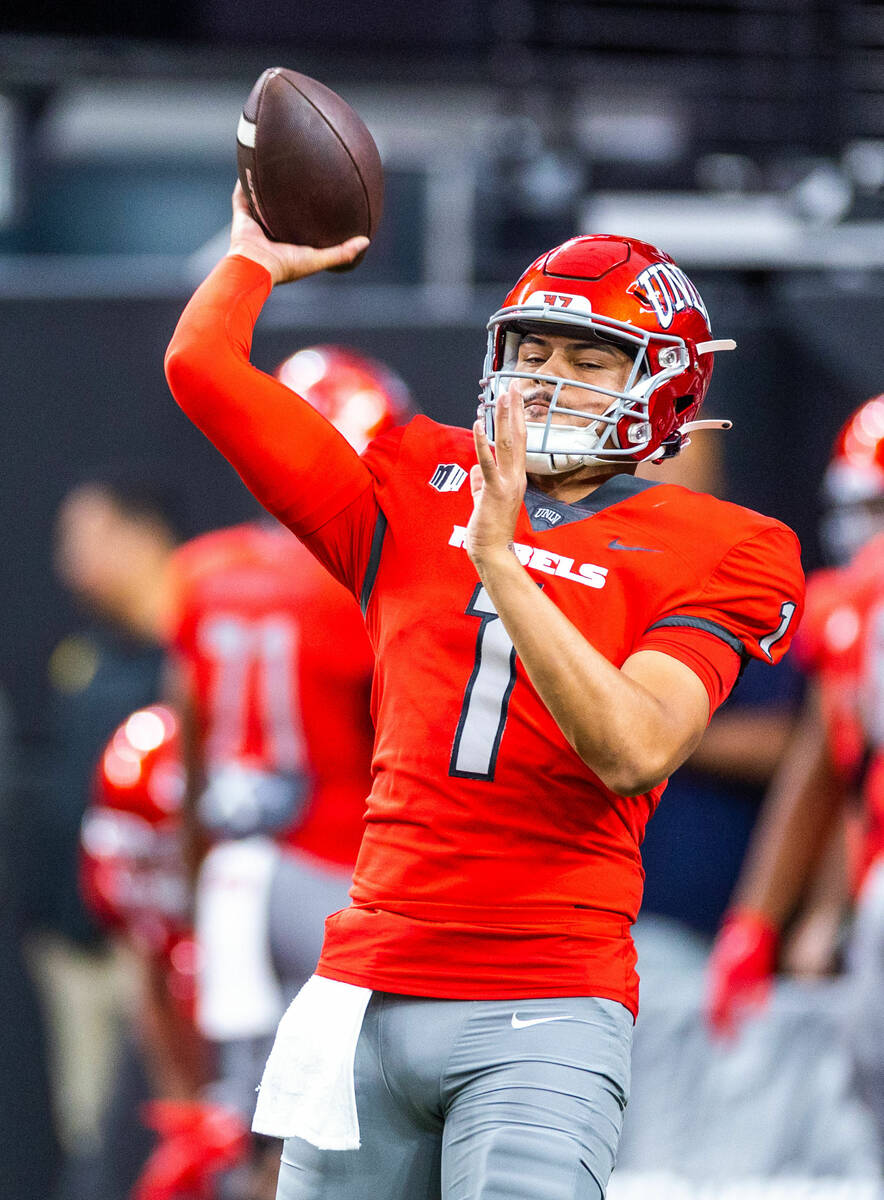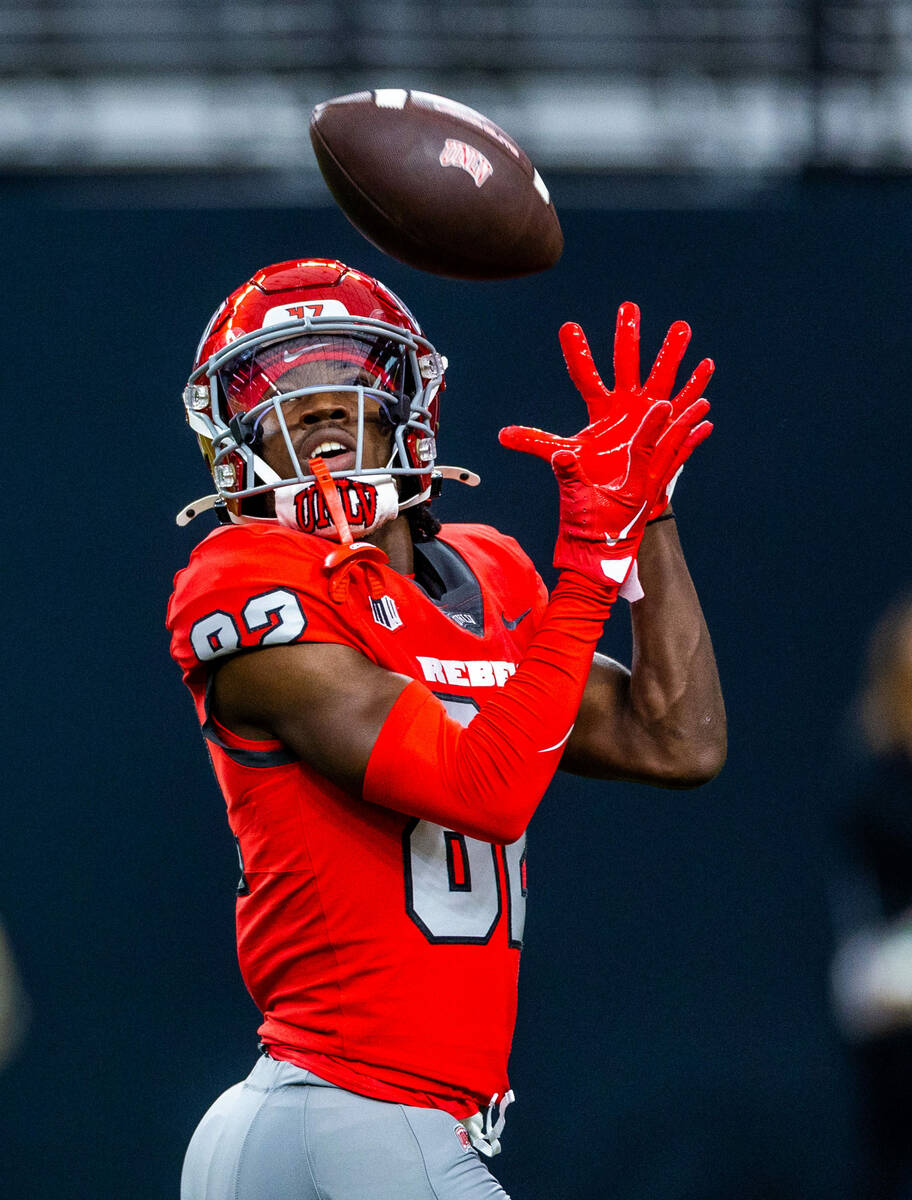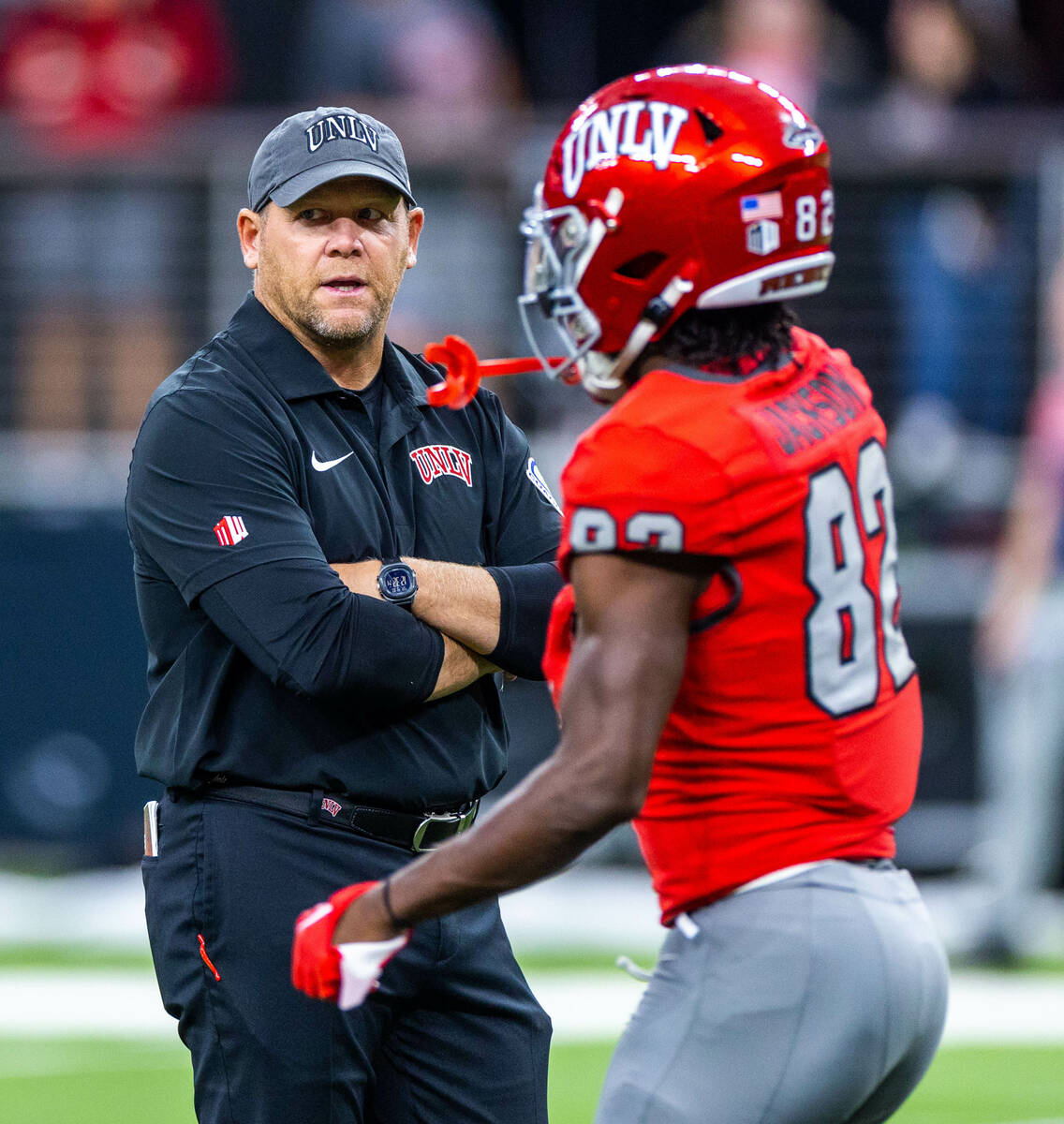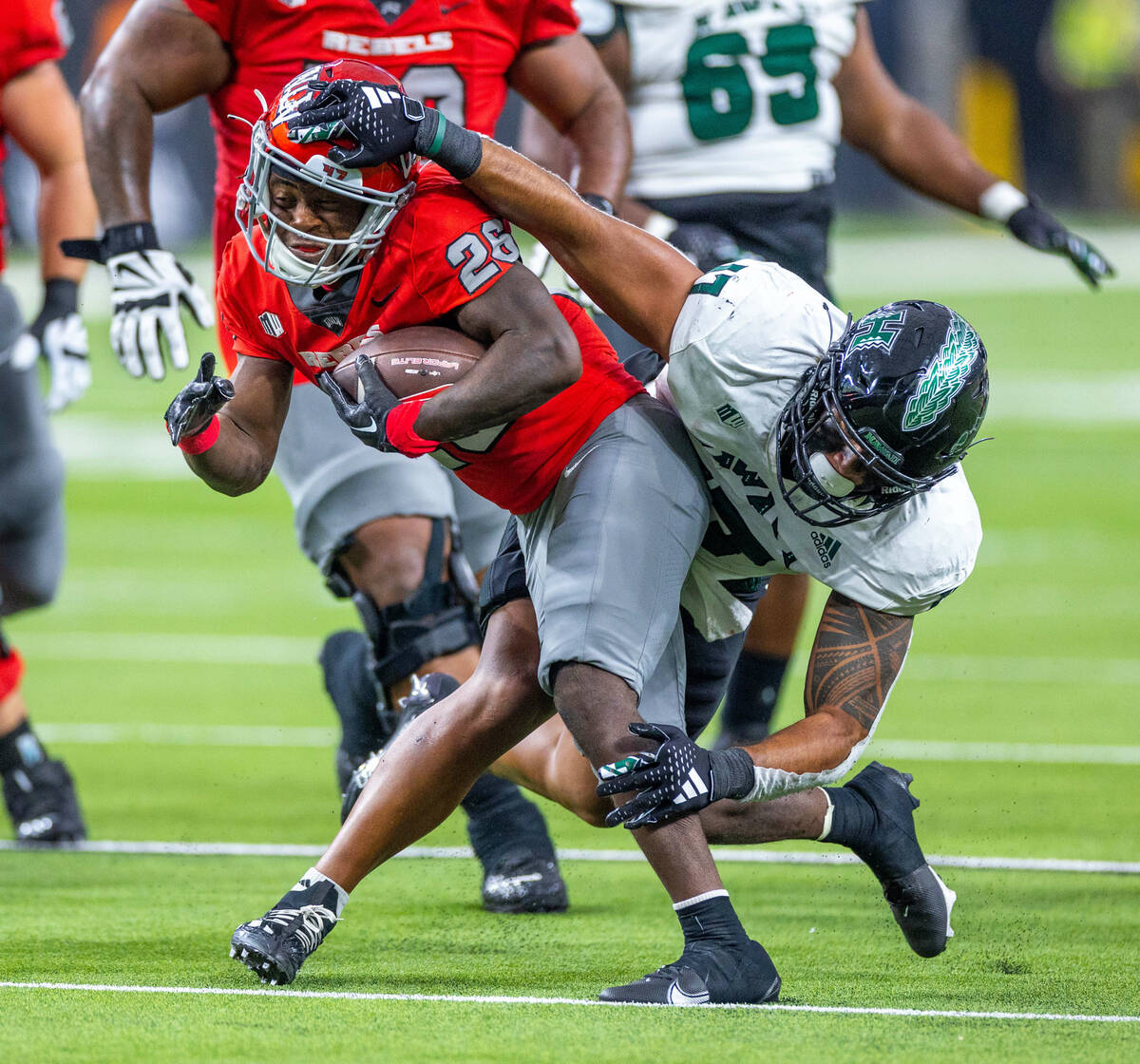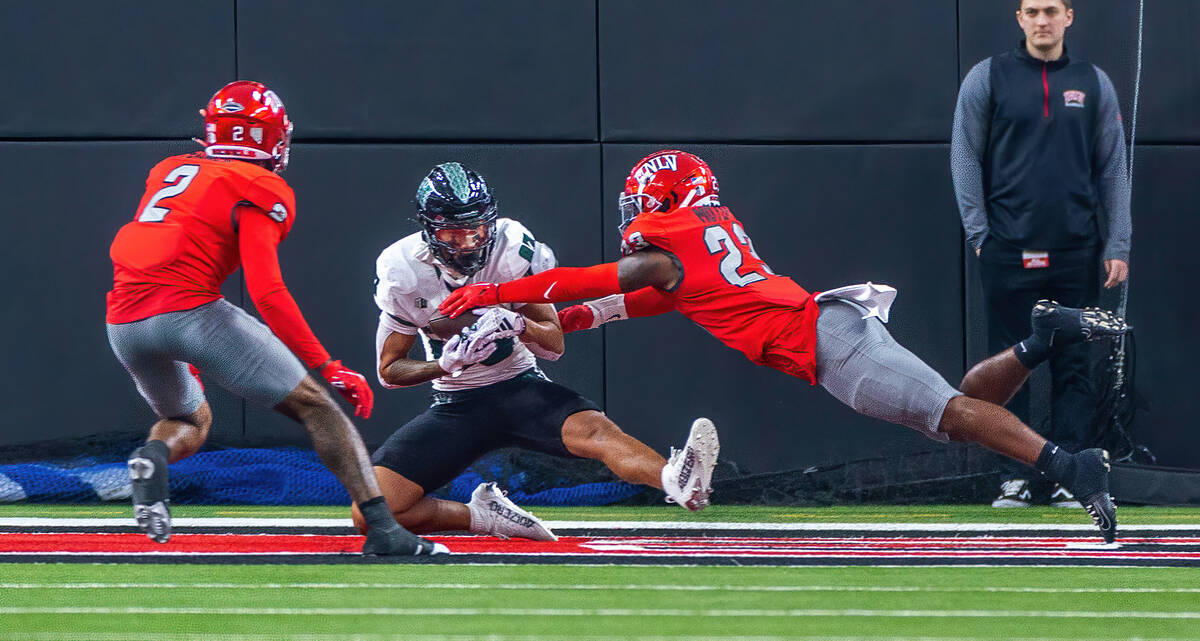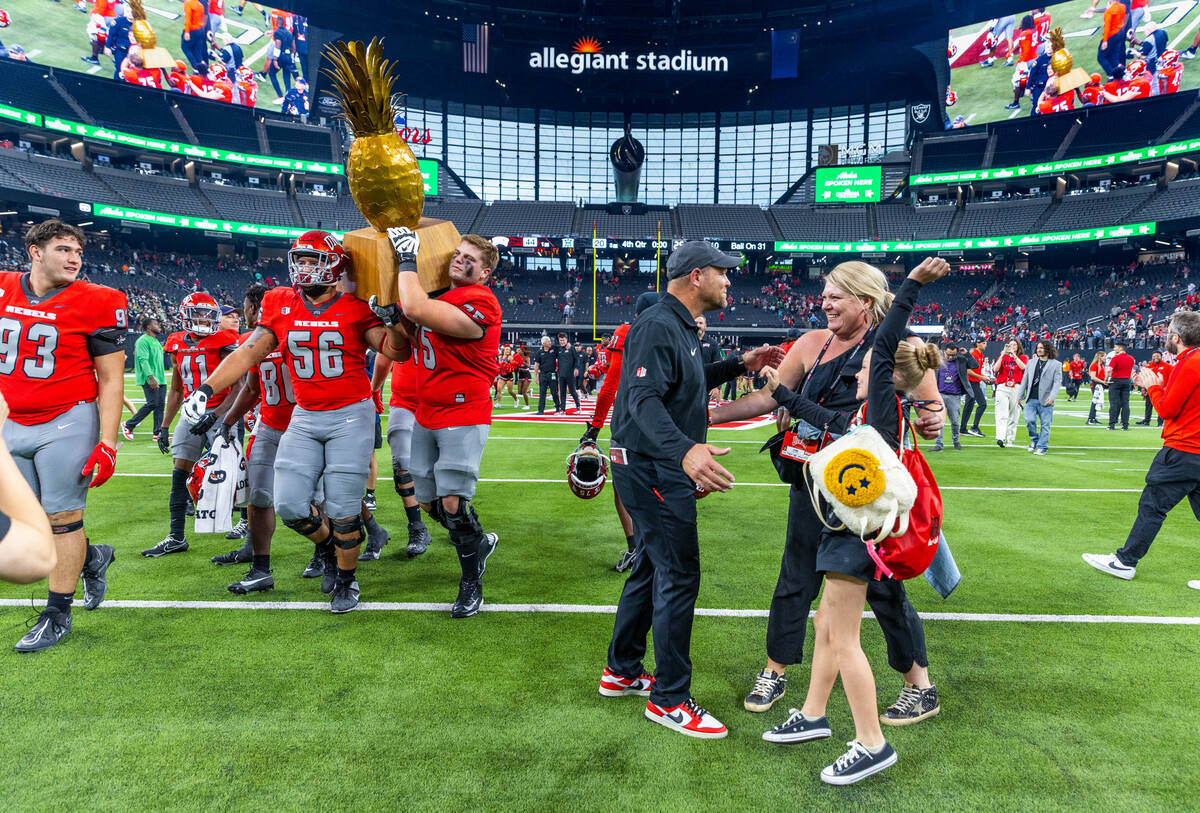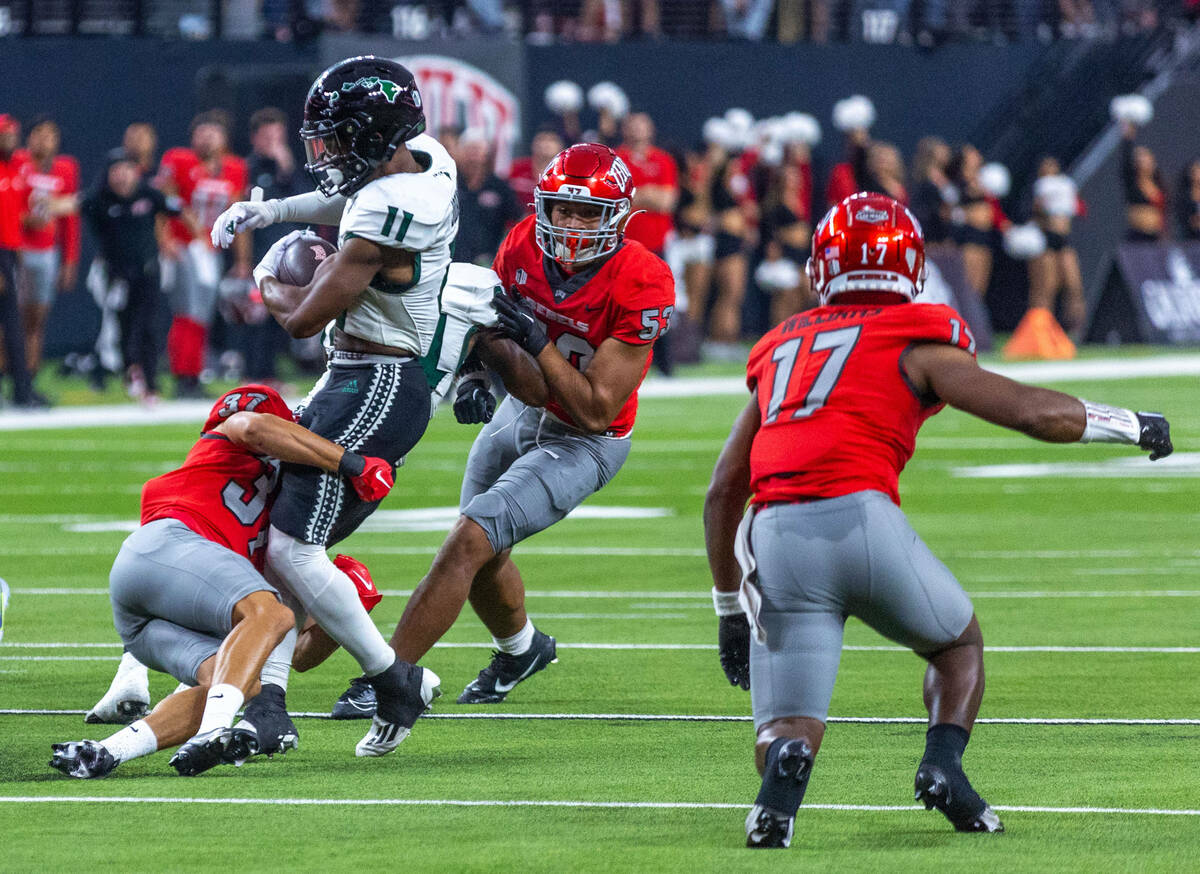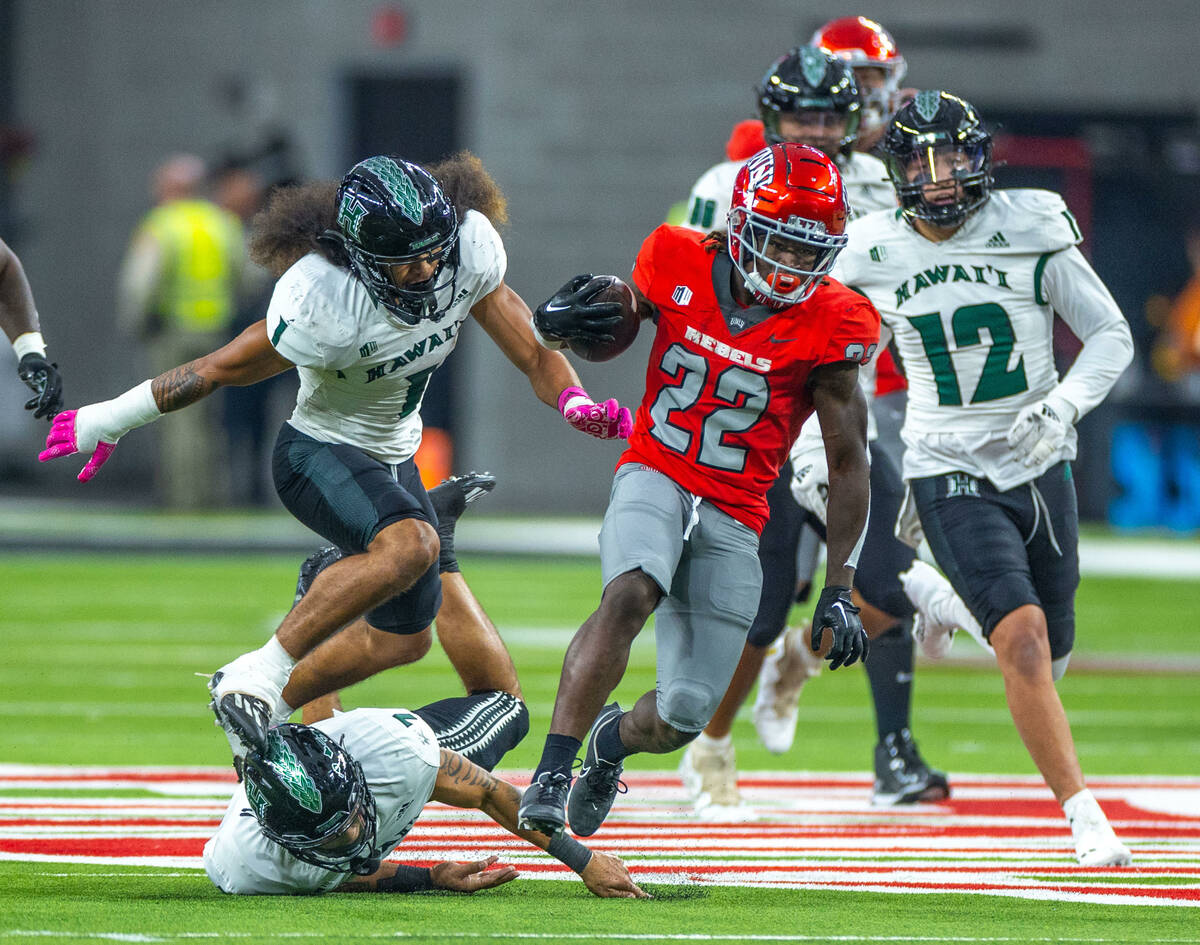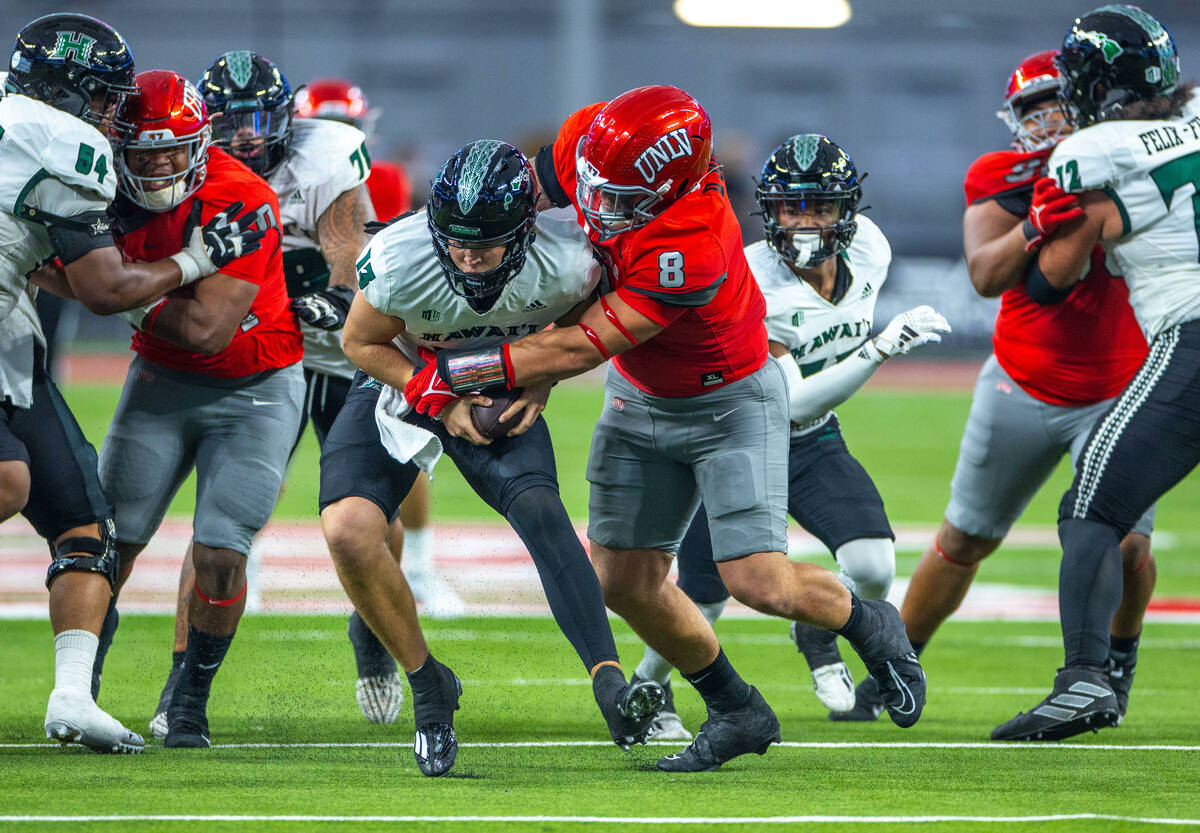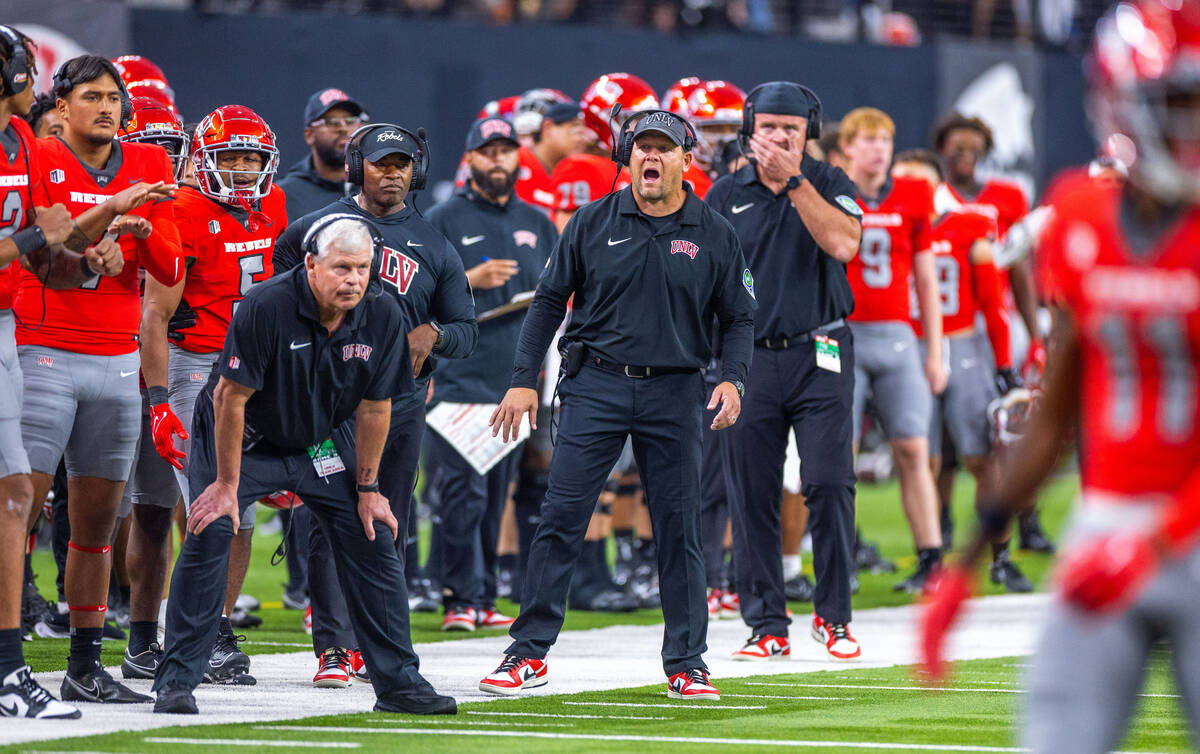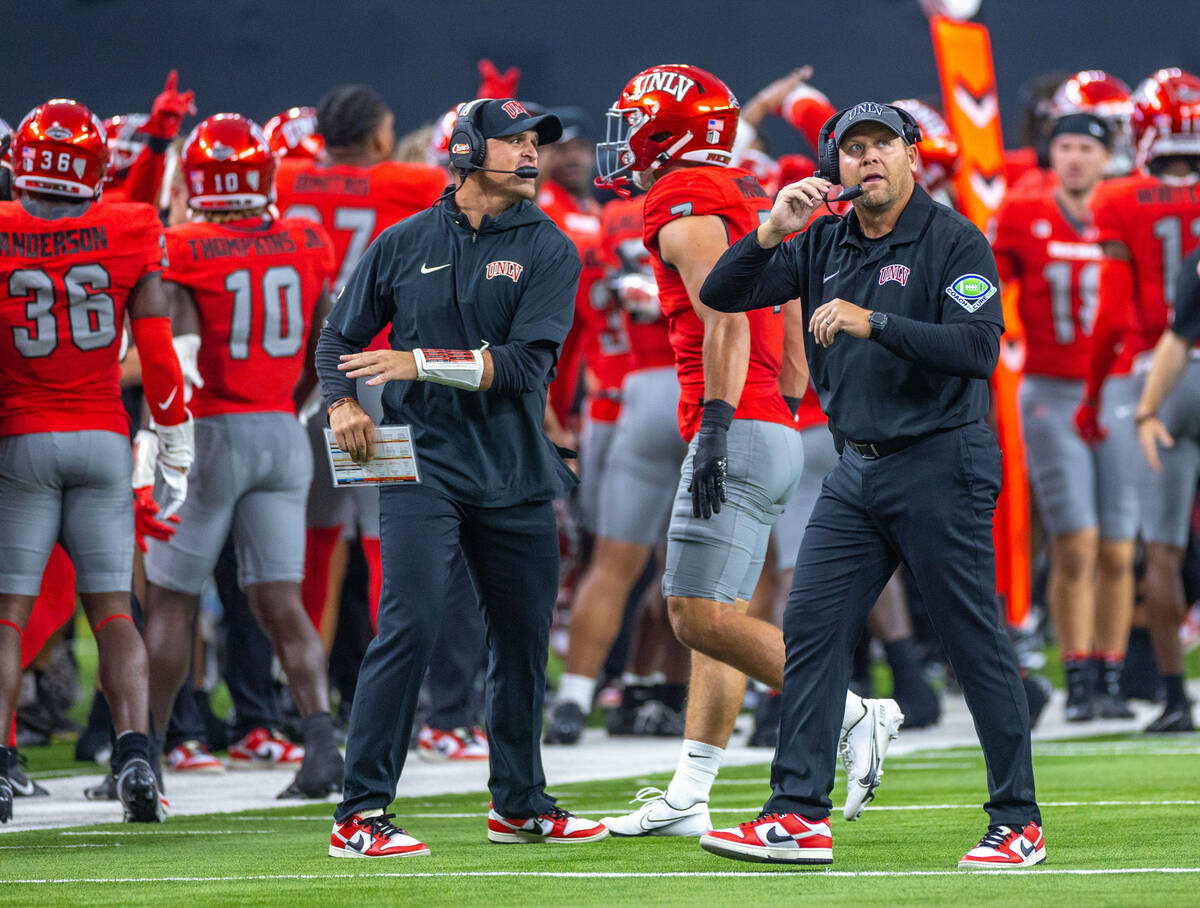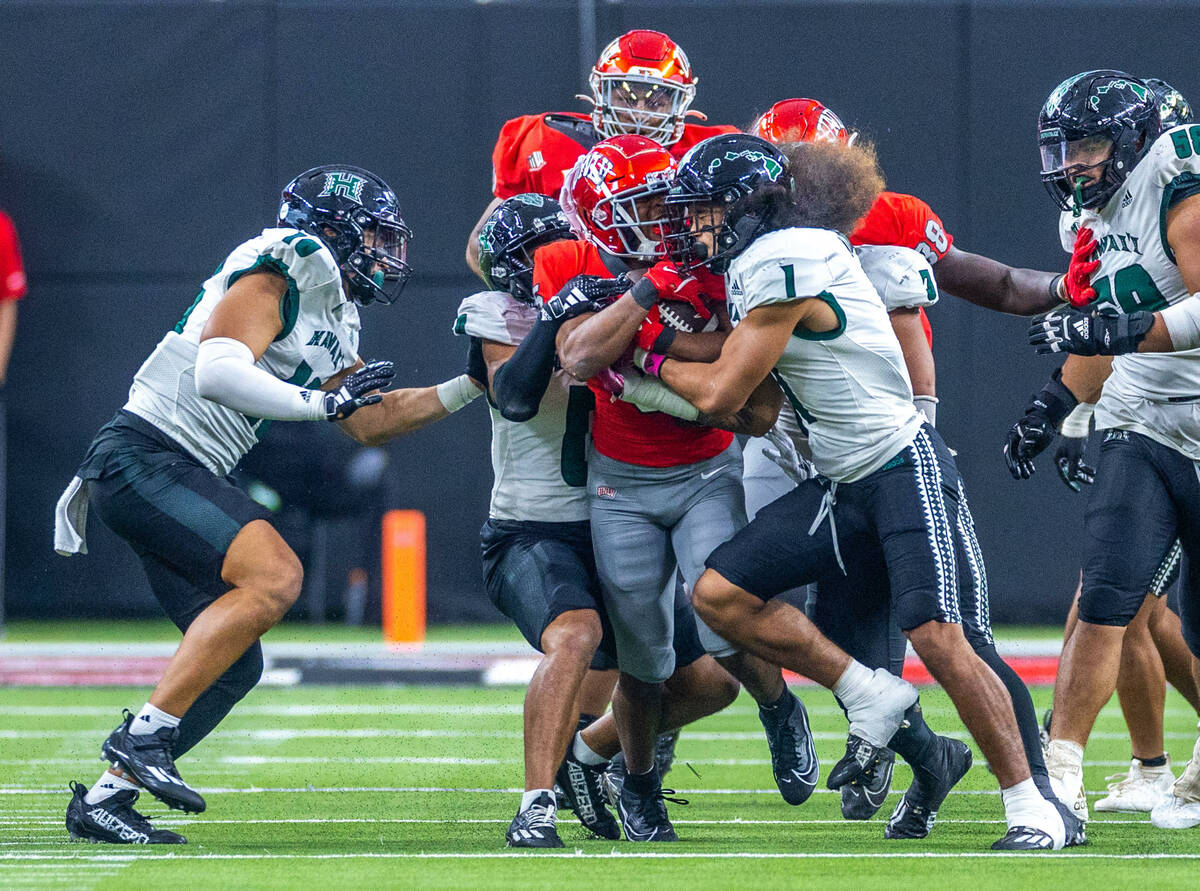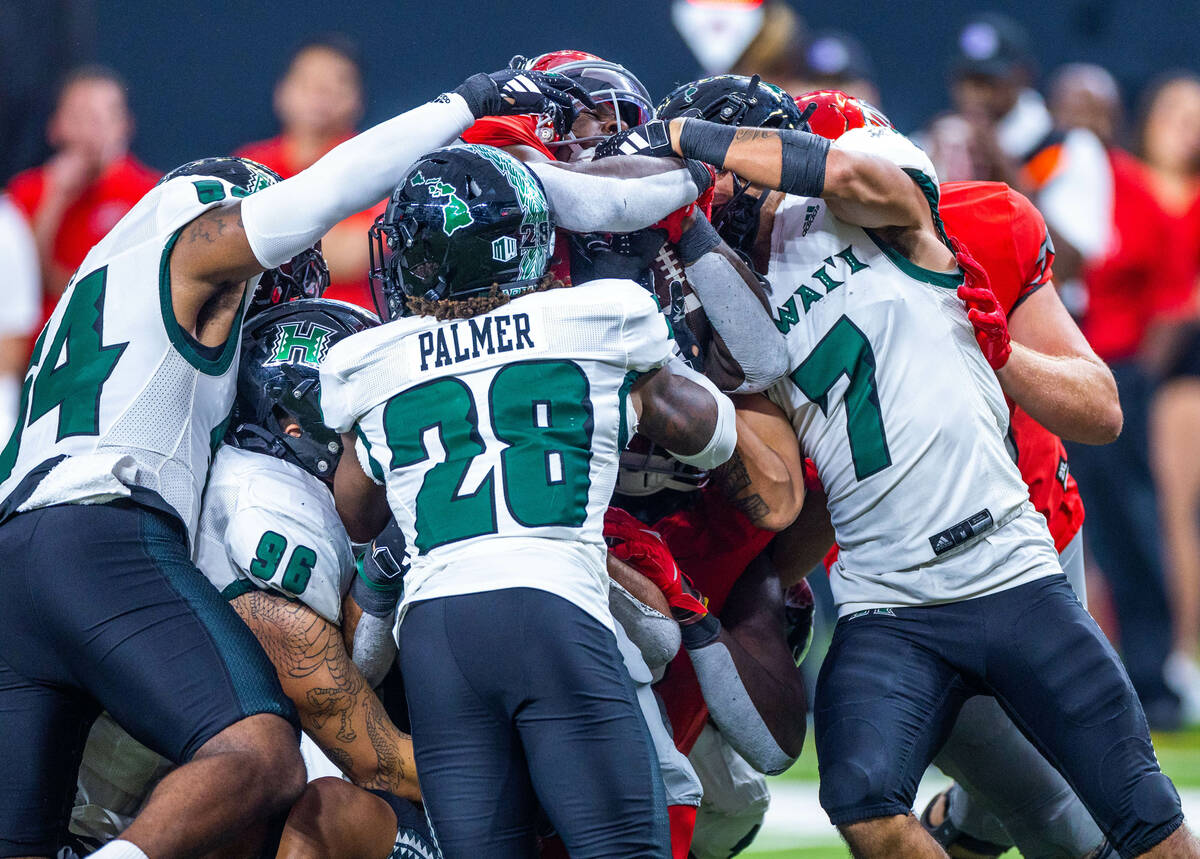 UNLV football coach Barry Odom barely believed his eyes as he looked at the stat sheet. He couldn't remember watching junior safety Johnathan Baldwin record a sack.
"I think that's an error," Odom said.
Baldwin was one of six Rebels to earn a sack Saturday, as the defensive line and rushing attack led UNLV to a comfortable 44-20 win against Hawaii in the Mountain West opener in front of 25,328 fans at Allegiant Stadium.
It's Odom's first conference win at UNLV and the first time the Rebels have scored 40 points or more in three straight games in program history.
UNLV (4-1, 1-0) has now won two of the past three Ninth Island Showdowns against Hawaii (2-4, 0-1). Baldwin said memories of the team's defeat in Honolulu last season, which eliminated the Rebels from bowl eligibility, put a chip on their shoulders ahead of the game.
"We just came together as a defense and an offense," Baldwin said. "Got the job done."
Redshirt freshman Jayden Maiava started his second consecutive game at quarterback in place of injured junior Doug Brumfield, throwing for 142 yards on 11-for-21 passing and two touchdowns for the Rebels. He also ran for 32 yards on four carries.
The Rebels rushed for 307 yards and three touchdowns as five running backs — Donavyn Lester, Jai'Den Thomas, Courtney Reese, Vincent Davis and Jordan Younge-Humprey — all had 32 yards or more against the Rainbow Warriors. UNLV converted 16 of its 27 first downs on the ground.
UNLV also broke the 300-yard rushing mark for a second straight game after compiling 307 yards in its 45-28 win against Texas-El Paso on Sept. 23.
"We don't care who gets the ball," Lester, a fifth-year transfer from William & Mary, said. "It's a room filled with selfless guys who don't care who gets the ball. We just want to learn and develop off of each other."
While its running backs thrived, UNLV's defense stifled Hawaii's rushing attack. The Rainbow Warriors had 46 rushing yards on 26 carries, averaging 1.8 yards per rush. Baldwin's nine tackles led the Rebels, while defensive linemen Darius Johnson, Alexander Whitmore and Jalen Dixon all had at least four tackles.
UNLV also forced two turnovers. Junior edge rusher Zavier Carter forced a fumble that was recovered by junior cornerback Thomas Anderson, and junior Quentin Moten intercepted a pass in the end zone late in the fourth quarter.
The Rebels led for the entire game. Maiava found Davis wide open in the flat for a 16-yard touchdown, and kicker Jose Pizano tacked on a 52-yard field goal before Hawaii scored its first points of the game, giving UNLV a 10-3 lead.
Pizano chipped home another field goal from 27 yards, then Reese scored on a 4-yard run to extend the Rebels' advantage to 20-3 at halftime.
Quarterback Brayden Schager connected on a 51-yard touchdown pass to Steven McBride for Hawaii's first touchdown, but Reese responded with a 21-yard rushing touchdown to keep the Rebels three scores ahead at 27-10. Pizano added his third field goal of the day early in the fourth quarter, as his 48-yard field goal bounced through the uprights off the crossbar.
Another deep strike by Schager kept Hawaii's hopes alive early with 12:47 remaining, but a composed UNLV drive, capped by a 3-yard touchdown pass from Maiava to receiver Jacob De Jesus, slammed the door on a potential comeback. Lester added another touchdown late in the quarter to wrap up the scoring.
"We're learning as a team, we're learning through our experiences," Odom said. "The days are long, but the weeks are short. For us, it will be a sprint with no finish line."
Contact reporter Andy Yamashita at ayamashita@reviewjournal.com. Follow @ANYamashita on X.