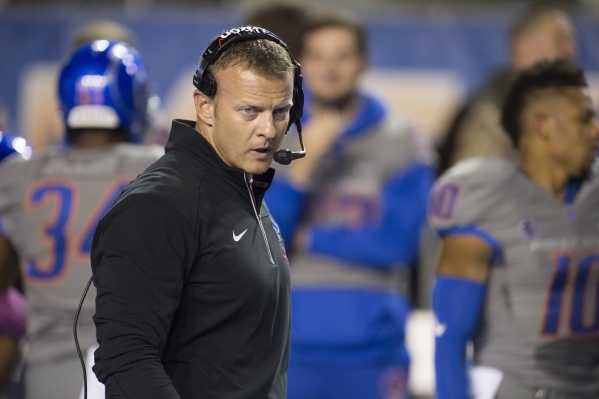 Bryan Harsin didn't have to guess about the expectations at Boise State when he took over in December 2013.
He not only understood them, he also lived with those expectations as a fan and then a quarterback and then as an assistant coach.
Harsin was on the sidelines from 2001 to 2010 as Boise State grew into a national power. He was offensive coordinator and quarterbacks coach during the height of that growth from 2006 to 2010.
Then, after making two other coaching stops, Harsin got the opportunity in December 2013 to take over the football program at his hometown school.
"A lot of the philosophies that have been built over time still carry over to what we do now," Harsin said.
Those philosophies were developed under previous coach Chris Petersen, the one most responsible for making the Broncos a familiar name throughout the nation. Petersen, now the coach at Washington, guided Boise State to two Fiesta Bowl victories, including the signature overtime win over Oklahoma to conclude the 2006 season.
"I have a lot of respect for Coach Petersen and was fortunate enough to be here with him, and a lot of what he said, I believe," Harsin said. "I try to instill that back into this program. Things get tweaked, but the basic fundamentals are still there."
Much remains to be seen if Harsin, who turns 39 on Sunday, was the correct choice, but it would be difficult to argue against his hire at this point.
He guided the Broncos to a 12-2 record last season, winning the Mountain West title and defeating Arizona in the Fiesta Bowl. Boise State finished ranked 16th in both major polls.
That season put him on the finalist list for three major national Coach of the Year awards.
Harsin said his job last season was to build on what already was established.
"It's not like everything was in shambles and broken," he said. "You just need to put your spin on it and be yourself and continue with the things you know are successful habits and maybe change some of the ones that aren't, and you've got to do that on a daily basis."
It's unlikely the Broncos, who play UNLV at 12:30 p.m. Saturday at Sam Boyd Stadium, will make it back to a New Year's Six game. Their hopes of repeating as conference champions took a big hit two weeks ago in a 52-26 loss at Utah State.
But Boise State (6-2, 3-1 Mountain West) leads the conference in several categories, including averaging 38.0 points per game while giving up 17.3.
Harsin is Boise through and through.
He went to high school there and then played quarterback at Boise State from 1995 to 1999. After serving as the running backs and wide receivers coach at Eastern Oregon in 2000, Harsin returned to Boise State as a graduate assistant for one season before joining the staff full time.
As his career progressed and the program began to take off, others noticed, and Harsin was named a finalist for the Broyles Award in 2009, a honor that goes to the nation's top assistant.
It seemed a matter of time before a name school from a power conference went after Harsin. Texas became that program, hiring him as the co-offensive coordinator and quarterbacks coach in 2011. Harsin helped guide an offense that ranked 88th before he got there in scoring nationally to one that was 24th at 36.1 points per game in 2012.
His time at Texas was brief, however. After only two seasons, Harsin got a shot at his first head coaching job at Arkansas State and led the Red Wolves to a share of the Sun Belt Conference championship.
"The experience was invaluable," Harsin said. "It was an opportunity to make a ton of mistakes during that time, correct it, re-evaluate it. People there were fantastic. I learned how to build relationships, and really there's so much more going from a coordinator to a head coach. Just because you run a nice system and you've been successful, that's not what it's about. As a head coach, you're not doing as much of that as you were as a coordinator. There's a lot more about the people and how you deal with them."
Harsin planned to make it more than a one-year stay, but he couldn't resist returning home when Petersen left for the Huskies and the Pac-12 Conference.
Boise is more than familiar. It's where he belongs.
"It was different coming back here than it was going to Arkansas State," Harsin said. "… It took a little longer time to figure out all the different avenues to get what you wanted (at Arkansas State). Here, a better understanding of how things are operated and how we can get done what we need to get done."
* NOTE — Sacramento (Calif.) High School wide receiver Elijah Trosclair (6 feet 2 inches, 180 pounds) said in a text message that he has committed to the Rebels. He has 32 receptions for 797 yards (24.9 yards per catch) and 11 touchdowns this season. He is UNLV's 10th commitment for the 2016 class.
Contact Mark Anderson at manderson@reviewjournal.com or 702-387-2914. Follow him on Twitter: @markanderson65
Check our GameDay page for all the news leading up to the UNLV-Boise State game.