Hauck forms game plan for Rebels' improvement
December 12, 2010 - 12:00 am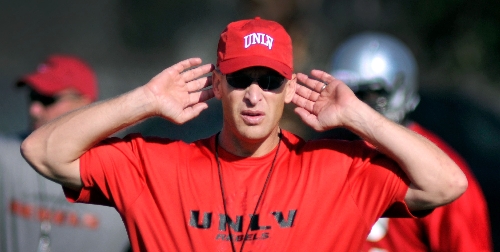 Just about all Bobby Hauck did at Montana was win, racking up 80 victories and three national-title appearances in seven seasons.
Nothing close to that type of success was going to occur in his first season at UNLV, especially with the most difficult schedule in school history.
And not with a program that now has two winning seasons in 18 years.
But the issue really isn't the Rebels' 2-11 record from this season or their long-term struggles. The issue is whether Hauck will be able to attract the kind of players who can finally move the program forward.
"When (recruits) ask you what your biggest tradition is here, we don't have a lot of traditions," Hauck said. "We're building them. We haven't been to a bowl game in (10 years). So we need to get guys to buy into the fact we're going to be there soon, and for the most part, the kids we're talking to are listening."
He is busy this weekend trying to lure junior college recruits. Hauck especially wants immediate help in the defensive front seven.
But Hauck's emphasis is building with high school players to meet needs throughout the lineup.
"If you get caught into taking a bunch at one position one year and then trying to make it up the next year, you wind up short-handed down the road," he said. "So we need to try to be balanced and cover the positions as we can. Sometimes it doesn't work that way. Certainly you never should take a player who can't contribute just because he plays a certain position. There are also guys we can take who might be multiple-position players."
Many coaches don't just add players, they force some out. Hauck said that isn't his plan, but he knows some players may leave on their own because that's typically what happens after a season.
"We want to develop and get everybody better rather than pushing guys out," Hauck said.
One player expected back is junior wide receiver Phillip Payne, who was suspended for two games for negative tweets regarding the coaches. He finished with 40 catches for 689 yards and five touchdowns.
"I'm really proud of him for rallying back and working his tail off the last month," Hauck said. "He's done a nice job because coming back from an adverse situation is not always easy, and he showed some character. He's a good football player and a good guy."
Senior cornerback Quinton Pointer is expected back after missing virtually the entire season with an anterior cruciate ligament injury. He has a redshirt to use, and might have been the team's best cover corner before the injury.
"It's one of those positions where an ACL injury is not necessarily a good thing," Hauck said. "Not that it is at any position, but it's a little different at guard than it is at corner. But he's come back from it before, and he's a worker and a tough guy, so hopefully it will work out good for him."
The starting lineup, with 19 seniors having finished their tenures, should look considerably different next season. But there will be a familiar look to the overall depth chart with 14 true freshmen — and 23 freshmen overall — having played this year.
Plus, the Rebels will have a handful of players who redshirted or grayshirted.
"We're probably going to be even younger next year, but that doesn't mean we can't improve on what we've got going," Hauck said. "The improvements from this year aren't things that necessarily show up on the scoreboard. That's where we need them to show up eventually.
"It will pay off. How soon? I said a couple of weeks ago, we want it to pay off sooner rather than later. We're at the lower end here looking up. We need to keep working at that. The biggest component to that is guys believing and continuing to know that there's light at the end of the tunnel if they'll keep working hard."
■ NOTE — Spring practices are scheduled for Feb. 28 to April 2. The Rebels aren't expected to have a typical spring game but more of a session-ending scrimmage that focuses on younger players. That was UNLV's formula last spring.
Contact reporter Mark Anderson at manderson@reviewjournal.com or 702-387-2914.