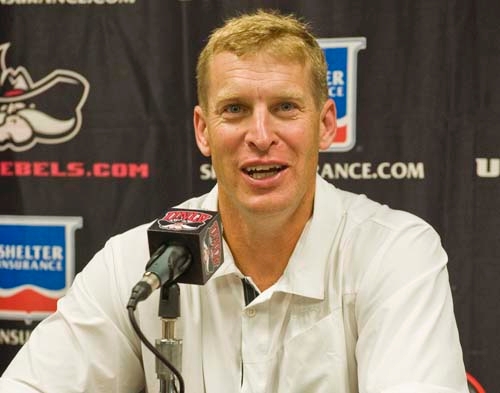 One of the more attention-grabbing developments from UNLV's blowout loss to Washington State on Saturday was the charge by two Rebels that some teammates lacked intensity.
That position softened Monday, but coach Bobby Hauck agreed with defensive end James Dunlap that players didn't handle adversity well during a 59-7 defeat at Pullman, Wash.
"I would say we had a lot of intensity coming out, but they hit us with those big plays," Dunlap said following the fourth-worst defeat in program history. "A lot of people weren't able to shake them off as fast as we needed them to."
The worst loss in school history was a 69-0 defeat to Houston in 1989.
UNLV (0-2) likely will face more adversity Saturday as a 19½-point underdog to Hawaii (1-1) in its home opener at Sam Boyd Stadium. How the Rebels handle distress probably will go a long way toward determining how competitive they are against the Warriors.
Hauck spent much of his news conference Monday fielding questions about his team's mental state and how UNLV can move forward after being outscored 110-24 and outgained 1,109 yards to 450 in its first two games.
Hauck said the 0-2 start isn't a surprise, considering UNLV opened with teams from automatic-qualifying Bowl Championship Series conferences.
"The issue is how soundly Washington State beat us this last weekend," Hauck said. "We've got a lot to do and a short time to do it."
Hauck knows the Rebels can't react to adversity as poorly as they did against the Cougars, who led 35-0 midway through the second quarter.
"They got on us, and we didn't fight our way out of the hole, certainly," Hauck said. "Whatever it takes, you have to do it, and we didn't."
Running back Tim Cornett said Saturday the offense assumed the potential it displayed in an opening 51-17 loss at Wisconsin would carry over. It didn't.
"I think we underestimated them," Cornett said of the Cougars.
Quarterback Caleb Herring said: "We didn't match their intensity today."
The tone was different Monday.
"I did not sense that we lacked intensity at all leading up to the game," Hauck said. "Sometimes guys say things when they're emotional about a loss."
Herring agreed that was the case.
"After the loss, there were a lot of emotions … and we were searching for the answer," he said.
Answers must come soon. Hawaii defeated the Rebels 59-21 last year in Honolulu, and UNLV still has Boise State and Texas Christian left on its schedule.
■ NOTES — Hauck said wide receiver Eric Johnson, a junior college transfer, probably will not be academically eligible this season. "It's somewhat unexpected," Hauck said. "I anticipate he will be here and try to get himself ready for next year." Hauck is still awaiting word on whether wide receiver Marcus Sullivan and safety Dre Crawford will be cleared academically. … Hawaii is practicing at Bishop Gorman High School this week. The Warriors stayed on the mainland after losing 40-32 at Washington on Saturday.
Contact reporter Mark Anderson at manderson@reviewjournal.com or 702-387-2914. Follow him on Twitter: @markanderson65.