Hauck's roster overhaul begins
February 4, 2010 - 10:00 pm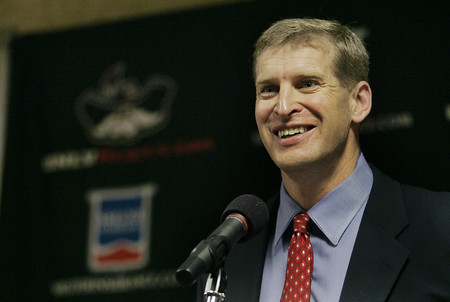 UNLV's Bobby Hauck called Wednesday's signing day a football coach's New Year's Eve, and he was ready to celebrate.
Given roughly a month to pull together his first Rebels recruiting class after being hired in late December, Hauck had plenty of reasons to be happy. UNLV signed a school-record 10 players who received at least three stars from either Rivals.com, Scout.com or Scouts, Inc.
"It was a pretty frenzied effort over the last four weeks," Hauck said. "I'm pleased with the results. We like the guys in this class."
The 20-player class represents the start of Hauck's planned remaking of the roster in more of the tough, physical and speedy image he prefers.
He wants to emphasize a tough running game, and signed 6-foot, 200-pound Dionza Bradford of Serrano High School in Phelan, Calif. But Hauck also wants a ground game with wheels, and he signed Tim Cornett (6-0, 195) from North Shore High in Galena, Texas, where he is one of that state's top sprinters.
"I'm looking forward to watching (Bradford) try to bring the wood on the inside runs, some downhill stuff, and get after some linebackers," Hauck said. "He'll be a guy that's going to carry 225 (pounds) pretty readily on his frame.
"(Cornett) is a threat to go the distance every time he touches the ball."
At Montana, where Hauck had an 80-17 record over the previous seven seasons, he routinely recruited offensive linemen who were as tall as they were big. Three linemen in this class stand at least 6-5.
Tight ends will be prominent in the offense, and Hauck landed two, including Anthony Vidal (6-5, 250) of Orange Coast College in Costa Mesa, Calif. Vidal is the lone junior college transfer in the class.
Throughout the class, Hauck talked about signing players with on-field attitude, defensive backs who hit hard and athletes who make plays.
How many newcomers will play next season is uncertain; Hauck prefers to redshirt most freshmen. The fact UNLV, 5-7 each of the past two years, returns an experienced team could make redshirting some players an easier choice.
Hauck said he would retain some of the spread offense, which the Rebels ran the past five seasons under coach Mike Sanford. But this class, especially with bigger backs and the tight ends, marks the start of a shift to a more conventional offense that emphasizes a balanced attack that controls the clock.
"For us, it's not so much a transformation, but I would say a change in philosophy," Hauck said. "We like big-framed guys for a couple of reasons. No. 1, they are going to be big and fast eventually because the running part of it is the first thing we look at. The second thing is when they're big in stature, depending on how they develop, they can play other positions."
Hauck followed through on his pledge to hit Las Vegas hard, signing eight area players. He was especially nervous until he received the letter of intent from Bishop Gorman High defensive back Taylor Spencer (6-1, 190).
"He's the guy I've been holding my breath all day on," Hauck said. "I thought somebody like Oklahoma might come in and try to steal him from us at the end."
In a development that surprised even Hauck, the Rebels also went strong into Texas, signing four players.
"When I initially took the job, I didn't think that was going to be a real productive place for us to go recruit," he said.
Among the Texas signees was quarterback Taylor Barnhill (6-4, 215) of Northwest High, near Dallas. Because of injuries his sophomore and junior seasons, Barnhill didn't start until last year. Playing on a team that finished 0-10, he passed for only 1,047 yards, but was rated by Rivals as a three-star prospect.
"I believe his learning curve … will be steep," Hauck said. "I think he can really improve, and I think the sky's the limit for him, and that's why he's on this list."
Speaking about the class as a whole, Hauck acknowledged if any college coach was going to be happy with his players, this would be the day. But, given the late start, Hauck also said he and his staff exceeded their expectations of the type of class they could assemble.
"If I could've changed one thing, I would have made each day 27 or 28 hours rather than 24 because we've been going at it pretty hard," Hauck said. "We've exhausted every minute researching these guys."
Contact reporter Mark Anderson at manderson@reviewjournal.com or 702-387-2914.
Hauck talks about his first UNLV recruiting class