Hawaii rallies in 4th to beat UNLV, 35-28
November 17, 2018 - 11:37 pm
Updated November 18, 2018 - 12:46 am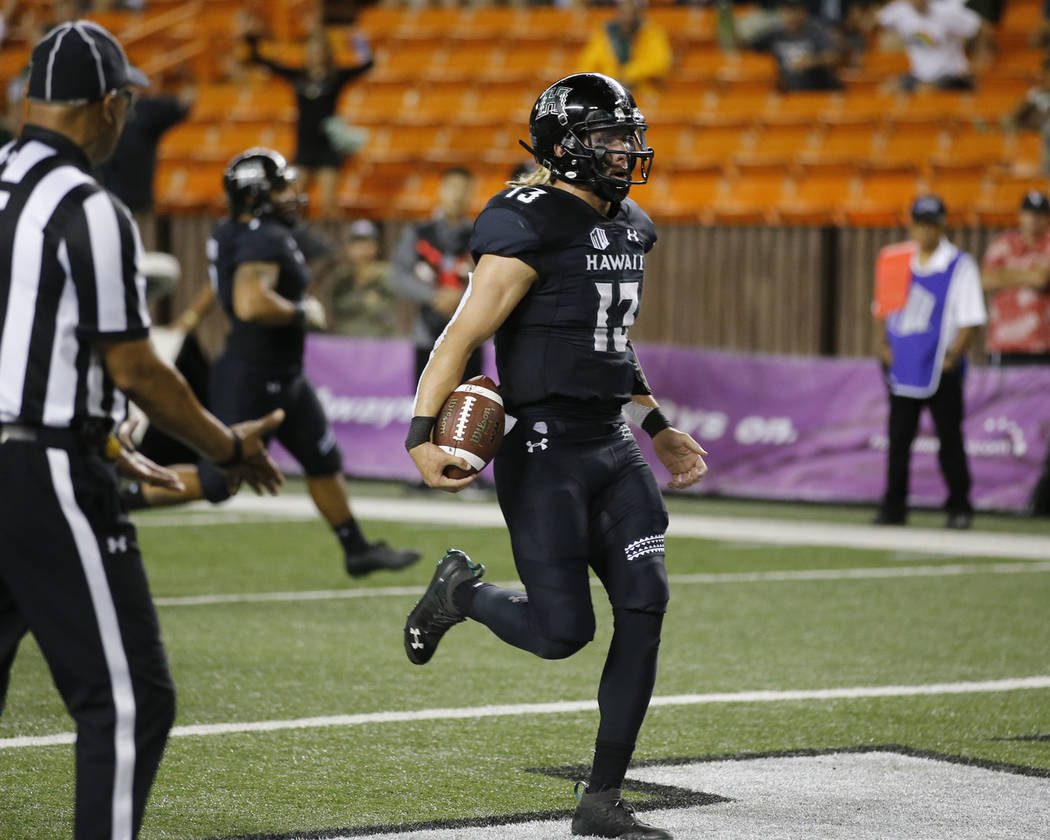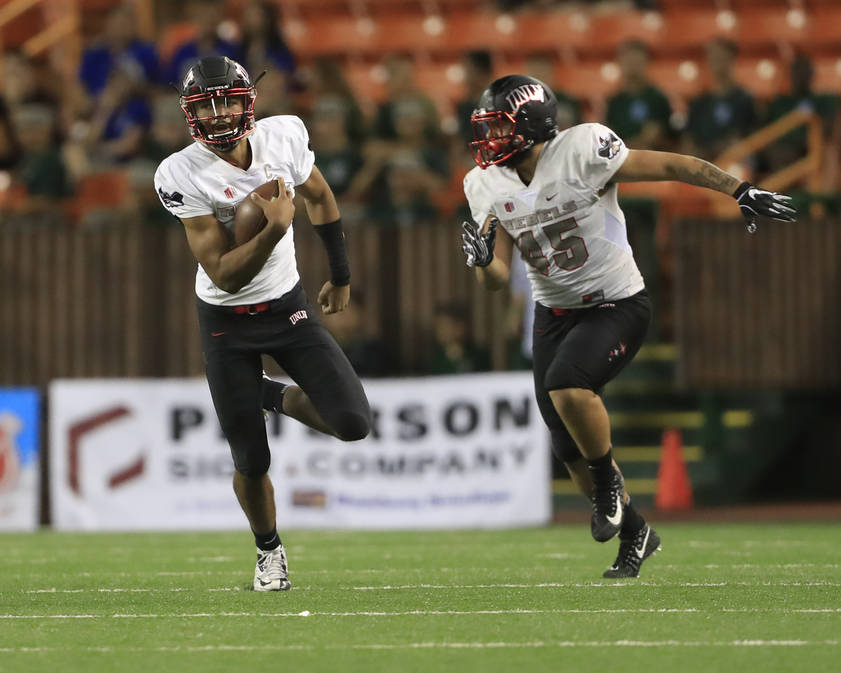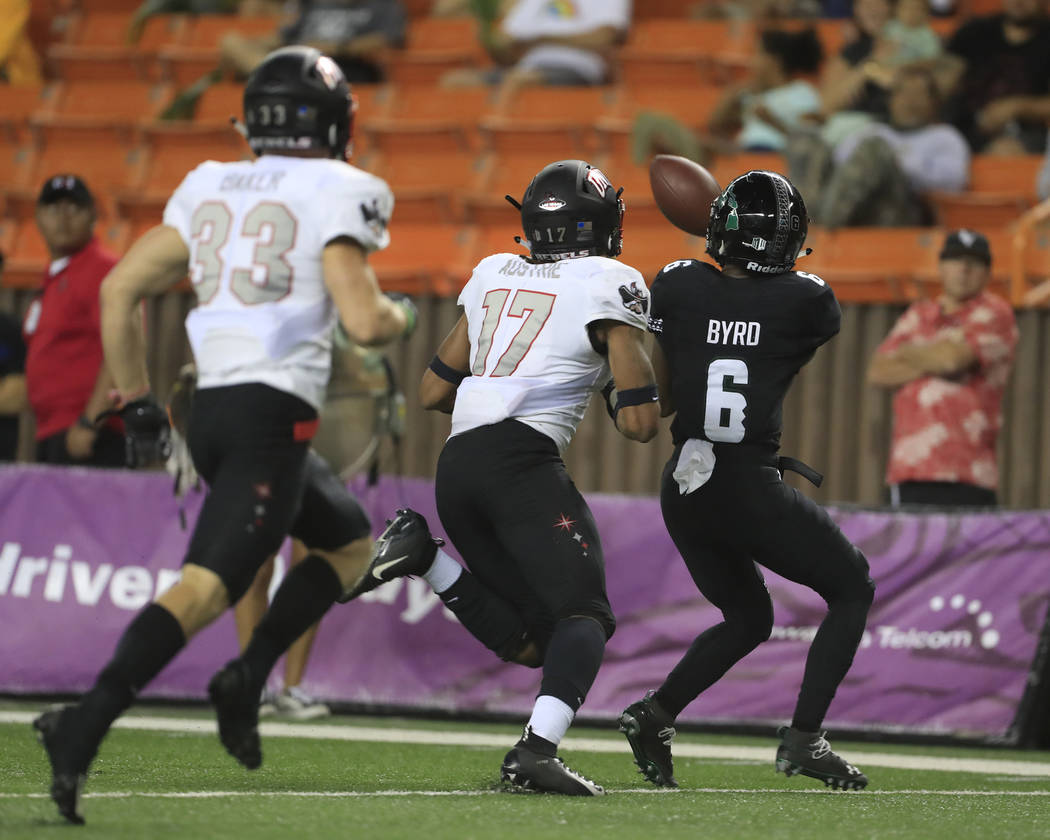 HONOLULU — For three quarters, UNLV continued its momentum from last week's first Mountain West Conference win over San Diego State.
Then it ran into Hawaii's backup quarterback.
Hawaii benched starter Cole McDonald for freshman Chevan Cordeiro, who threw three touchdown passes in the final 12 minutes to erase a 15-point fourth-quarter deficit and stun the Rebels 35-28 on Saturday night at Aloha Stadium.
UNLV (3-8, 1-6 MW) controlled the game through three quarters and led 28-13 when sophomore Armani Rogers, who missed the last six games with a toe injury, threw a 16-yard strike to Evan Owens to make it a two-possession game.
Hawaii (7-5, 4-3) made a change of its own behind center and brought in Cordeiro, who threw touchdown passes of 64 and 20 yards before hitting John Ursua for the game-winning 68-yard score on a busted coverage in the UNLV secondary with 1:25 remaining.
"We had more than enough opportunities to put that thing away and win the football game and we didn't at the end," UNLV coach Tony Sanchez said. "Some of those blown coverages … that's just unbelievable. We gave up a couple of inexcusable balls and that was the difference in the game."
Cordeiro threw a 64-yard touchdown pass on his first attempt after UNLV had held McDonald to 175 yards on 30 attempts with two interceptions.
The game-winner happened when UNLV lost track of Ursua, one of 11 Biletnikoff Award semifinalists with more than 1,100 yards and 15 touchdowns this season, down the visiting sideline.
Cordeiro completed just four passes and nearly matched McDonald's total over the first three quarters with 153 yards.
"We prepared for both (quarterbacks) on film," said senior defensive lineman Jameer Outsey, who had two tackles for loss and one of four Rebels sacks. "It was definitely a mental thing. (Cordeiro's) passes were good. He hit his receivers on point, but if you look at the film, it was big plays, guys wide open. He didn't have to put it in tight."
While Hawaii secured a bowl bid with its backup quarterback, UNLV welcomed back Rogers, who hadn't played since a loss to Arkansas State on Oct. 6.
Max Gilliam, who led the Rebels to a win over the Aztecs last week, started his seventh consecutive game and threw a 9-yard touchdown pass to complete a 17-play drive in the first quarter to give the Rebels a 7-3 lead.
His reward was a seat on the bench for the first time with Rogers getting the ball to start the second quarter.
He engineered two scoring drives with the help of Lexington Thomas, who scored on runs of 12 and 45 yards to help the Rebels take a 21-6 lead at the break.
"(Rogers) was going on the fourth series or the first series of the second quarter," Sanchez said. "I thought he looked good. When he came in, he had a couple of good runs. He threw the ball well early on and we felt like in the second half his running ability would be needed."
Rogers was 5-for-15 for 60 yards and a score and ran for 31 yards on eight carries.
Thomas finished with 129 yards and two touchdowns to notch his 18th career 100-yard game, breaking Mike Thomas' school record.
He also became the third Rebel to post consecutive 1,000-yard seasons, joining Mike Thomas (1973, '74) and Tim Cornett (2012, '13).
UNLV was 2-for-5 on fourth downs and was stopped twice in the fourth quarter, including on fourth-and-1 at the Hawaii 44 with 8:27 remaining up 28-21.
"They played tougher football at the end of the game than us," Sanchez said. "At the end of the day, when you're sitting there and you've got a fourth-and-1 and the clock is ticking down, if you can convert that, you have a great opportunity to win that football game and they just beat us on it."
More Rebels: Follow all of our UNLV coverage online at reviewjournal.com/Rebels and @RJ_Sports on Twitter.
Contact Mark Anderson at manderson@reviewjournal.com. Follow @markanderson65 on Twitter.